This was an interesting episode with quite a few developments to its credit which were convincing and surprising at the same time. The way Nida's father fought for his daughter was the most endearing part of tonight's episode. This was a major development which was covered intelligently. Nida's father was always shown as a person who put his daughter's happiness before anything else and this was one of those times when he decided he needed to go the extra mile to make his daughter's dream come true. Nida has been shown as a girl who has broken many barriers to come this far and this happened mainly because of her father's support. It is however surprising to watch such a father settling for a spoiled phupo ka beta as Nida's husband but it is highly likely that he might go against this particular decision of the family at some point too.
Sikandar's 'change of heart' was an unexpected development which was covered in a convincing manner. Sikandar accepted the proposal but there was no excitement later on when the news was shared by Shama's mother on the breakfast table and later on he didn't have much to add when Shama talked about the wedding. The preview of the next episode also suggested that this was another one of the callous decisions made by Sikandar which he might not be able to stick to for a long time. If that happens, it will be more in line with his character than watching him being responsible all of a sudden. Adnan Malik's performance in this episode was much better than his acting in the previous two episodes mainly because of the fact that he did not have to emote a lot. There were a few scenes in which he went a little overboard but overall he gave a steady performance.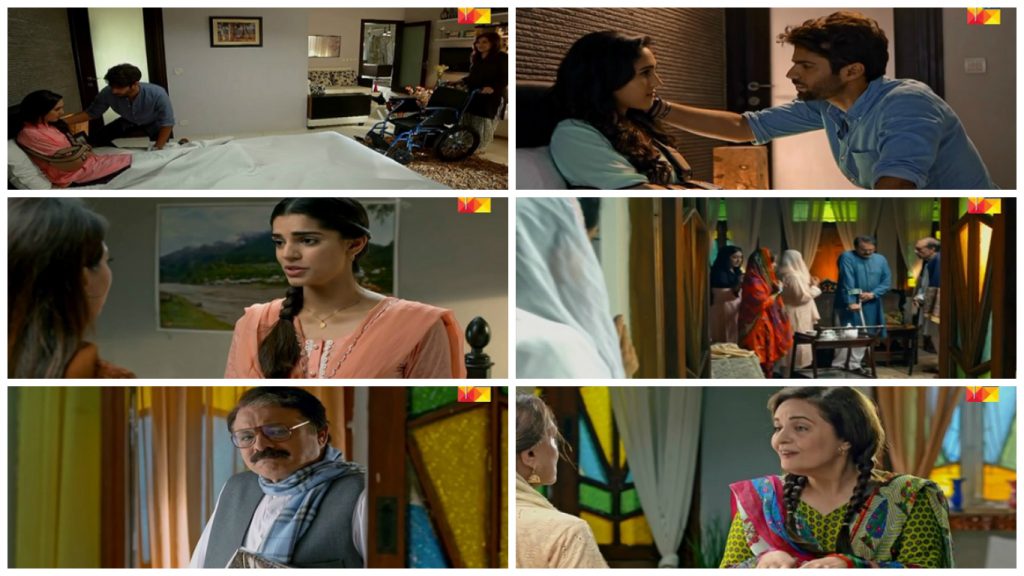 Nida's mother fascination with Nishat apa's purse, her suggestion that they should have another child and her overall personality makes her character unique and extremely likeable. I don't remember the last time we saw such a character being shown in this light. Although most often people in the house are seen telling her off for her attitude but her relationship with her daughter and even some scenes with her husband go to show that people like her who are not like other people her age can be shown living in normal circumstances as a mother and as a wife. Hina Bayat has won me over yet again because of her impressive performance especially because it isn't easy translating such a character on screen. She understands her character and has managed to do complete justice to it effortlessly. The way the family covered up for Nida although taya and tayee were dead against sending her to another country added a balance to the whole scenario. Everything that happened in Nida's house today was also much more interesting than the happenings in the previous episode in particular. Tayee's dialogue about farangi clothes was hilarious! It also showed the difference in the thinking, while Nida's mother suggested she should wear skirts, tayee wanted to make sure it did not happen! There were many scenes in tonight's episode which were emotional and others which made me laugh.
Apart from the unnecessary closeness between Adnan Malik and Mira Sethi which made their scenes slightly inappropriate when they could have been really cute, this episode was directed well and did not have any glaring flaws. Shama's character does not have a lot to offer but so far Mira Sethi has been performing quite well. Sanam Saeed, Hina Bayat, Samina Ahmed and Mohsin Gillani were the stars of the show tonight. Mohsin Gillani's brilliant performance and his on screen chemistry with Sanam Saeed has made this father daughter relationship even more special. Sanam Saeed was faultless as Nida today and tonight's developments gave the audience more of an insight into her character.
Sikandar and Nida will cross paths once again in the upcoming episode, waiting to see how this track is covered in the next episode. This episode definitely gave me reason to look forward to more. How many of you watched this latest installment? Please share your thoughts about it.