This episode focused on the mixed emotions which Sikandar and Nida felt because of their peculiar circumstances. Nida felt it was time for her to tell Sikandar that she was engaged before Sikandar declared his love for her in front of everyone. I feel like the viewers needed to know a little bit more about what was going on in Nida's mind when she started feeling this attraction towards Sikandar instead of hearing it all right now. This latest development wouldn't have seemed like an isolated event if that was the case. Tonight the viewers found out how Nida felt about her connection with Sikandar and we also learned what was going on in Sikandar's mind. Sikandar's dialogues about Nida's engagement said a great deal about what he thought about relationships which were forced on people and also those which people chose to be in. The chemistry between Adnan Malik and Sanam Saeed had been making their scenes work till now but these recent developments required a lot more from the actors involved and unfortunately in most of the scenes it seemed like they were just reading the dialogues with some expressions. These dialogues needed to come from the heart because the situations in tonight's episode were extremely emotional. The toota huva sitara scene in particular could have been much more cute if Sanam Saeed and Adnan Malik's acting wasn't so forced. Also, it would have been nice if duppata would have been a part of Nida's dressing at all times since she comes from a conservative background and is not irresponsible. Nida and Sikandar's scenes did not fall completely flat because of the locations, the dialogues and also because these two actors look together good on screen, other than that their dialogue delivery, body language and even the timing of some of the reactions left a lot to be desired and took away the emotional energy needed to make these scenes special.
The good thing about this episode was that the focus wasn't on Nida and Sikandar alone. All the group members were given plenty of screen time too and just like all the previous episodes the scenes covering these people were interesting and easy to connect to. The group has different kinds of people and their scenes together have been shot in a way that people their age group can relate to them and they make other people like myself nostalgic. My most favorite scene of this episode however was the one in which Faseeha presents her husband with the special gift! These two stars manage to make their screens thoroughly entertaining even if they get very little screen time. Their scenes always make you laugh and their timing, chemistry and acting is always faultless. The most funny part was "pehan ke dikhaye"!!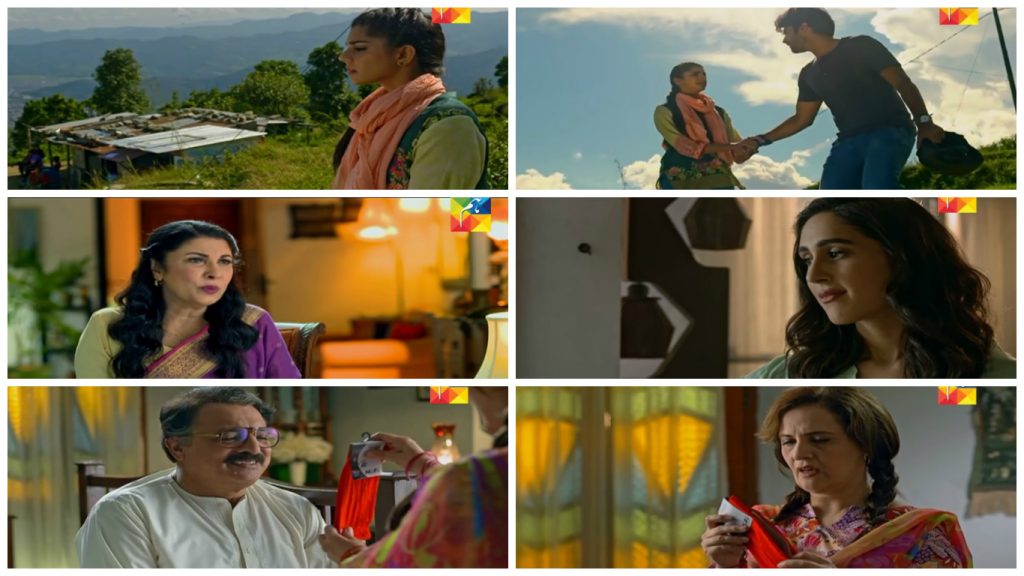 There was little more variety in Shama's scenes tonight. Most of the times she was thinking about Sikandar but at the same time she was seen doing something new every time. Also, the scene in which she was trying to move her legs went to show that her condition was not permanent. Shama is still wondering why Sikandar never got in touch with her and her mother is relying on Sikandar to tell her that he does not love her. I am waiting to see how Sikandar copes with his situation. So far he has been shown as an escapist, he is not the kind of person who looks for permanent solutions but for temporary ones.
The scenes covering phupo and Zaman suggested that Zaman was probably involved with someone in Karachi or doing something he should not be doing. They also showed that he is only getting married to Nida because that is what his mother wants.
Although Sanam Saeed and Adnan Malik both failed to impress in this episode but even then this episode covered a great deal and gave me a reason to tune in next week. Tonight's episode could have been highly poignant if the actors playing the leading roles were more comfortable with shooting emotional scenes.
How many of you watched this latest installment? Do share your thoughts about it.