Written By: Asma Nabeel
Directed By: Mehreen Jabbar
Produced By: 7th Sky Entertainment
Schedule: Every Monday 8pm on Geo Entertainment
The first episode of Dil Kya Kare was entertaining and it had a modern feel to it. All the characters were introduced in such a way that their relationships with each other stood out more than anything else. These relationships for the most part were sweet as well as interesting.
Family dynamics
This episode opened with Bibi jaan (Shameem Hilali) throwing a surprise party for her grandchildren. The first scene was lively and pleasing. Arman (Feroze Khan) and Aiman's (Yumna Zaidi) birthdays were celebrated together even though they were miles apart. I especially liked Bibi Jaan's role because she was introduced as an easy going but intelligent head of the family who looked out for everyone and was fair. Besides Romaissa (Marina Khan), everyone else had nothing but good feelings about each other. Aiman's character too was introduced in detail in this first episode – she was shown as a confident, sensible and caring girl who loved Urdu poetry. Aiman's parents were just as 'cool' as Bibi and I especially enjoyed this element. The writer managed to present a happy family which had seen its due share of bad times but had stood by one another nicely on screen. Arman's character was the only one which seemed too plain, other than him all the other characters had more of a presence and personality. Arman's relationship with his sister Faryal (Maryam Nafees) was another cute part of this episode. Their scenes were enjoyable because of the way they were executed. Rabia's back story and what this family had gone through was communicated to the viewers through different conversations.
Likable and Progressive Characters
The best part of this first episode was that the characters were not only likable but also progressive. Bibi Jaan's positive outlook towards life and the way she protected Rabia was the highlight of this episode for me. Apart from Bibi Jaan Usman, Rabia and Aiman were some of the characters which were well-defined as well as appealing. These characters had a definite presence and you wanted to see more of them.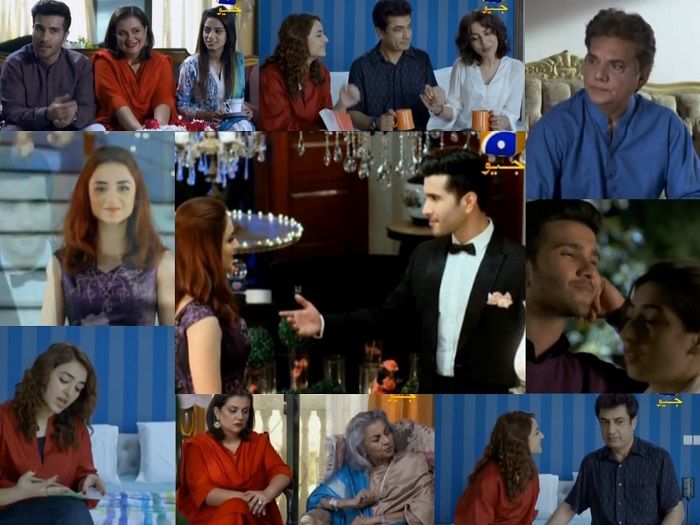 Performances, Script and Direction
Mehreen Jabbar knows her craft only too well therefore it did not come as a surprise that this episode was beautifully shot. It also had one of 7th Sky Entertainment's signature scenes – the song sequence in which Arman is day dreaming! It reminded me of Khaani. Shameem Hilali is the perfect choice for playing the role of Bibi Jaan – she carried this role with grace and confidence which was needed to make it come alive on screen. Marina Khan was the surprise package tonight since this is the first time I am watching her play such a role. I absolutely loved her dialogue delivery – so clear and on point. Feroze Khan's role is simple and he was quite convincing as someone who was madly in love. The only problem was that this was the only aspect of Arman's personality which was shown tonight. I hope there is more to his character. Yumna Zaidi and Saman Ansari both are exceptionally talented, it is great watching them together in a drama after Dar Si Jati Hei Sila. Aiman's character has my undivided attention after watching this episode. Rabia's (Sonia Rehman) story is also interesting and I am waiting to see more of her as well.
Overall Impression
This first episode was quite promising, the story and the characters seem interesting. This episode was also visually pleasing and well-paced. Looking forward to more!
How many of you watched this first episode of Dil Kya Kare? Do share your thoughts about it.