This was another engaging, perfectly paced, well put together episode of Dil Kya Kare. There were so many emotional scenes in this episode and with every passing episode I am falling in love with the characters even more. While you can't help feeling for Arman, Saadi and Aiman look so good together. The beautiful relationships between all these characters are the highlight of every episode. The progressive and positive approach of the writer makes this drama an absolute delight to watch.
Unconditional Love
Tonight's episode once again showed how beautiful unconditional love is. Few weeks back Arman was dying to get married to Aiman and now he is the one who has played a major role in making Saadi and Aiman's engagement a reality. Although, the viewers were shown how tormenting all this was for Arman but neither Mehreen Jabbar nor Feroze Khan went overboard to make the viewers feel for Arman. Feroze Khan's acting tonight was phenomenal throughout. He has carried this character with grace. Aiman's relationship with Bi Jaan is another example of how love can turn things around for people. The way Bi Jaan and Rabia have supported Aiman is another positive aspect of this play. Romaissa's negativity too is never annoying because she has no "allies". Also, everyone knows what she is like and they keep on telling her how wrong she is, which makes the entire situation more balanced and completely tolerable.
Refreshing Elements
There were some scenes tonight which were especially refreshing. Saadi making tea for his parents and being okay with doing so even after getting married was definitely the kind of scene we don't get to see very often in Pakistani dramas. Saadi and his father's conversation about how men also need to change in order to make a marriage work was another conversation which we rarely hear in dramas. The fact that all these messages have been put forward in a subtle way makes them even more refreshing. Although usually Geo is criticized by most viewers for showing regressive dramas but Baba Jani and Dil Kya Kare have been a breath of fresh air in so many ways. The absence of any kind of jealousy and the honest relationships also give this drama a different feel. The way Faryal never mulled over her broken engagement and wants to work even though she doesn't 'need' to was another positive and refreshing development in this episode.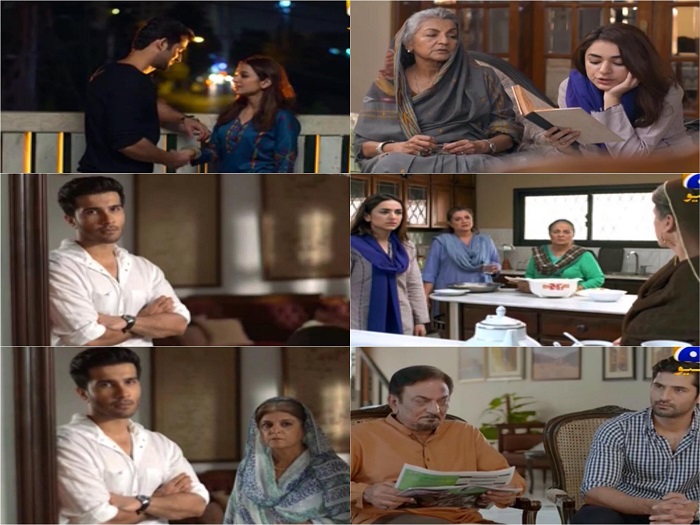 Realistic Portrayals
The realistic portrayals by all the actors involved and Mehreen Jabbar's immaculate direction makes this drama a must-watch. All the performances are authentic and even when there are no dialogues involved, the actors say so much with their expressions and body language. No matter how emotional the scenes are, they are always presented on screen in a crafty manner. This episode was also beautifully shot just like all the previous episodes. The director has kept things simple yet classy.
Another Tragedy On The Way?
Aiman has already been through so much, it will be heartbreaking watching her lose another person she truly loves. Aiman's dialogues tonight, the conversations in Saadi's house and the preview of the next episode did suggest that something terrible might happen to Saadi. Tonight's episode was entertaining as well as emotional because Aiman finally moved on, here's hoping that things don't take a turn for the worse in the upcoming episodes.
How many of you watched this latest episode? Do share your thoughts about it.