Written by: Faiza Iftikhar
Directed by: Nadeem Baig
Produced by: Six Sigma Plus
Channel and Timings: ARY Digital – Saturday – 8pm
This episode just like any other 1st episode focused on introducing the viewers with all the primary characters involved in the story. The story revolves around two households which are completely different from one another. Surraya Khatoon (Asma Abbas) is a widow who worked very hard to raise her two daughters after her husband passed away and she was shown struggling even in tonight's episode. Mohid's household on the other hand is quite affluent and his mother (Saba Hameed) is very different from Surraya Khatoon. Anmol (Mehwish Hayat) got more screen time than any other character in tonight's episode. Anmol's character is definitely very "unusual"! She takes boldness and courage to a whole new level. This episode opened with showing how far Anmol will go to teach someone who wronged her a lesson and all through this episode the viewers saw Anmol doing just that! Whether it was the lawyer or the people who come to take over the house Anmol did not spare anyone including Mohid (Hamayun Saeed). Anmol is not just bold but she is also very practical. She works to earn a living for her family and when her family is faced with a problem, she goes out looking for solutions.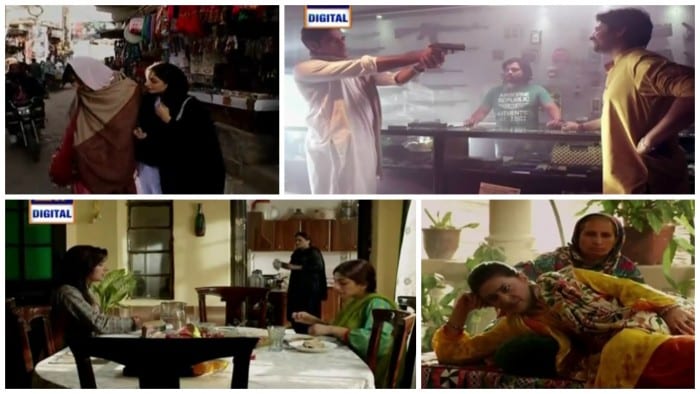 Mohid is the aklota beta we see in dramas all the time. He belongs to a very affluent family, he is maa ka ladla and he had absolutely no plans of tying the knot until he laid his eyes on Anmol! The first time Mohid saw Anmol, she was beating the man who snatched her purse and the second time he saw her she was beating up the men who came to throw their furniture out therefore one can safely assume that Mohid liked Anmol's bold nature. Mohid's dialogue "jhoote insan ke baad mujhe sub se ziada nafrat buzdil insan se hei" pretty much summed up why he would fall for someone like Anmol.
Mohid's mother is another unconventional character in the play. She is someone who does not have a high opinion of men in general and her advices to the women who came to her for guidance clearly showed that she believed in a marriage in which both partners had equal rights. Not much was revealed about Mohid's sister (Uzma Hassan) but I couldn't help but wonder why she wasn't married. She made a phone call which did appear to be "suspicious".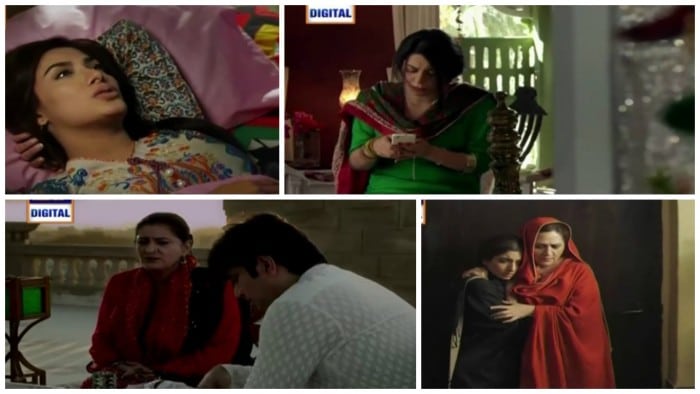 To be honest I found Anmol's character too Over The Top. There was a lot of screaming, running and hitting in this episode – just watching it on screen made me tired!! I found this episode more chaotic than anything else. Hamayun Saeed appeared on television screen after such a long time but he failed to make his presence felt. I always find his make-up extremely distracting and there was nothing special about his character as well. It is obviously too early to judge the characters therefore I am looking forward to finding out more about all these characters. I found Uzma Hassan's character intriguing and I am hoping that there will be a 'human' side to Anmol as well. It is always good to see an unconventional leading lady who is bold but somehow I had a difficult time connecting to Anmol's character in this episode. Both Mehwish Hayat and Hamayun Saeed failed to blow me away in tonight's episode but I am very willing to be pleasantly surprised in the upcoming episodes. Saba Hameed made her presence felt just the way she always does. I liked the way the actors playing the leading roles in the drama were introduced in the beginning of the episode.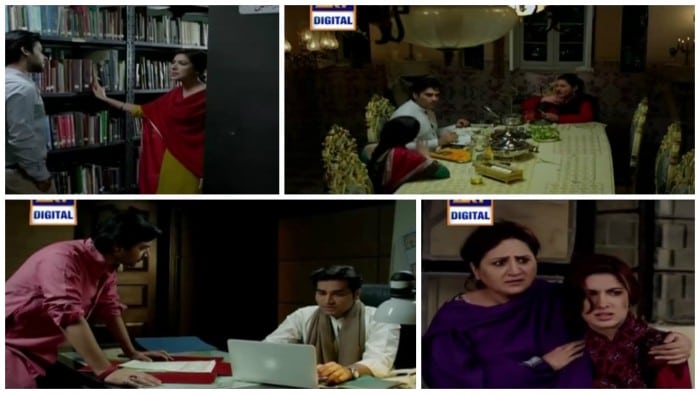 Overall, this episode was strictly okay. There was absolutely nothing about the story or the characters that instantly wins you over. The preview of the next episode showed Mohid asking his mother to go to Anmol's house to ask for her hand in marriage. Will that lead to even more 'chaos'? The interactions between Anmol and Mohid in the preview did suggest that they will have "rocky relationship"!
How many of you watched this first episode? Do share your thoughts about it.
If you missed the first episode of Dil Lagi watch it on http://www.dramasonline.com
Fatima Awan