With the exception of a few scenes and developments overall this was one of the best episodes of Gul-e-Rana. Finally, the viewers can see a strong woman in Rana, someone who is not willing to succumb to pressure and emotional blackmail and also someone who knows that getting out of her Taya's house is going to be a gradual process. I found Rana's confidence in herself very convincing and if her character keeps on making as much as sense as it did in tonight's episode then I am willing to accept her as a strong woman. Rana's conversation with Asher (bhai) went to show that all this time she was quiet because she thought that even if she shared her feelings with her mother or anyone else, she will not get any support from them. It took time for Rana to come into terms with her situation and at least for now it looks like she knows exactly what she wants from her life. It was extremely good to see Rana not coming to Adeel's rescue although there was a time when it appeared to be that she was the only one who could help him get out of this situation. Sajjal Ali looked stunning in tonight's episode and she did complete justice to her character.
Watching Adeel in a situation which was in some ways very similar to that of Rana's in the past was definitely very pleasant. He forced Rana to get married to him, there was a time when he was so sure that no one would believe Rana even if she told everyone the truth and now Adeel found himself in the same situation. Adeel of course had the option of going 'abroad' which Rana did not have and a part of me is happy too that this marriage will not take place. It really did seem like Adeel was in Murree and he never left the country.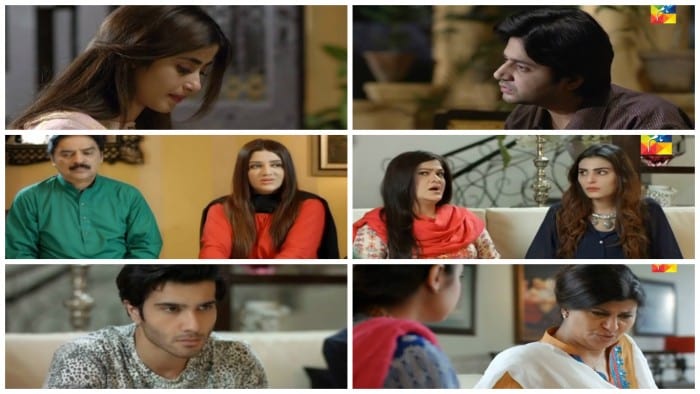 The reasons behind Taya Abu's decision to marry Adeel with Maria however were not very convincing. He had absolutely no reason to believe Maria and doubt his son in the first place. Taya abu has been shown as a very wise man, someone who is not just head of a family but who is a very accomplished businessman too therefore he really should have questioned Maria even before Adeel decided to leave the country. Also, if Rana does not want to spend the rest of her life with Adeel why is Taya abu not considering a divorce instead of marrying her present husband to another girl. There are times when Taya abu is turned into someone who cannot make a rational decision even though the decisions he makes are not made in haste but he takes his time in making these 'just' decisions.
Asher "bhai's" true feelings were finally revealed in tonight's episode. The way he looked at himself in the mirror showed that he probably didn't think he deserved to be with someone like Rana. Asher has always been shown as someone who does not have a lot of confidence in himself mostly because of the way his father was always belittling him but the recent changes in his personality might give him the courage to share his feelings with Rana. Honestly speaking I still find this particular track extremely useless other than the fact that Asher and his family's support made it possible for Rana to get the time she needed to think things through. If she was in her Taya's house, she couldn't do all that she did today. We all know that Rana will never get married to Asher and she harbors no such feelings for him therefore Asher's feelings for Rana will not effect the story in any way, they will only validate Adeel's claims that Asher is in love with Rana.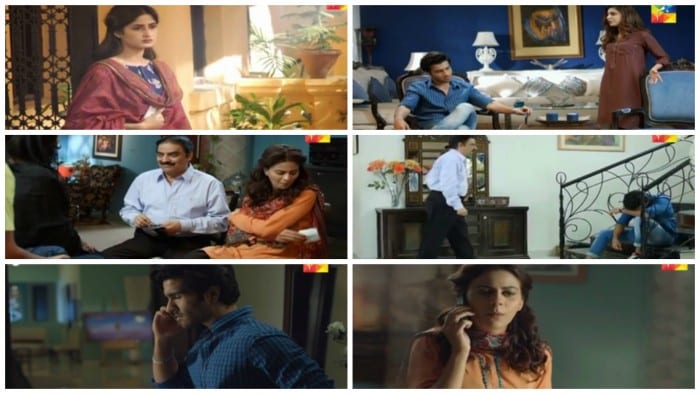 I must say that even though some developments in this episode were highly unconvincing (like Taya abu's decision to marry Adeel with Maria, not thinking about how Rana and Adeel will live in the same house now) but overall this was an episode which gave me a reason to look forward to more. Except for Rubina Ashraf all the other actors gave their best performances in tonight's episode. Feroze Khan was flawless as someone who was losing all control and Sajjal Ali is definitely more convincing as the truly strong Rana than the one who only made tall claims in the previous so many episodes. It was refreshing to see Rana taking some practical steps to move on.
Don't forget to share your thoughts about this latest installment.
This recent episode did not air on television but it is available online. Watch it on http://dramaonline.com/
Fatima Awan