Wow!! wow!! wow!!! This was the kind of episode which completely blows you away. Thank you team Dil Lagi for an amazing episode which I will be watching over and over again!! This episode was extremely emotional, entertaining and like every other episode of Dil Lagi it had some amazing dialogues to its credit. Waiting another week to see what is going to happen next is going to be torturous.
Anmol is finally in love with Mohid and for a change this change of heart wasn't something that happened abruptly at the last minute as is the case with many other dramas. Anmol took her time and when she realized her feelings for Mohid were changing she was seen questioning her own self – this was my most favorite part. Tonight for the first time it seemed like Anmol was judging herself for a change – questioning whether she really deserved all this love or respect because she always criticized Mohid and even Zulekha. She never expected both of them to be fair with her but tonight she was proven wrong. Not only was she convinced that Mohid wasn't the person she thought he was but when Zulekha accepted that she really was 'anmol' , she was taken aback and the look on her face showed that she had realized just how wrong she was.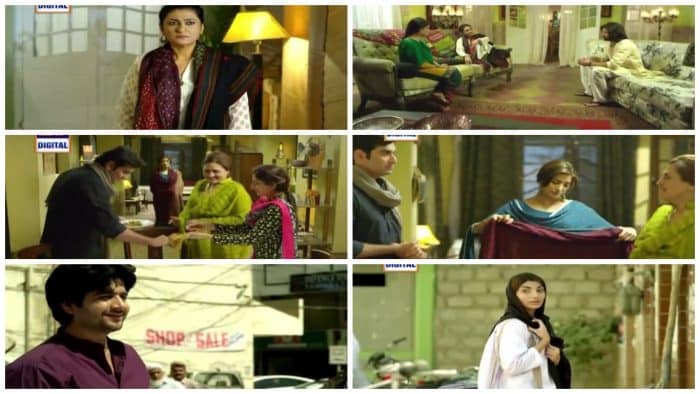 At the beginning of this episode Anmol was her old self, the person who was bent on doubting Mohid's intentions and judging his action every step of the way. The change of heart started when Mohid did things big and small to show how much he loved and respected her mother. What Anmol's mother said to her would have fallen on deaf ears yet again had she not found out what Mohid had done for Sabiha. While Anmol had a difficult time giving Mohid the credit he rightly deserved, Mohid just like always was very generous while appreciating Anmol's efforts. Anmol can finally see Mohid for who he is but the discovery Mohid made at the end of the episode is going to create a big misunderstanding which might not be easy to resolve but even then there is still room for a lot of emotional scenarios in which ama can prove that she too can do something extraordinary for Anmol. Hamayun Saeed and Mehwish Hayat nailed every single scene in tonight's episode. Their on screen chemistry coupled with the brilliant direction and those amazing dialogues made every scene a treat to watch. It isn't very often that actors look as good as Hamayun Saeed and Mehwish Hayat look in those close-ups. The credit for this goes to the director for the perfect camera work and the make-up artist for the perfect makeovers.
The scene in which Fazal asked Zulekha for forgiveness was the most emotional scene of this episode. The credit for this clearly goes to the director and the writer for making this scene work. Saba Hameed is always spot on therefore she contributed in making this scene a success but the fact is that the actor playing Fazal cannot act to save his life. Even with his flat expressions the situation, dialogues and the way this scene was shot was so remarkable that the flat expressions went almost unnoticed. This was the perfect ending for Sabiha and Fazal. Even someone like me who could never really connect to Sabiha's character felt so emotional while watching this scene. This was the kind of scene which makes you teary eyed even when you are not entirely involved in a particular track. This scene started with Fazal being very hesitant and Sabiha playing the role of a mediator between Fazal and her mother but when Mohid came Fazal had the confidence to ask Zulekha for forgiveness and was even willing to do what she had asked her to do so many years back. Had Fazal taken Sabiha without having this conversation with Zulekha, this situation wouldn't have been as perfect as it was.
The scene between Mishal and Anmol was very filmy but quite apt! Only Mishal could have helped Anmol figure out how she actually felt otherwise she would have been remained confused. Dastagir and Mishal are headed towards their happy ending as well. There was a time when it was impossible to picture Dastagir studying and taking these exams but Mishal has proved that behind every 'educated' man there is a woman too! Mishal and Dastagir compliment each other. Imran Ashraf has been brilliant as Dastagir throughout the play, I never thought he had it in him! A quality script and a gifted director can bring out the best in any actor who is talented.
Although this episode was full of dhuwandaar dialogues but these two were my favorite,
"Nai ji utha tha." (those of you who watched this episode will understand why I loved this dialogue!!)
 "Kabhi tum ghalt fehmiyo mei rehti ho, kabhi uljhan mei rehti ho. Itni jaga di hui hai tumhei is dil mei, wahan kyu nahi rehti?" (yes sounds super cheesy but trust me you will fall in love with it too when you watch Mohid delivering these dialogues with utmost certainty!)
I would give this episode 10 out of 10, I loved every bit of it. Dil Lagi proves that a love story can be very appealing if it is free of clichés! Faiza Iftikhar has in her own way questioned a lot of dialogues and phrases which are used in love stories all the time. In this episode in a very subtle yet apt manner she questioned the whole concept of 'mur mitna'! The leading characters of this story and the scenarios are always very different from what we usually see in our dramas which make them interesting. Nadeem Baig is a very creative director who knows exactly how to translate all the emotions on screen without making the scenes over dramatic. Also, the OST is always used when it is needed and the way the close-ups are taken is very daring but when the director knows what he is doing then the final product is as superb as this play and this episode in particular.
This episode transported me to another world and I am still waiting to land one earth;) How many of you loved this episode just as much as I did? Don't forget to share your thoughts about it.
Fatima Awan