Anmol and Mohid are finally husband and wife but this most certainly is not the beginning of a happy married life. This was another episode in which the story was driven by Anmol's impulsive decisions. Anmol in a way has surrendered so that she can be in a position to fight a new battle. She is very certain that Mohid will not spare anyone who 'attempts' to marry her therefore she decided to be Mohid's wife hence in a way Mohid won but she intends to make things very difficult for him. Anmol made it very clear that there was no place for Mohid in her heart but now she had the license to live in his house. Anmol has been shown as a very head strong girl who will not spare anyone who tries to mess her life in any way therefore her decision was driven by this instinct rather than the pressure from her mother. Her mother and sister's future wasn't the primary reason why she took this step but making sure that Mohid pays for his mistakes was the main motivation behind her actions. This recent development reminded me of Rana's decision to get married to Adeel and the reason behind it. The huge difference between these two dramas however is that firstly Anmol is very different from Rana, when she says she will make someone pay for something they did, she will make sure it gets done! Secondly, although Mohid did everything in his power to force Anmol to be his life partner but once he realized he could not make someone love him, he backed out completely and most importantly he did not force Anmol to marry him on gunpoint.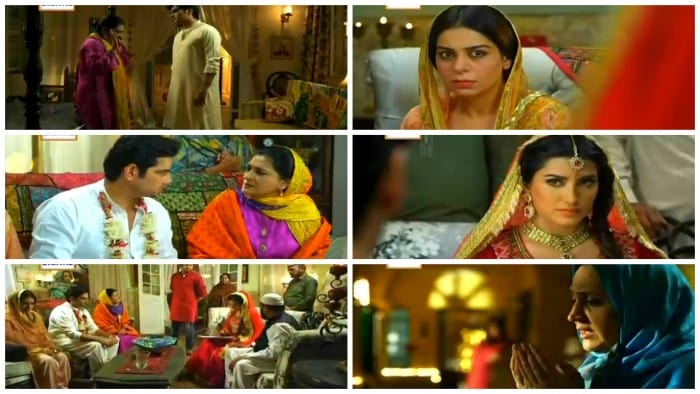 So far we have seen Mohid's mother being extremely flexible with her son but in tonight's episode the viewers saw her losing her cool and for the first time she judged Anmol for her actions. She thinks that this nikkah took place solely because Anmol pressurized Mohid into it and fails to see everything that Mohid has done in the past. We also saw her trying to ensure that no one ever found out how this nikkah took place. Saba Hameed completely stole the show today with her brilliant performance. Watching her give a long lecture on 'sadgi' and then talking about a grand valima actually made me feel for her!! I felt for both the mothers while watching tonight's episode more than any other character.
Sabeeha was already unhappy with her situation and now that all this has happened she thinks she has the right to do things her way too. Although the man she is involved with does not sound like the kind of man who will be able to accept her if his family is unwilling to do so but she is still willing to take this big step. Sabeeha is clearly sick and tired of living a life according to her mother's wishes therefore she also plans to run away. The question is will Anmol help her do that? When Anmol's friend gave her the black duppata she was covering herself with, she said it was not hers. Was it Sabeeha's duppata?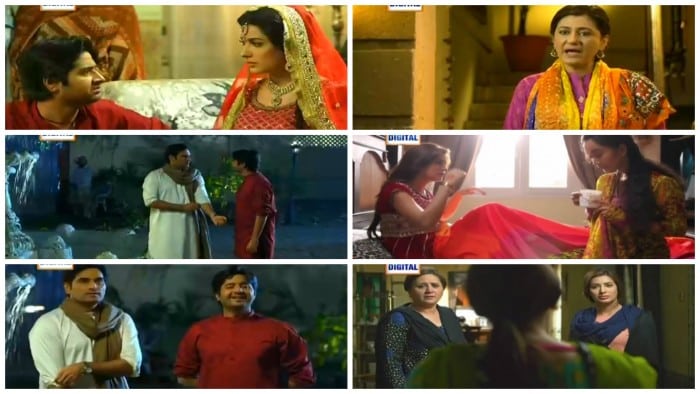 This episode was very filmy; too many impulsive decisions and a heroine who went ahead and did things which most women would never even dare to do. Although Anmol's character is very head strong and at times unreasonable but she has her vulnerabilities. She had to go ahead and get married to a man she does not love and will never love only because her actions are governed by her ego. Anmol's derives pleasure out of getting back at people who mess with her but how happy can something like this make a person and most importantly for how long?? Mehwish Hayat once again gave a superb performance although all the decisions which Anmol took in tonight's episode were just plain outrageous. Hamayun Saeed has managed to bring out the best in his character by showing a very soft and sensitive side of Mohid.
The preview of the next episode showed Mohid's mother trying her best to make Anmol follow rules of her haveli but Anmol wants to set some new rules of her own.
How many of you watched this latest episode? Don't forget to share your thoughts about it. If you missed it, watch it on http://www.dramasonline.com
Fatima Awan
PS: Udaari review will be posted on Monday. Thanks.