Just like all the previous episodes of Dil Lagi, this one too made me sympathize with almost all the characters in some way or the other. The way all these characters plead their cases (the conversation between Mohid and Anmol on their valima night) and the manner in which different aspects of their characters have been translated on screen makes it very easy for the viewers to understand why these characters are the way they are. Also, there are no villains or good guys in this play, that is what makes it even more interesting. You're not sure how you would feel about a character after watching a certain episode. Although Mohid and Anmol are in what can be easily termed as a state of war but this war isn't like any other war since it is difficult to decide who's side you want to be on. While watching all the other plays which revolve around dysfunctional marriages it is usually easier to put the blame on one party but that is most certainly not the case here. Mohid truly did back out and he realized it was not possible to win people by using force long before Anmol decided to take this extreme step to teach him a lesson. Anmol is justified in making his life hell because she believes that he did not keep his word. Sabiha loves her husband and is willing to forgive him therefore although she is the only weak woman in this play but one does feel for her because she is not free to live her life the way she wants. Zulekha's stance was right because she did not want her daughter to live with a man who did not give her the respect she deserved but now it seems like she is just being stubborn. It is ironic that someone like Zulekha who is all for women who do not let men rule over their lives has a bahu like Anmol!! Even with all the lectures she gives to women about their rights, she cannot seem to overcome the typical thinking which governs these relationships when it comes to dealing with her own bahu.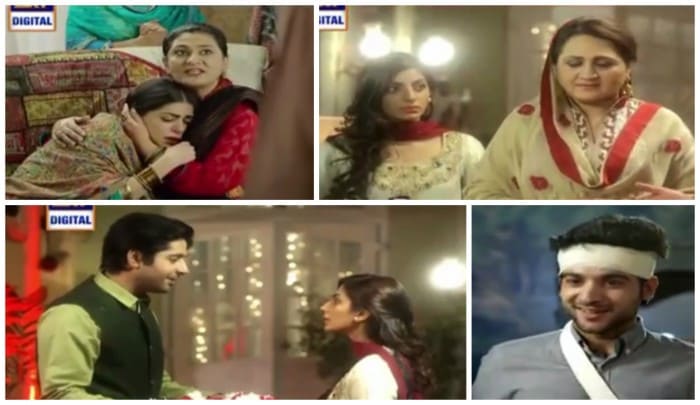 This episode opened with Anmol asking the housekeeper to finish her story, while she was enjoying listening to the interesting and never ending twists and turns, she had no idea that the maid had written Mohid's name on her palm! This scene was shot flawlessly. Mehwish Hayat's acting in this whole episode and this scene in particular was amazing – loved the timing of her reaction and the way she desperately tried to erase that name off  of her hand. It also indicated that it won't be that easy for Anmol to get rid of Mohid now that he was a permanent part of his life.
The scene between Dastagir and Mishaal was one of my most favorite scenes in tonight's episode. It is good to see a character like that of Dastagir on screen which is both comic and very witty! Loved the answer he gave to Mishaal, it left her speechless. Imran Ashraf should definitely do more such roles.
The conversation between Mohid and Anmol on the night of their valima was very well written like always but it was too long and slightly repetitive. Anmol and Mohid both have said these things to each other over and over again. This particular conversation would have had more of an impact if it was short. The last few lines were definitely very touching and deep but the first few dialogues were the same as those which we heard in the previous two episodes as well. The timing of the OST was perfect in this particular scene which helped the viewers understand what Mohid was going through. It seemed like Anmol was a little scared too while this conversation was taking place and later on when they were sleeping. Mehwish Hayat looked stunning in the valima scene. The stylist and the make-up artists deserves due credit for giving her some very different and appealing makeovers.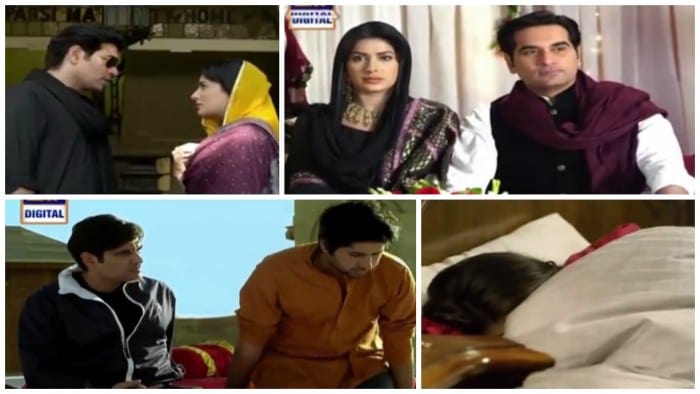 Saba Hameed was exceptional as usual although some of her scenes were very typical. Everything she said to Anmol's mother every time she saw her was very typical and it made it seem like she was desperately trying to put her down. When Sabiha entered the room and Anmol's mother started questions about her, the mood of the conversation and Zulekha's attitude changed altogether. That is what makes this drama different, in any other drama this scene wouldn't have ended like this!
Anmol devised yet another plan to make Mohid miserable. She seemed somewhat disappointed when he did not mention what he had heard and didn't seem effected by it either. The preview of the next episode suggested that Mohid will deal with this new situation in the same cool-headed manner in which he has been dealing with everything else. Hamayun Saeed is definitely very convincing as Mohid, the fact that his dialogues have been written so beautifully helps too. He manages to get his message through loud and clear in only one line!! Dialogues like "unhe khushi dene se mei choti nahi pr jata" "dil jeetna koi khel nahi hota Anmol Ji, jung hoti hai…." and many more make you feel for and like his character.
The director has done everything he could to make this drama a visual treat. The make-up artist and the stylist also deserve a lot of credit for making the leads in particular look their best. Faiza Iftikhar has written dialogues which are very deep and extremely touching, they stay with you long after you hear them! Mohid's dialogues had to be my favorite in this episode. I love the way Saba Hameed's colorful and grand outfits go with the overall outlook of the haveli, I wonder if this was intentional or just a coincidence.
The preview of the next episode promises a lot of drama and I am definitely looking forward to it. How many of you watched this episode? Don't forget to share your thoughts about it and if you missed it, watch it on http://www.dramasonline.com
Fatima Awan