Ohkay so, produced by Next Level Entertainment & Six Sigma Productions, wtitten by Saira Raza & directed by Shahid Shafat; Dil Mom Ka Diya is the new prime time drama airing on ARY Digital on Tuesdays. The first episode was full of clichés but I am sure the story will have a lot more to offer once it will kick-start. The first 2 episodes introduced the characters & their household dynamics in a detailed manner, despite not being new, I will say that everything was definitely done well.
Afzal (Yasir Nawaz) is the eldest of 5 siblings & because he took care of them after his parents died, he couldn't really get a chance to get married & settle down. Afzal spent a chunk of his life struggling to settle his brothers & sisters & they all look upto him. One of Afzal's sister Salma (Erum Akhtar) is married, his brothers Aqmal (Hassam Khan) & Ahzar (Imran Ashraf) are studying & so is youngest sister Kausar (Zubi Majeed). They all are a close knit happy family with everyone having immense respect for Afzal because he is like a father figure to all of them.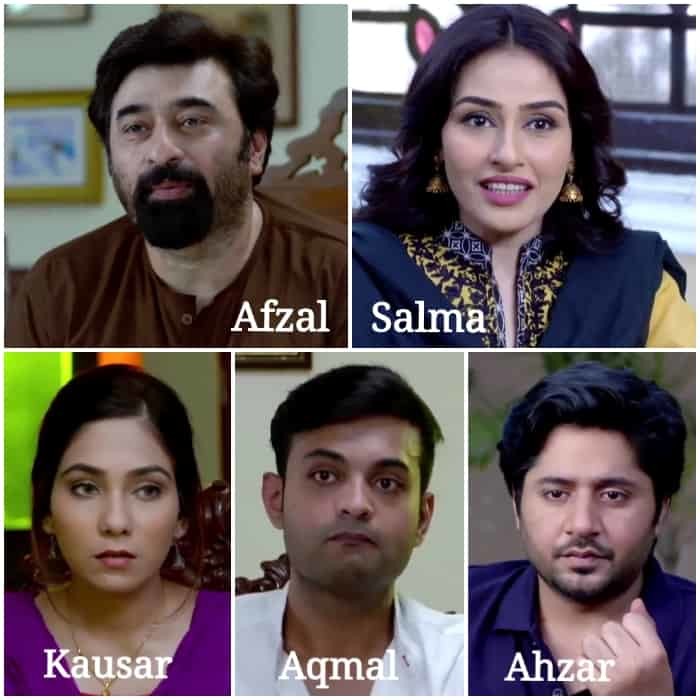 Molvi Feroz Baig (Qavi Khan) has a small family consisting of his wife & 2 daughters Ulfat (Neelam Munir) & Farhat (Alizeh Shah). Ulfat is boisterous, she is unapologetically herself, she is an idealist & someone who dreams big. Ulfat always attracts attention on her because of her looks but so far, she hasn't really exploited that to her advantage. Ulfat wants an escape from the life that she is living & she definitely imagines getting married to a handsome, young & wealthy man.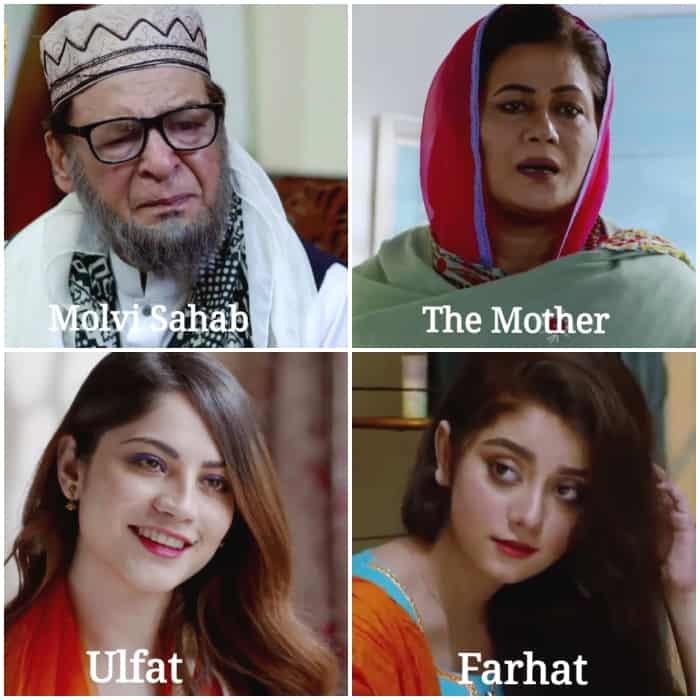 Ulfat happens to be the point of concern for her parents too especially her mother where she fears that she might not be able to find a suitable husband whereas Molvi Sahab worries that he might not have sufficient funds to get his daughters married decently. Ulfat has quite an image in her neighbourhood, that is why aunties around her gossip about her which her mother is aware of too. Well, not to sound like those who gossip about her but Ulfat even the younger one Farhat are too modern considering the fact that their father is a humble preacher who is also quite modest & has nothing much to offer to his daughters financially. Well, Molvi Sahab gives classes to Kausar & just when she completes her course, Afzal requests Molvi Sahab to give him Quranic classes too. Afzal respects Molvi Sahab a lot & that is why, when he falls sick, Afzal makes sure to bear all the expenses in order to provide him with the best medical facility.
Salma shows concerns for Afzal's marriage & she is adamant that her brother should now settle down. Despite Afzal telling Salma repeatedly that he would want to get married to a girl who has a same temperament as him, shares same interests & is mature, Salma brushes that thought off because she is focused on only one thing that she will pick a young & beautiful girl for her over-aged brother. Afzal is well aware of his age & that is why he is not even too keen on getting married but Salma doesn't really understand. It is too obvious that Salma's controlling & nosey nature will definitely create issues in Afzal's marital life!
Well, like it happens in all our dramas, Molvi Sahab gets a heart attack & because he knows Afzal is a gem of a person, Molvi Sahab tells him to get married to his daughter Ulfat. Ulfat gets pressurized & is forced to say yes to her Nikkah with Afzal that takes place then & there in the hospital room. Obviously, Ulfat later creates a havoc because she is forced into marriage with a man she had been making fun of just a few moments before. Afzal doesn't get the chance to see Ulfat but Ulfat who had seen him having a conversation with her father & his doctors goes into shock because Afzal is nothing like what she had imagined her ideal husband would be. I must say, this is not the first time our writers have presented a weird picture of Islamic concepts but it is too obvious that no Nikkah is valid if a girl is mentally or emotionally forced into it like Ulfat was by her parents!
Salma & Kausar pay a visit to Ulfat's place to finally meet her but before that happens, Salma raises concern over Molvi's daughter being too over-aged for Afzal?!? Well, they meet Ulfat & just a glimpse of her is enough for Salma to get convinced that Ulfat is perfect because she fits the bill of the girl Salma wanted for Afzal.
Overall, the direction of these episodes was good & so was everyone's acting but I wish to see the story being more than just a compilation of seen-a-million-times-before clichés. I have never seen Neelam Munir's project/acting before so I really have nothing to compare with, that's why I am not sure how did she act because at times it did look like she was either trying too hard or may be that's how she usually acts? I am unsure but let's see what she has to offer in the remaining episodes. The production value seemed great & also, it did look like the director gave a free-hand to the actors in family scenes because they all seemed relaxed & comfortable enough to look like a happy family. My actual reason of tuning to Dil Mom Ka Diya is Hira Mani & Imran Ashraf as they both are phenomenal actors. Anyways, let's see how things roll. Please share your thoughts.
Keep Supporting,
Cheers,
Zahra Mirza.