When we say that Pakistani cinema is progressing, we actually say it because of movies like Load Wedding. The movie is really a masterpiece. The Nabeel Qureshi directorial has Fahad Mustafa and Mehwish Hayat playing the leads Raja and Meerab. I'll just break it down without giving out spoilers!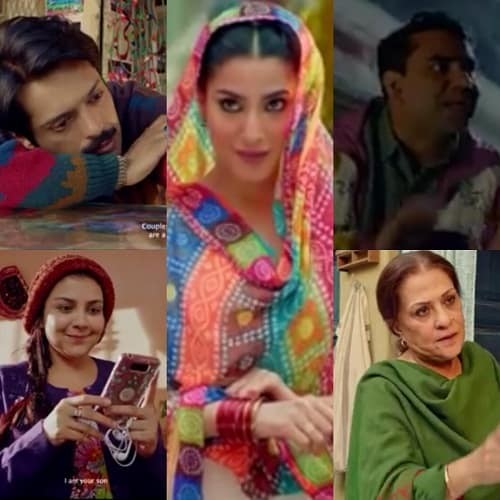 Script:
A movie actually stands on its script. Nabeel Qureshi and Fizza Ali Meerza have done a commendable job with the script. They have given not one but two social messages, but not once do the viewers feel that the messages are being forced on them. They have drawn attention to the huge issues of dowry and ill-treatment of widows and girls who remain unmarried in a satirical way. You feel the graveness of the issues even when they are being dealt with lightly and humorously. An aesthetically perfect script is what makes Load Wedding a fun-loaded ride from start to end.
Acting:
Every cast member in Load Wedding gave his/her hundred percent to the film. Fahad Mustafa and Mehwish Hayat have nailed Raja And Meerab. They have got the accent right which gives the overall movie a natural touch. Samina Ahmed is great as always. She has played a desi mom and saas to the perfection. Faiza Hassan has brilliantly portrayed the depression and bitterness of a girl who is shunned by the society for not getting married. Another important part of the movie is Qaiser Piya who plays Raja's friend Nazir. He also has done justice to his role. Yes, at some points one can find Faiza's character very loud but that was what the story demanded so it goes with it perfectly.
Direction and Editing:
Nabeel Qureshi has done his job well as he translates the loads of weddings in Pakistan perfectly on screen. He has made his actors what they were supposed to do. With perfectly timed shots and the overall rural look of the film, Nabeel does make you feel that it is a common man's story.
Editing, however, has been the only sloppy point of the movie. The whole game show scenario could have been cut short a bit since it gets a little too extra. Baby Baaji aka Farhana's reactions were a little repetitive. Repeating the scenes, again and again, was not necessary to establish the point being made. This was the only little miss for Load Wedding.
Music:
I found Load Wedding's music the best among all the three releases this Eid ul Adha. Rangeya is a great romantic song while Munday Lahore De was the true wedding song among all three released this Eid. Shani Arshad has really taken his job super seriously and given a great soundtrack.
In a single line Load Wedding is a perfectly written and perfectly directed film, with a few glitches in the editing avoided, this one should be watched and remembered for its beauty!
Overall Rating: 9.5/10