Opening Thoughts – Real But Depressing:
Ohkay so, this episode of Dil Mom Ka Diya was pretty depressing & real. It showed how those who cause so much pain to others are immune to that feeling that they don't even feel a thing or two themselves. It is interesting how the writer has kept the characters true to themselves & everyone is doing what is in line with their nature.
Afzal Finally Reacted:
Ulfat got rid of the baby & that acted like a last nail in the coffin because Afzal just could not bring himself to forgive for such a heinous crime committed by his wife. Ulfat has really tested Afzal's patience over the years but now there was a limit which she pushed & Afzal reacted, he had to react. Ulfat actually thought that she could get away with this too but she had no idea that Afzal will take a stand. Afzal is done being taken for granted & that is why he drew a line. Even after Afzal sent Ulfat away, he thought about her because he genuinely loves her but then Ulfat just doesn't understand.
Molvi Sahab passed away after having a heart attack but unfortunately, Ulfat didn't take the blame for pushing her father to that limit rather she held Afzal accountable for everything that happened. Ulfat is just so self-absorbed to even think that she can be wrong, that she is the only person wrong in every single situation. Tamkinat was there to support her Chachi & Farhat every step of the way but then even that was something which Ulfat felt was an act put up by Tamkinat. Unfortunately, the drama that Ulfat created at her father's funeral ended up taking a toll on Farhat's relationship as well because it was too obvious that her mother in law was upset at what she heard & was not in a mood to pursue this relation any further.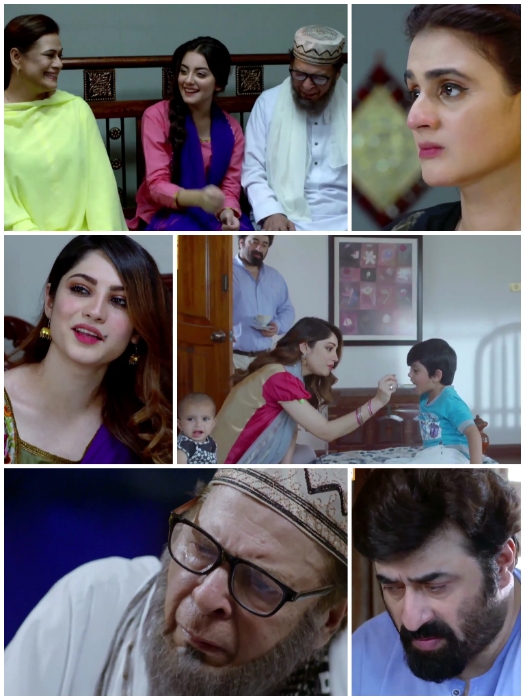 This entire scenerio also affected Kausar's personal life because her husband was upset with her absence from his home too. The writer quite realistically showed how a spat in one family unit affects everyone directly or indirectly. I found Ulfat's mother irrational too when she once again cried buckets sympathizing with Ulfat, I mean c'mon being a mother is one thing but she has seen Ulfat's track record so it was unwise of her to assume that Afzal must have done something wrong!
Closing Thoughts – Powerful Performances:
Anyways, this episode of Dil Mom Ka Diya was mostly dedicated to Molvi Sahab & his departure from the world but then it also ended on Ulfat demanding divorce from Afzal. I am sure Afzal will find a way but won't leave Ulfat as he can see how everyone else is suffering because of her absence in their children's life. Neelam Munir has done a wonderful job as Ulfat, I don't think anyone else could have played this twisted character to such a perfection. Yasir Nawaz really makes me feel for Afzal, he has nailed this character too. I like how despite showing that Ulfat – a negative character has an upper-hand, the writer has balanced it out with a positive & very strong character of Afzal because usually the negative characters rule & the others only get oppressed (recent example Balaa) but in Dil Mom Ka Diya things are different & realistic because even though Afzal is forgiving & is on the good side, he has a very strong presence & character too. Tamkinat is another character played beautifully by Hira Mani who balances out Ulfat's negativity. I like how the writer has shown Tamkinat to be polite & courteous but she always makes sure to respond to Ulfat's gibberish in a civil manner. This I feel is the strength of this drama where the writer has shown the good side to be equally strong & dominating too. Please share your thoughts about this episode of Dil Mom Ka Diya.
Keep Supporting,
Cheers,
Zahra Mirza.