Opening Thoughts – Seriously?
Ohkay so, as much as I like watching Dil Mom Ka Diya, I so did not like what was shown in this episode especially with girls crying buckets over losing a man in their lives. Seriously? Yes, I get it, the writer is showing how these girls are innocent & loyal & sincere & all that jazz but then again, to see them begging for a man's mercy was sickening!
Loser Men, Desperate Women:
To be honest, just last week I praised how the writer had maintained a balance by outweighing Ulfat's negativity with Afzal, Azhar & Tamkinat's positivity but I was actually disappointed after seeing everything that happened in this episode of Dil Mom Ka Diya. The character that shocked me the most was Afzal. He himself could not make his marriage last, he couldn't tame him wife as he didn't know how to take a stand at the right time but now when he could see that Azhar was unduly punishing Tamkinat, he not only stayed silent but encouraged Azhar too. It was like now that Afzal's marriage was over, he didn't want his brother to settle down as well!!!!
I liked Kausar's attitude & wisdom in this episode. At least she could see that whatever was happening with Tamkinat was wrong & not only that, she tried to fix it too. Afzal let Ulfat rob his house even after the divorce, like he still was just as helpless as he used to be in front of Ulfat but when it came to Tamkinat, he exploited his position of being Azhar's elder brother & influenced his decision of ending his relationship with Tamkinat. It is actually ridiculous that Tamkinat is not even Ulfat's own sister, she happens to be her first cousin but all of them have not only judged her time & again, but have put her on the same pedestal as Ulfat too!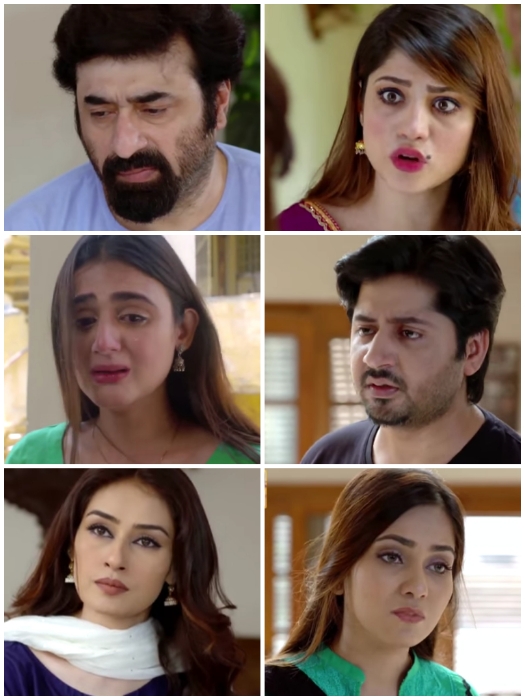 Salma happens to be the worst character ever followed closely by Azhar. To be honest, as much as they have tried to make Ulfat look bad & evil by showing her indifferent & selfish attitude – all the things that Salma & Azhar have said & done outbid Ulfat's wrongdoings easily. Ulfat was shown to be like this right from the beginning, there was no pretense from her side, she was the way she was & she owned herself unapologetically, but Afzal's family portrayed themselves to be the "good guys" so what they have done to Tamkinat is far more evil. It is like they know that they can't do anything to Ulfat so they are punishing a harmless soul like Tamkinat to shed their frustrations. I just don't understand one thing, that if one brother in a big family gets separated, does it mean that all the other brothers have to part their ways with their spouses as well? What sort of logic is that? For Azhar to turn a blind eye towards Tamkinat that too when she continuously tried to contact him, telling him that she was there for him was ridiculous. It is quite unconvincing that Azhar couldn't cope up with Afzal's divorce & ended up falling in the same pit of a divorce himself? How is that rational or justified!?!?!
I totally understand Tamkinat's perspective, she wanted to hold onto this relationship as she loved Azhar but the general message that the writer sent by showing Tamkinat's journey was wrong. It was as if Tamkinat was nothing without Azhar, therefore she didn't want to lose him? I mean this guy only doubted Tamkinat, her character, her intentions & her personality all the time while faking his love for her so is he worth crying buckets for? & Farhat as well, I mean Ulfat completed her Iddat but Farhat couldn't complete hers that too only when her engagement was called off!!! Hadh ho gai bhai desperation ki! I mean those guys were fine without these girls lekin hamari hi larkiyon ko akhir ai hui thi!
Closing Thoughts – Disappointed:
This episode of Dil Mom Ka Diya definitely disappointed me in terms of how they showed girls literally crying & dying over the idea of unable to get married to the ones they idealized. Tamkinat was shown to be quite a khud-dar larki who didn't even want Azhar to fetch her Chacha's medicine or groceries so girl, now when he was totally in a mood to call this wedding off, you should've been the first one to ditch him because apart from fake promises, how has he stood by you when you needed him the most? Bizarre. Aur haan please tell Farhat to complete her 2nd year at least. Matric ke baad hi shadi ke khuwab? 😂 Anyways, please share your thoughts about this episode of Dil Mom Ka Diya.
Keep Supporting,
Cheers,
Zahra Mirza.