Opening Thoughts – Perfect Ending:
Ohkay so, Dil Mom Ka Diya in my opinion had a complete & a perfect ending. One of the strongest points of Dil Mom Ka Diya was that it consistently remained a good watch. Yes, a few tracks here & there did get a little dragged but the overall progress of the story was great & so was the ending. This drama basically tells that simple stories if done well can really make into good drama to tune to.
Regrets & Realizations:
Tipu did believe that Ulfat turned out to be a good wife but in reality, Ulfat just stayed with Tipu because she learnt her lesson & she knew that all this was happening to her for a reason. It took a long long time for Ulfat to realize that she let go of her biggest blessing herself so now all that was coming her way was her fate & she had to accept it. Even Tipu couldn't believe that a woman like Ulfat chose to stay by his side through thick & thin but Ulfat had her reasons.
Azhar realized his mistake & he couldn't forgive himself for doing something so miserable to Tamkinat. Tamkinat who waited for so long for Azhar chose not to see him because like she said, she was entitled to put him through some misery too because what he did was not justified. Everything that Tamkinat said was spot on because she always proved herself to be different than Ulfat but Afzal & Co. could never really come out of that mindset that Tamkinat & Ulfat were two separate individuals & unfortunately, they put them on the same pedestal & judged them both equally. Tamkinat accepted Azhar's apology but she didn't immediately forgive him which was absolutely justified.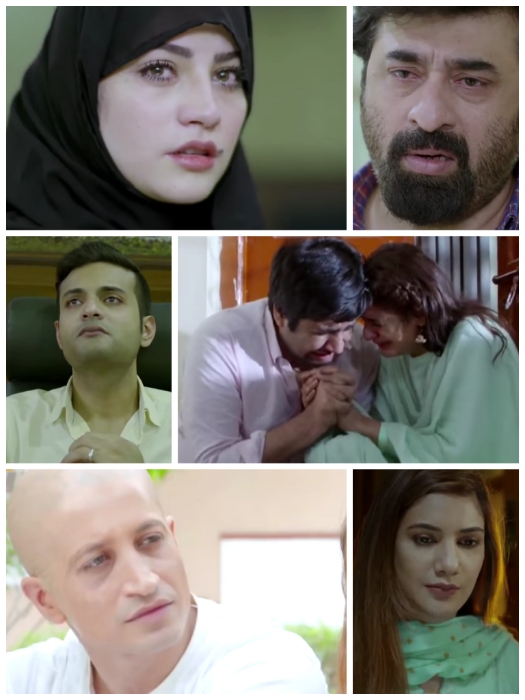 So, Ulfat went to see Afzal. She knew that he would never return her empty handed. Ulfat knew Afzal too well & that is why when they both met, her tears told the tale of the remorse & regret she was carrying for so many years. What I loved about Ulfat in recent times was that she never once complained as to why she was faced with such a test because she had a clear answer to that question so she was in no position of doing that. I loved that scene where Afzal & Ulfat just looked at each other & cried – it was Afzal's way of showing that he still loved her or how much he had loved her before & he was in pain seeing her in such a condition & Ulfat's tears depicted how she was ashamed of what she did & how she was now paying the price of her doings.
The only thing I didn't really appreciate much about the last episode was the coverage that Aqmal got. They showed that a lot of time had passed already so may be giving Aqmal his own life would've been better. Anyways, Aqmal wanted to see Ulfat's undoing & he got to see that. However, Aqmal felt heavy-hearted as no matter what, both Afzal & Aqmal had shared a bond with Ulfat so to see her in such a condition did make them feel sad.
Tamkinat was welcomed in Azhar's family whole-heartedly but it was obvious that it will take a while for Tamkinat to forget all those horrible experiences she had in those 4 years when she was forced to live without Azhar.
I really liked how they showed a positive & hopeful ending for Ulfat with Tipu getting better. It is nice to see them showing that despite such a disease there's always a hope of survival for the patient. Tipu seemed happy & Ulfat was just content because she accepted this life of hers while still being mindful of the fact that she was the one who put herself in this situation so there was no need for her to escape it.
Closing Thoughts – Complete Ending With Superb Performances:
Overall, after watching the last episode of Dil Mom Ka Diya, I felt satisfied. This drama did have a complete ending without any loose ends or plot holes. I must say, I loved the dialogues of this episode – especially Tamkinat's & Ulfat's. This episode also had some very powerful performances so much so that I found myself teary eyed too. My favorite scenes have to be the ones where Tamkinat comes outside of her room & sits next to Azhar & the one in Afzal's office where he & Ulfat just look at each other with all those thoughts runnings through their minds. The direction of Dil Mom Ka Diya was good too but the actors took the level of this drama a notch higher. Neelam Munir was phenomenal as Ulfat & she performed brilliantly. I am sure the casting directors must be proud of themselves for making such a good decision picking Neelam Munir because she did complete justice to Ulfat's character. Yasir Nawaz is a strong actor so this kind of performance was expected from him & he surely delivered. Imran Ashraf & Hira Mani were brilliant throughout the show too & they always make their performances a treat to watch. DIl Mom Ka Diya had very strong actors to bring this story to the table & they all did complete justice to their characters. Salman Faisal was a surprise package & he made the last few episodes worthwhile. I haven't seen him act before therefore it came as such a pleasant surprise to see him performing a character like Tipu just so effortlessly. I am glad that this drama ended & it surely ended on a high note. Please share your thoughts about the last episode of Dil Mom Ka Diya.
Keep Supporting,
Cheers,
Zahra Mirza.