Introductory Details:
Ohkay so, written by Sarwat Nazeer, directed by Syed Wajahat Hussain & produced by Six Sigma & Next Level Entertainment; Do Bol is a drama that just commenced on ARY Digital & they will be airing double episodes of it, which always is a good thing. Do Bol can be termed as a family saga because it revolves around a household that leads its life in a joint family system. The first two episodes of Do Bol were decent enough to introduce the story & the characters, which are a lot.
Cast & Characters:
So, first we have Gaiti (Hira Mani), who has a strained relationship with her father Iqbal (Mehmood Aslam). Iqbal's first wife Jahan Ara left him & his daughter, which broke Iqbal's heart so much that till date he hasn't been able to move on & forgive Jahan Ara. Also, because of what Jahan Ara did, Iqbal hasn't brought himself to love Gaiti the way she deserves to be loved. Iqbal has always kept a safe distance from her which takes a toll on Gaiti. Iqbal then got married to Nafeesa (ZQ) & despite being a step mother, Nafeesa loves Gaiti like her own child. Nafeesa is mindful of the fact that she couldn't have her own child, therefore she showers Gaiti with all the love she has as she also feels for Gaiti because Nafeesa knows how distant & aloof Iqbal is towards his daughter. This mother daughter relationship was the highlight of these episodes for me plus it was so refreshing to see such kind of bonding a step mother & daughter.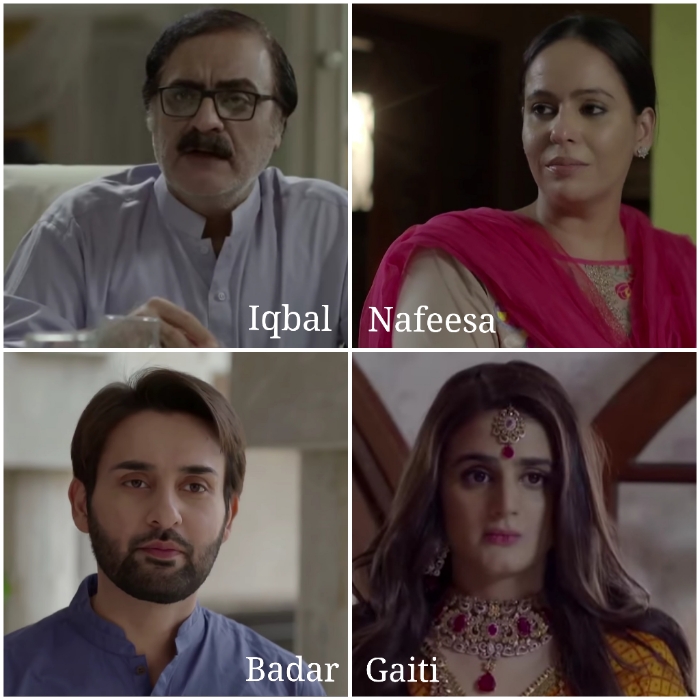 Iqbal lives in a joint family system where he has a younger brother Munawwar, his wife Nasreen (Salma), their two children Neelam & Nofil. Along with Iqbal & Munnawar, their two sisters widowed Firdous (Samina Ahmed) & her son Zafar as well as unmarried sister Fareeha reside too.
It was interesting to see how there were two teams in this household. Firdous & Fareeha on one side & Nasreen & Nafeesa on the other but Nafeesa is the peace-maker, the submissive one whereas Nasreen is the one who calls spade a spade & that gives Firdous a chance to play the victim. Firdous lives in her brothers' house but she takes the undeserving advantage of the respect & status that Iqbal & Munawwar have given to her. Fareeha is a spoiled brat, probably because being the youngest, she has been pampered by her elder siblings quite a bit.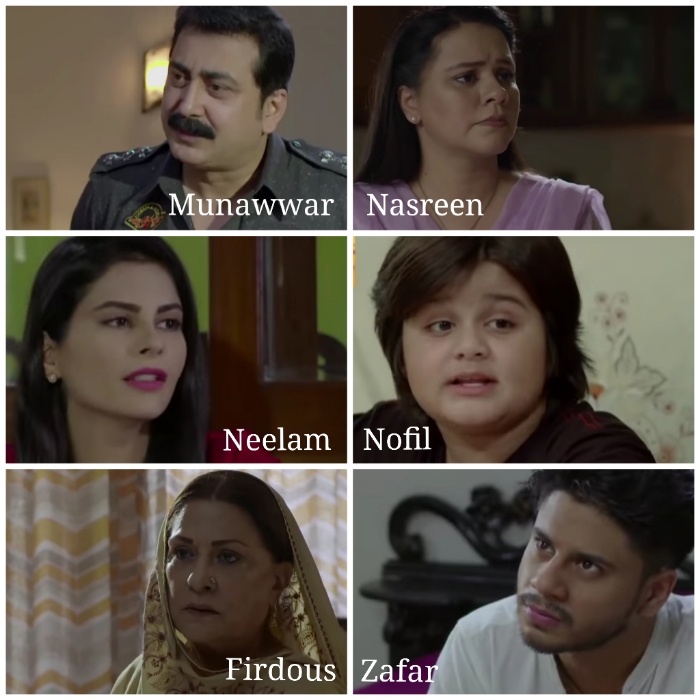 Fareeha is set to be married & she is getting married to Hassan, whose family moved abroad years ago but before that, they used to be their neighbours. Hassan's family includes his mother Safina & younger brother Sameer. Sameer is in one-sided love with Gaiti & it was suggested that he had feelings for her since the time they were kids & used to play around.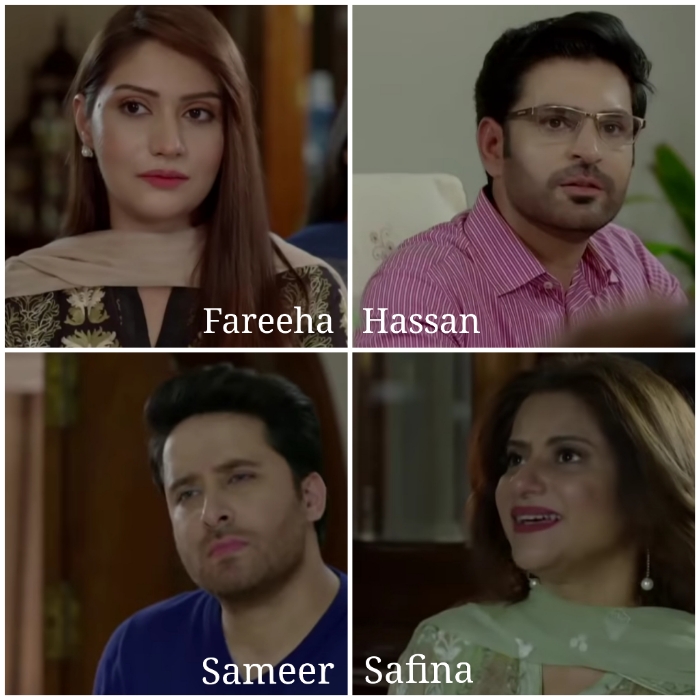 Badar (Affan Waheed) is Iqbal's manager & personal assistant, he is more like his family member too where he is quite trusted upon & looks after everything. Badar's father used to be a manager of Iqbal's father too, so that's how their families have been associated for years. Badar is taking care of Fareeha's wedding planning too & that's when he gets a chance to interact with Gaiti a lot more only to develop feelings for her.
It was interesting to see so many characters with each of them having one thing or the other happening in their lives. Iqbal wants Gaiti to pass her exams or else he tells Nafeesa that he'd marry her off, that is why only to please her father, Gaiti is preparing for her exams. Neelam has fallen for Sameer, whereas Sameer likes Gaiti. Badar likes Gaiti too but he has just found out about Sameer's feelings for her so he is obviously heart-broken because he can see that Sameer won't have an issue in getting his proposal accepted. Firdous wants Zafar to get married to Neelam but her mother Nasreen has rejected the proposal because she doesn't like Zafar as such. Even though it might look like so many tracks have been given a coverage in the initial episodes but each one of them was done justice to & they all got a proper introduction which didn't leave much to the viewer's imagination.
I feel just because there are so many characters in Do Bol, this drama will always be happening with one thing or the other to offer. I liked Gaiti's character a lot, even though she has been brought up knowing what her mother did & that her father doesn't like her but she has developed this courage to fight & not let anyone put her down. Gaiti always stands up for herself & she doesn't allow anyone to fool around. Gaiti even stood up to her father when she saw him mistreating Nafeesa. I hope as the story progresses, we see some change in Iqbal's attitude where she learns to respect Nafeesa & acknowledge all that she has done for Gaiti. Also, I hope he loves Gaiti too because she doesn't deserve the hatred that he feels over what Jahan Ara did.
Even though the main focus was on Gaiti & also on Badar, I liked how all the other characters contributed a lot in making these initial episodes happening. All of them have a strong personality & it was good to see them all living under one roof with their set of issues & problems but curbing them while they get ready for a family wedding.
Closing Thoughts – A Convincing Start:
Overall, the initial episodes of Do Bol were really good & I had a great time getting to know all these characters. I am definitely looking forward to what the story has in store for us because of its convincing start. The direction as well as the production value of Do Bol is really good. The director tried to play with the beauty of Hira Mani & elaborate it further & he definitely succeeded in capturing it. Hira Mani looked like a vision in almost all the scenes & her flawless acting is an added bonus. All the actors did a great job & I most certainly enjoyed watching the character of Firdous, played perfectly by Samina Ahmed. Affan Waheed did really well as Badar, a subdued character. Really looking forward to the rest of the journey. Please share your thoughts about these episodes of Do Bol.
Keep Supporting,
Cheers,
Zahra Mirza.