Dobara continues to be an entertaining drama serial with a well-written script. Convincing performances coupled with characters that are both multi-dimensional and layered; Dobara has had my undivided attention right from the start. The only aspect of the drama that tends to be confusing at times is the timeline. Some of the scenes do not sync together because of this confusion. However, overall, Dobara has a meaningful storyline told in the most light-hearted manner possible which definitely makes it stand out.
Tonight's episode unveiled Mahir's true intentions and Affan found out about his mother's nikkah. The development in Mahir's track with respect to his family was also interesting. Mahir and Mehru's track has been the highlight of the drama and this episode was no different.
Mehru – Wise or Gullible
Ever since Mehru and Mahir got married, Mehru's intentions and expectations were quite clear. She called Mahir a "dilfraib dhoka" and also mentioned that she doubted that he married her for love. Mehru did not even hesitate to admit the same in front of Mahir. However, when Mehru and Mahir are together most often it seems as if she is more than happy to fall for this dhoka! Mehru keeps you guessing just as much as Mahir does because of the way she is around Mahir.
Mehru has been shown as a woman who is burdened with societal and family pressure but there is a part of her that wants to rebel. Whether you agree with Mehru's stance or not, you definitely understand it which makes it so much easier to relate to this track. Also, the fact that this character has been written with utmost clarity and translated on screen with so much conviction, you find yourself rooting for Mehru even when some of her decisions seem hasty. Personally, I have always connected to Mehru and the feeling of freedom that she now wants to enjoy. Her right to make these choices whether right or wrong cannot be denied or questioned because of her background and the way the character has been established since the beginning. Also, the fact that most of the people around her are selfish and looking out for their own interests makes her more entitled to do whatever makes her happy as long as it is not hurting anyone. This character reminds me of Atiqa Odho's character from Pyar Ke Sadqay.
Mehru treated Mahir with shopping and transferring money into his account even though he repeatedly told her that he did not need any of this. Mehru has enough money to spend on Mahir and since she already feels that Mahir is essentially attracted to her wealth, this is her way of keeping her part of the "bargain"! Generally, as well, Mehru has a big heart and does not think twice before spending her wealth. She has also misjudged people more than once. She trusted Zameer blindly and was not afraid of Mahir taking charge once he left. Although her dialogue about trusting Mahir once again suggested that she was being careful, so far she has not even given the manager a call to get feedback about how the business is or was being run!
Mehru sounds like a wise woman but when it actually comes down to taking practical measures she takes things lightly and is also gullible. Perhaps because now she has the option of doing so! I was expecting her to try harder to get through to Minal since she was the only one who had faith in her for the longest time. There are times when Mehru's relationship with her children comes across as mechanical. It is not the "traditional" relationship that most mothers share with their children also because she had them when she was really young and even now she is young at heart. Hadiqa Kiyani has made Mehru stand out by adding a lot of grace to this character. Even though technically much of what Mehru doesn't fit in with her "status" she does everything in a way that is likable.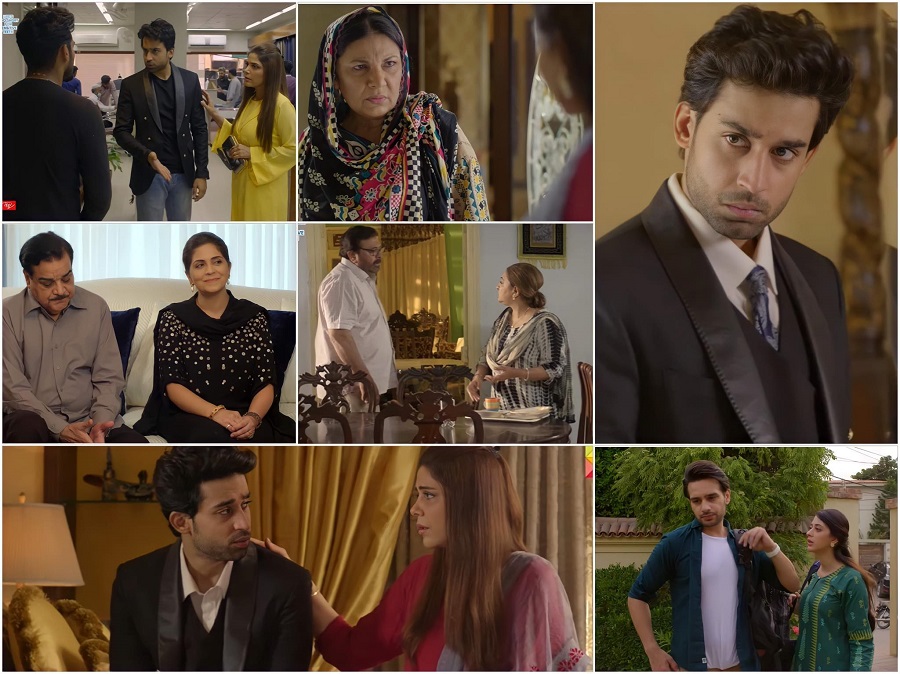 Mahir's True Intentions
Mahir's true intentions have been a mystery for the past few weeks because his internal dialogue was completely hidden from the viewers until today. He decided to propose to Mehru after his friend advised him to make the most of this opportunity to get rich and also most importantly after Narmeen made him feel worthless yet again! Mahir does not have a single person in his life who trusts him or loves him unconditionally. He has also not tried too hard to win this trust or love. As a child from a broken home, he was constantly looking for acceptance and love but all he got was disapproval. At some point, he decided that manipulation was an easier way of getting attention even if it did not last long. Through this track, the writer has shown how a neglectful childhood can lead to children growing up to be adults who learn to be selfish because they have to constantly look out for themselves. Even though Mahir's circumstances and problems are of a serious nature, the writer always gave it a comic spin. Mahir has a light side to his personality but as we saw today his manipulative and selfish nature coupled with his immaturity give a certain negative streak to his character. This character reminds me of Zaid from Woh Mera Dil Tha. Even though he is flawed, you feel for him, and just like Mehru's character, you know where he is coming from.
Tonight when he looked at himself in the mirror dressed up in a way he couldn't ever have imagined, his dialogue suggested that the real Mahir was different from the one who repeatedly assured Mehru that he was not interested in these clothes or the money! The most telling sign had to be his internal dialogue in the car. These dialogues have been written intelligently since they can be interpreted in different ways. He also mentioned to his father that he learned everything he was practicing today from his parents – another dialogue that shed light on what he had learned from his parents over the years.
The scene in which he heard Mehru talking about him with her friends was definitely the most important one. No one had ever trusted Mahir and now knowing that Mehru was another one of those people in his life, he probably felt now he had the license to prove her right!! This was also like a challenge for him since Mehru felt she was in control and he wanted to prove her wrong. If Mahir really married Mehru for her money why was he angry to hear her say what she did about him? His attitude suggested that he was hurt but his inner dialogue suggested he had no feelings for Mehru! There is no denying the fact that no one can beat Mahir at pretending especially when he sets his mind to it. Bilal Abbas Khan has done exceptionally well in this role. He set the bar high when he nailed Abdullah's role in Pyar Ke Sadqay and I am glad he chose to play another layered character in this drama.
Final Remarks
Tonight's episode was engaging as usual. Dobara is a complete package since it is thoroughly entertaining and meaningful at the same time. I am waiting to find out more about these beautifully penned down leading characters, in particular, their track has my undivided attention. Sakina Samo is extremely amusing as the nosy phupo. The preview of the next episode was even more exciting. Unfortunately, some of the scenes from the OST gave away some really important developments in the story. The editors and directors responsible should not add such scenes; I wish I hadn't watched them! Anyway, there is a lot to look forward to since so far Dobara has not been disappointed at all.
Are you watching Dobara? Share your thoughts about it.