Tonight's episode belonged to Hadiqa Kiyani who brought Mehru to life in such a manner that I couldn't help but get emotional while she begged Mahir's father for forgiveness. She owns this character completely right from the get-go. Dobara continues to be an entertaining drama and Mehru continues to be the star of the show. The pace of the drama has been steady right from the beginning; it has truly taken off now. The characterizations are on point and there is always some surprise in store. Mehru's gentle, loving, and even naive side is a breath of fresh air in its own way. As the story is progressing the characters are gradually revealing their true intentions. The extent of Zameer's negativity was the most shocking development tonight and, Mahir's father's changing behavior is a welcoming change. Mehru's scene with him was the highlight of this episode. Mahir keeps you guessing; just when you think you have him figured out, he does something totally unexpected. The timeline was confusing yet again, when Sehar's mother said that Mehru had been married for almost a month, it was nothing short of a surprise!
Also, the most important scene in this episode covering the confrontation that led to Mahir getting shot would have been even more impactful if the background score was not used to mute the dialogues. I wonder why Danish Nawaz thought that this was a good idea since everyone acted so well in the scene.
The Aftermath
Tonight's episode opened with Affan finding out about her mother's nikkah and the reaction was even more intense than any of us were expecting it to be. I must say that Usama Khan acted superbly in the scene covering Affan's final threats to kill Mahir. He looked more confused and scared than angry. This reaction was easier to connect to even though what Affan did was outrageous. That is the power of a convincing performance, you find yourself connecting to scenarios you do not agree with. Affan's character is also quite interesting; the writer could have easily shown an angry young man resorting to something so extreme. Instead, she wisely chose to show an immature young boy who is not just possessive about his mother but is also surrounded by people who pressurize him into following a certain narrative. Whether it is Sehr, his in-laws, or the phupo, everyone makes him feel as if he should be taking a stand to ensure that his mother does not get married. Tonight, however, he came across as a scared child who could not share his mother's love with anyone. This scene was as dramatic as it possibly could be; the background score, the camerawork, and the heavy rain, the director used as many props as he could to add intensity to it. The director also kept the suspense alive for as long as he could by not revealing who actually got shot for some time. This was definitely a wise move on his part.
This is the second time that Mahir put his own life in danger for Mehru, this time for her son. This is what surprises me about his character. On the one hand, he is the kind of person who would steal from his own mother but on the other hand, he would put his life in danger in order to save someone else's life! I find that really interesting about his character. Just like all the other characters, Mahir is not just a careless boy looking for a shortcut; he has inherent goodness in him. Whatever he did today also made me wonder if he tried to shape his personality in a way that is against his nature due to the constant rejection he has faced in his life. In situations such as the one we witnessed today, he acts instantly, without planning, which is why after watching this episode I am wondering if Mahir is not such a bad guy after all! After laying down his life for Affan, Mehru will start trusting him now and it remains to be seen whether he will take advantage of the situation or not.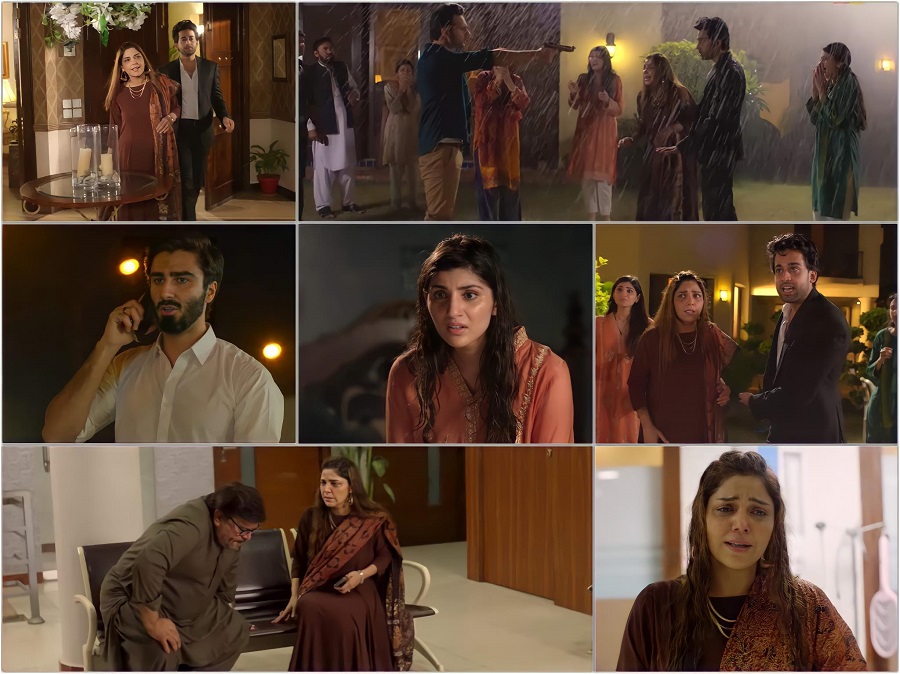 Mehru's reaction to everything that happened tonight was translated on screen impeccably well by Hadiqa Kiyani. At the beginning of the episode, she was more scared of Affan's reaction than anything else, in the rest of the episode she was praying endlessly for Mahir's recovery. Her emotional conversation with Mahir's father was one of my favorite scenes tonight. Mahir's present condition changed more for most of the characters than anything else could have in years! His father accepted Mehru after realizing that despite the age difference, this woman loved Mahir. Interestingly enough, one of Mehru's biggest fears tonight was being left alone yet again if Mahir died from his injuries. The realistic approach of the writer has made Mehru one of the most beautifully flawed and appealing female characters we have seen on screen in recent times.
I knew that Mahir was going to survive but I still found myself worrying for Mehru more than Mahir – I also did not want Mehru to be by herself again! Shabbir Jan is also an exceptional actor who made me feel for his character tonight. I hope that Mahir's father lives and his son can help him get better. It was quite clear that Zameer was a selfish and greedy man but tonight we saw that there is an evil side to his character as well. Minal definitely deserves better! After a long time, Minal seemed to have a soft side for her mother since she protested when Zameer judged Mehru for worrying about Mahir. I absolutely love Maheen Siddiqui as Minal, she is one of the most promising newcomers in the industry.
Final Remarks
Tonight's episode kept me on the edge of my seat; it was for the most part well directed. The script of this drama continues to be its main attraction along with phenomenal performances. I am waiting to find out if Mahir has a change of heart as well. There is a lot to look forward to!
Did you watch tonight's episode of Dobara? Do share your thoughts about it.