This was a fast-paced episode of Dobara which took the story further considerably. The most important development in this episode had to be Mahir and Mehru's patch-up and the fact that Mahir finally won Affan over. Mahir's promise to his father also suggested that his feelings towards Mehru were changing with time. Some of the performances tonight were not as impressive as they have been in the past few weeks but overall it was an entertaining episode with only a few filler scenes.
Moving Forward
This latest episode of Dobara opened with where the last one ended; a much-awaited heart-to-heart conversation between Mahir and his father. This was probably the first time that these two had an actual conversation. The smile on his father's face after Mahir left said so much about how he felt about the outcome. Tonight, I saw Jahangir as a completely different person; vulnerable and sensitive. Mahir suddenly found out how Mehru had helped his family without even mentioning it to him and that softened his heart immediately. The writer is making sure that Mahir's character remains intriguing which definitely adds to the entertainment value of this drama. The dialogues for this scene were well written and communicated a lot in a short span of time. For the first time, Mahir's father admitted that his marriage failed because of him. Yet, his wife was held accountable by society more than him. That was a good way of highlighting the double standards in society. Even though Jahangir got married as well but no one pointed fingers at him. This is a common occurrence in our society; women are always judged and questioned more than men especially if they move on with their lives and refuse to be the victim.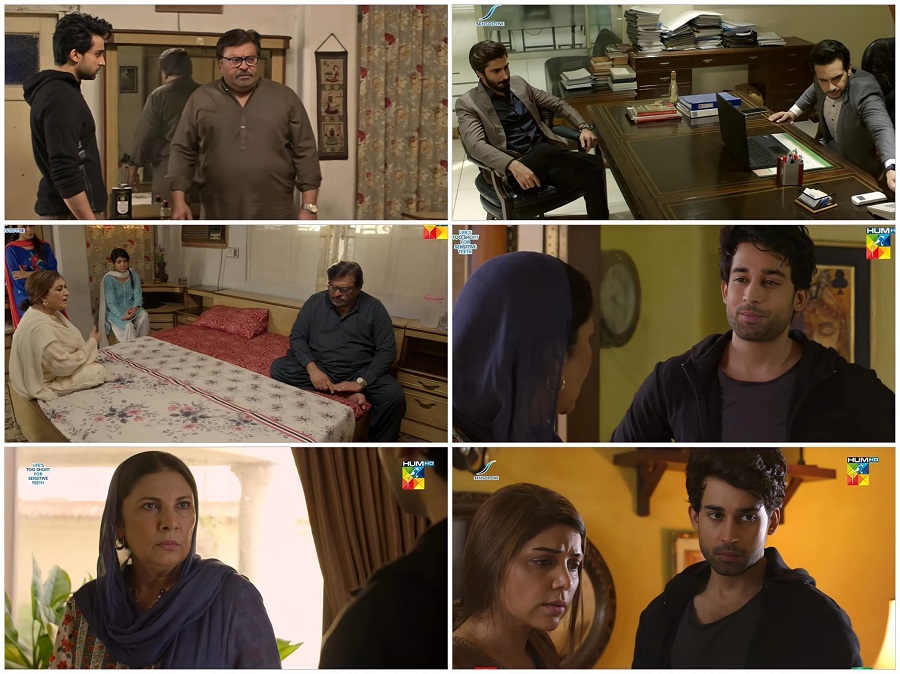 This scene was followed by Affan and Zameer's meeting which once again showed Affan's immaturity. The amount of money Zameer wanted to borrow was more than I imagined! The fact that Affan was more than ready to give him the money he needed went to show that he was definitely the wrong person for the job! Even though Mahir did not have any experience but he proved to be much more intelligent in running the business than Affan. I am waiting for Mehru and Minal to find out what Zameer has been up to. Minal has still not forgiven her mother and the complete lack of interest on both sides feels stretched and unreal, especially considering the fact that they were so close.
The highlight of this episode had to be Mahir's decision to go back to Mehru. Even though I feel that this entire development could have been covered in a different way, I liked the fact that it was wrapped up quickly. Mehru's friend played a major role in clearing up this misunderstanding by giving Shano and Mahir the go-ahead. I genuinely like this character and the actress playing the role has brought out the best in it. Mehru's reaction was not shown too dramatically and even though this entire situation was quite filmy, it was covered in a subtle manner. It was good to see Mahir and Mehru back together, and like Affan said Mahir gained more from all of this than anyone else. Even though Affan's dialogues were well written, they did not go well with the character since he has always been shown as an immature person. Whatever he said to Sehar was actually quite wise! But, it was also good to see that there is a sensible and sensitive side to his personality. Sabeena Syed's performance had to be the weakest link in this episode. There were also times that even though this was such a big deal, it was not shown as such.
It is interesting that Mahir has more than once shown that he is a caring person who would not hurt someone needlessly. The fact that he wanted to hide the truth from Affan even though Sehar had done the worst possible, went to show that Mahir did not believe in causing more trouble. Mahir continues to be my favorite character in the drama and Bilal Abbas has done complete justice to it.
Final Remarks
This was an entertaining and fast-paced episode of Dobara. All the scenes fit in well except for the stepmother's scenes which were stretched. Even though Sehar and phupo's planning and execution were not the best part of this drama, it was good to see it getting wrapped up quickly. The misunderstanding was not prolonged and was used to make some major changes in characters. I hope that the drama wraps up soon. I am also wondering if Narmeen will make a comeback at some point!
Did you watch tonight's episode of Dobara? Do share your thoughts about it.