This was another episode of Dobara that took the story forward. Even though we have hit the 26th episode mark but it seems as if the writer is not in a rush to wrap up the story! The story has been stretched but it definitely has enough substance to engage the viewers even now. For a change, this time around it is also difficult to predict how Mahir will deal with the business and family responsibilities given to him now. This episode was well-put-together and the character development of some of the characters made more sense tonight. Mehru continues to take a backseat in the story while Mahir takes it forward more than anyone else. Bilal Abbas Khan owns this character completely and the most interesting part is that as a viewer my opinion about Mahir changes quite often!
Accepting Reality and Moving on
This recent episode opened with Mahir's mother finally making an appearance after weeks. Even though she has had a rocky relationship with her son, she longs to see him and also feels he needs her more than her other children. Her relationship with Mahir was always quite interesting. She tried her best to be there for him but her husband's pressure along with Mahir's antics made it really difficult for her to be the mother that she was capable of being. Angeline Malick has a unique acting style and she fits in so well into this character. However, the fact that this character did not appear for so many weeks definitely impacted the flow of this particular track.
The breakfast scene at Mehru's home was quite interesting. Mahir was in charge once again and this time around although he was playful, he exercised his authority with even more confidence than before. Mehru is letting him take all the decisions. In the beginning, there were times when Mehru came across as a mature and sensible woman but as the story is progressing; her most dominant personality trait has to be her docile and kind nature. Even though I am disappointed with the turn this character has taken, Mehru's character traits make perfect sense. She got married to a man much older than her who did not let her take the minutest decisions on her own therefore it makes sense. However, Mehru was also introduced as someone who wanted to live her life on her own terms and conditions now that she had the kind of independence she longed for all her life. Did her journey for independence end when she got married to Mahir? After a long time, even with all her flaws and shortcomings, I liked watching Mehru be her generous and caring self. The way Hadiqa Kiyani carries herself and the manner in which she delivers her dialogues exudes grace which is a major part of Mehru's character.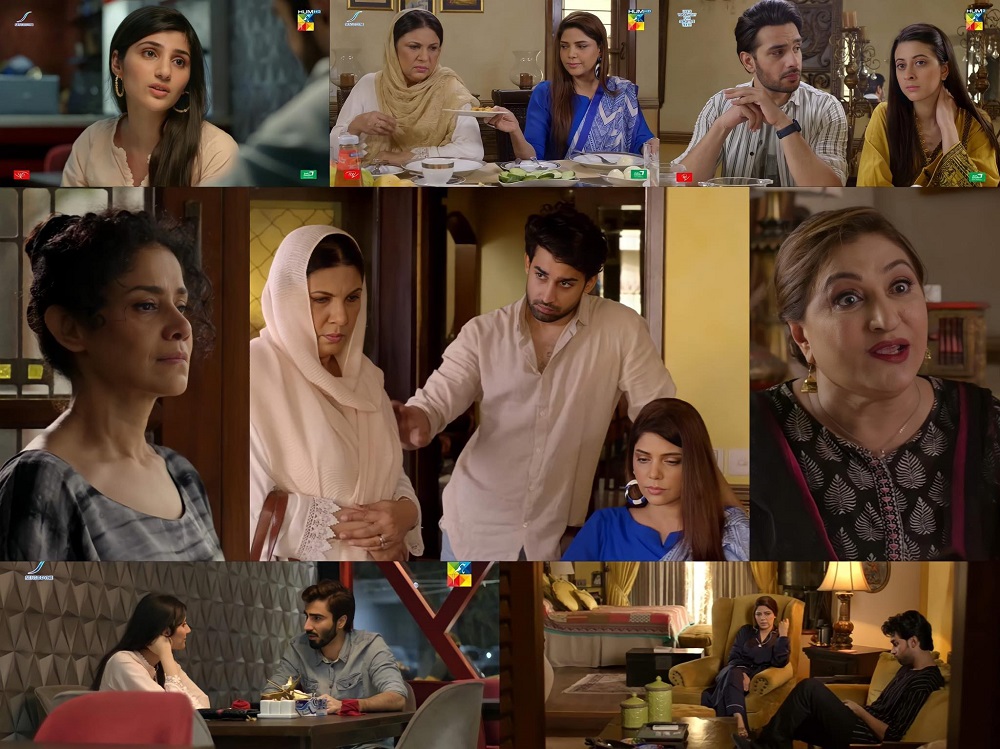 Mahir was forced to take charge once again tonight by Mehru even though he was reluctant to do so. Not just in the office but also at home he took all the major decisions. Affan accepted the fact that he could not run the business and he only decided to do so in order to prove a point. For a change, Affan came across as a sensible and mature individual who recognized his own shortcomings and was willing to give his mother the space she needed to live her life. Even though this recent change in Affan's character was likable but I feel that this change was a little too sudden considering the fact that he was so immature just a few days ago. Usama Khan played his role really well and the dialogues were well written as well.
Mahir and Phupo's scenes together were entertaining! Sakina Samo's performance was on point right from the start. She should definitely be part of one of the Ramazan special dramas next year, I am certain she will fit into one of those older comic characters so well! Minal's reaction was disappointing since she used to be the sensible one who took wise decisions. I am waiting to see how Mahir and Mehru deal with the Zameer situation. Watching Mahir's stepmother leave the check there definitely came as a surprise! I am wondering why this incident was shown in such a serious manner and whether it will have an impact on this character or not.
Final Remarks
Two major characters exited Mehru and Mahir's life with this episode. Phupo is gone for good and Affan will no longer be interfering in his mother's personal life. With this episode, the focus shifted to Zameer and Minal's track. Overall, this was an interesting episode with some convincing performances.
Did you watch tonight's episode of Dobara? Do share your thoughts about it.