I must confess that I wasn't very sure if Tanhaiyan would have the same effect on me which it did when I watched it the first time it went on air. I was not even ten years old when Tanhaiyan aired. That time was very different from now, even little kids used to sit with their parents and older siblings to watch the 8pm drama on PTV. It was like a ritual in every other household because dramas back then had something for everyone. I remember not understanding much about Zara's trials and tribulations but Qabacha and Sanya were the highlight of the show for me. Watching Tanhaiyan once again brought back sweet memories of the days when PTV dramas guaranteed wholesome entertainment; the days when our drama writers were not obsessed with marital problems. The writers believed in experimenting and the producers were not afraid of trying something new. There was no race for TRPs but only talented people who did their work responsibly.
Tanhaiyan is a classic which needs absolutely no introduction but I will write a brief summary of the play to refresh the memories of those viewers who watched it a long time back. The play has been written beautifully by Haseena Moin, it has been directed by Shehzad Khalil – one of the best directors of PTV at that time who discovered many new faces and the play has been produced by Shalimar Recording Company (SRC). The cast of the drama includes Shehnaz Sheikh (as Zara), Marina Khan (as Sanya), Behroz Sabzwari (as Qabacha), Qazi Wajid (as Faran), Asif Raza Mir (as Zain), Durdana Butt (as Bibi), Badar Khalil (as Zubi/Aani), Jamshed Ansari (as Buqrat), Amir Hatmi (as Saad Salman), Yasmeen Ismail (as Vida), Azra Sherwani (as Appa begum), Sultana Zafar ( as girls' mother), Subhani Ba Yunus (girls' father) and Imtiaz Ahmed (Aani's servant).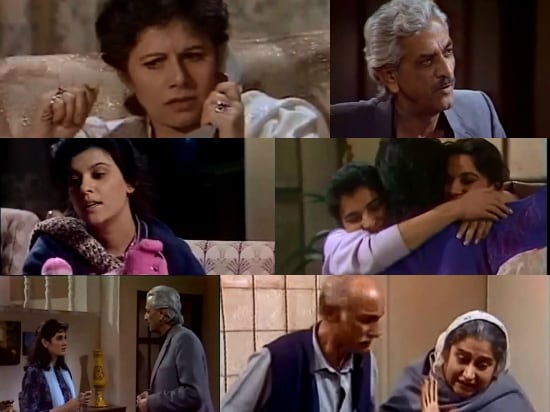 Tanhaiyan is the story of two sisters Zara and Sanya whose life takes a terrible turn when their parents die in an accident. Both the girls are very close to their Khala Zubi who they call Aani. They wish to continue living in their parent's house in Lahore but soon after their death the two sisters find out that their father had taken a big amount of loan to make the house. The people who had given him the money wanted the house now because there was no other way to pay them back. Initially both the girls try their best to convince the people concerned that they will return the money in a few years but finally they come to the conclusion that there was no other way out. Both the girls move to Karachi and start living with their Khala. While Saniya moves on because she believes that she still has many people around her who love her. Zara feels that she has let her father down, her sole purpose in life is to earn enough money to buy her parents' house back. She loses her faith in people because the people her father owed the money to were very close to him so she expected them to understand. The title of the drama refers to the loneliness which Zara feels after her parents pass away and the way she isolates herself from the world because nothing matters to her anymore. In her quest to earn money, she forgets that people who were once close to her were moving away from her. She was misses out on all those beautiful moments which Sanya, Aani, Bibi and Zain were cherishing. The drama ends on a happy note, the viewers have the satisfaction of knowing that Zara got her happy ending even after making so many wrong decisions.
The beauty of this drama lies in the beautiful relationships that all these characters have with each other. Even after so many years watching this classic was actually like a breath of fresh air because there were no mazloom women in the play, no family politics and most importantly no villains or heroes. The play is full of characters who you can fall in love with over and over again. I couldn't help but connect to all the characters because there was nothing over dramatic about them. Zara's character has been etched out brilliantly. Zara was always very insecure and lacked confidence. The reason behind that was explained wonderfully by her father. It is actually very true that every grown up is a product of the surroundings and the circumstances under which he was brought up. Zara decides to be strong after her parents' death but deep inside she is still the weak and vulnerable girl that she once was. What she really needs is love and family but she is too busy proving that she doesn't need anyone at all.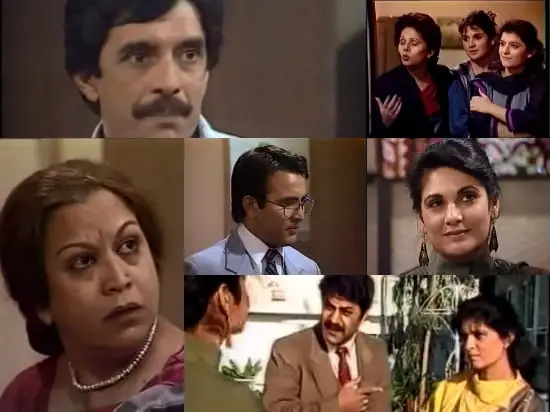 Zain's character is charming and very likeable. He has feelings for Zara but he also does not want to let Vida (his fiancé) down. Vida's character is one of the many characters in the play which you can't help but fall in love with. All the women in the play are positive and enlightened unlike the conniving and desperate women we see on our screens nowadays. We see women fighting over men all the time in our dramas but how often are we shown these love triangles the way it was shown in Tanhaiyan. Zara never schemed to win Zain over, in fact she got engaged to Saad Salman just because she didn't want Zain to think she was waiting for him. Vida broke the engagement herself without any grudges because she knew Zain did not love her. She did not play mind games like we see many women playing in our dramas.
Aani's character is another one which I would really like to see on our screens more often. Apa Begum actually liked her boldness and bluntness; how refreshing is that! Marina Khan completely nailed Sanya's character. It wasn't an easy role to play because it could be quite annoying if it wasn't done well but that was most certainly not the case. Sanya, Qabacha, Bibi and Buqrat added the comic element which this play really needed. If Tanhaiyan was about Zara's struggle alone then it could have been very dull and too serious. Behroz Sabzwari is outstanding as Qabachi. All the actors fit in perfectly in their respective roles. Bibi's lines made me laugh over and over again. A big thank you to all the pretty and very well dressed ladies in the play. I loved the make up and the dresses.
I know that not too many people liked Tanhaiyan Naye Silsilay but I must say that after watching this prequel, I am even more convinced now that the sequel was totally in line with the prequel. Also, the ending was like the one in the prequel. I loved how they made a beautiful OST based on Tanhaiyan's original background music.
I also agree with people who were saying that the play Ranjish Hi Sahi was inspired from Tanhaiyan. Honestly speaking, I don't mind it at all if more writers get inspiration from these classics. Our writers should watch this play over and over again and take notes. Yes, it is possible to make a classic without degrading men or women! Have humans really deteriorated so much or the writers nowadays feel that portraying people in a negative light is the only way to get people's attention? There is a very good reason why Tanhaiyan is a classic and it actually makes me very sad to see where our drama industry is headed now.
It wasn't easy watching this play online but I decided to take up the challenge because so many of our readers wanted the play to be reviewed and I must say it was totally worth it! Do share your thoughts about the play and how different it is from the dramas we see on our screens nowadays.
Fatima Awan