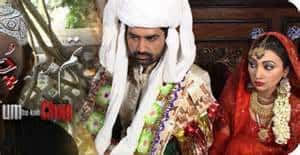 On the recommendation of one of our readers, I decided to watch a drama I hadn't heard of. I admit I have started watching dramas fairly recently (just over 5 years ago) but I have tried to catch up with as many as I can. Tum Ho Kay Chup was my pick this week. I'm surprised this name never came up in any of the drama discussions I've read although the cast certainly deserves a watch.
Background
Written by Asghar Nadeem Syed, directed by Haseeb Hassan, Tum Ho Kay Chup aired on GEO Entertainment in 2011. Some of the main actors were Abid Ali (Sardaar Jamaal Khan), Hina Khwaja Bayat (Bibi Jaanam), Humayoun Saeed (Mir Zaraar Khan), Ayesha Khan (Mishal), Fizza Ali (Parivarsh), Tehreem Zuberi (Bibi Zaytoun), Zeba Ali (Bibi Gulbano), Hina Dilpazeer (Saazein Bibi), Syed Jibran (Nomi), Faisal Shah (Birbal), Zarrar Khan (Sikander), Sehroze Sabzwari (Zeeshan).
Not all fairy-tales have a happy ending
Mishal was a British citizen of Pakistani heritage. She was born and raised in London and grew up in a liberal environment. Her parents were both practicing doctors and she was an only child. Her childhood sweetheart, Nomi secretly admired her but never expressed his true feelings- Darpok aadmi mohabbat nahin kar sakta hai. She met Zaraar in University and felt she found her prince. And a prince he was- Mir Zaraar was heir to the ruling tribe in the Federally Administered Tribal Area in Balochistan. After a quick wedding in London, Mishal was ecstatic at the prospect of visiting Pakistan with her new husband and discovering the rich and vibrant culture. Upon landing, she got her first culture shock- she was expected to cover her head and face in public. Mishal complied thinking this was a temporary situation and soon she would be back in her hometown. Little did she know her mini- vacation would turn into her worst nightmare. Mishal was quickly ushered to the female quarters and she was introduced to Zaraar's mother- Bibi Jaanam who was of Iranian origin. She was surprized to find that Zaraar also had a step mom, Bibi Zaytoun- a much younger woman who belonged to a tribe. Mishal befriended Parivarsh, a baandi- a young girl who had taken refuge with Sardaar Jamaal Khan. She was fascinated with the traditional garments and the accessories and enjoyed dressing up in the fancy garbs. But soon, she started feeling restless- she had no access to a phone since Zaraar told her that they had installed jammers to protect them from their enemies. She was shocked at the tribal, barbaric ways of life, the rules the people lived by, the jirgah system, the treatment of women in general and the cruel punishment that ensued. Even more since she knew Zaraar and both his parents were educated abroad. Mishal was devastated when she found out that Zaraar had a wife before her- Bibi Gulbaano who acting on her jealousy, tried to poison her. Gulbaano was sentenced to being chained up in the underground jail where Bibi Saazein, Zaraar's Phuppo had been living for years. Realizing that Zaraar had no hidden motives, she started retaliating. By then she discovered that she was pregnant and she wanted to abort the child. She felt trapped and couldn't imagine a lifetime of imprisonment.
The Great Escape
Sardaar Jamaal Khan takes Parivarsh as his third wife. Mishal is repulsed by the thought of it and tries to help her. She knows that Parivarsh had a lover, Birbal who belonged to another tribe and was not born to nobility. Birbal manages to get hired by Sardaar Jamaal Khan and he tries to convince Parivarsh to run away with him. Instead, she seeks his help in helping Mishal escape. Mishal almost gets away but is captured and returned. She is treated even worse than before and starts losing her mind. Her attempt at harming her unborn baby causes her to go into early labour and a new heir is born. She begs Zaraar to keep the baby and set her free. Instead Zaraar reminds her that it is her duty to raise his son. After many failed attempts, Mishal's parents manage to meet her briefly. They promise her that they will try everything in their power to rescue her. Try as they may, they fail to reach a negotiation with Sardaar Jamaal Khan. Waada sardaar ka paband hota hai, sardaar wadey ka nahin! The marriage was a sham- it was part of an elaborate plan to allow them some leverage in negotiating British visas for their tribesmen and a better quality of life. Sardaar Jamaal divorces Parivarsh after finding out she helped Mishal escape and returns her to her Chacha and his son, Sikander. Parivarsh convinces Sikander to arrange for Mishal's escape as an act of revenge for her mistreatment. Bibi Jaanam helps Mishal escape a second time and luckily she gets away. She returns to London with her son and after tries to move on with the help of Nomi. When she agrees to marrying him, Zaraar has him killed and warns her that he will harm her parents too if she ever thinks of a second marriage.
 Sardaari har rishtey se upar hai
Furious at Bibi Jaanam's role in Mishal's escape, Sardaar Jamaal orders for her to be buried alive. Zaraar tries to beg his father for mercy but his pleas fall on deaf ears. After the death of his mother, Zaraar feels torn between his sardaari and his love for his mother. His weakness is exploited by Sikander who has him killed. Sardaar Jamaal Khan gets paralyzed after the death of his only son. After a span of 20 years, Mishal decides to return with her son, Zeeshan who is the only living heir, on the condition that the people will welcome change and embrace it.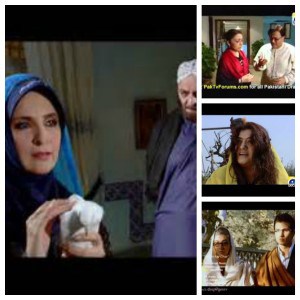 Final Verdict
The drama reminded me of Fawad Khan/ Emaan's track in Khuda Ke Liye. The title was rather unusual- Tum Ho Kay Chup but had a deep message- Zulm Ko Bardaasht Karne Wala, Zaalim Ke Haath Ko Mazboot Karta Hai. The story had suspense and kept me hooked. It was the story of a woman's journey for freedom and the women who helped her along the way- even at the cost of their own lives. There was an overpowering notion of male chauvinism, discrimination, and rebellion. However, the editing wasn't anywhere near what I had hoped- sloppy in parts, lacking continuity and random at times. Some of the scenes were repeated more than once which showed a lack of creativity. The last episode was extremely disappointing since most of it was a recollection of the previous 20 episodes- the recap didn't serve a purpose and after following a strong storyline for 20 episodes, I was rooting for a greater impact at the end. On the plus side were the powerful performances-Abid Ali nailed the role as the unforgiving, ruthless Sardaar and looked the part. Hina Khwaja Bayat was the epitome of grace and beauty despite being in full hijaab– I loved her Persian accent. Humayoun Saaed did exceptionally well as Mir Zaraar- I hated him with all my heart! Ayesha Khan gave a spellbinding performance as Mishal. And I really liked Bibi Zaytoun as the scheming second wife of Sardaar Jamaal Khan. There was great attention to costumes and accessories and the interiors were done very well. If only they had paid equal attention to other details. Despite certain flaws, I must admit that this was a compelling watch with a unique storyline that managed to hold my attention and kept me wanting to watch on. If you haven't watched it, do give this a try and let me know what you think. It won't be remembered as phenomenal or mind-blowing, but it certainly deserves a watch- which is more than what I can say for many of the recent dramas.
Yours in watching,
Kanwal Murtaza