Dumpukht- Aatish-e-Ishq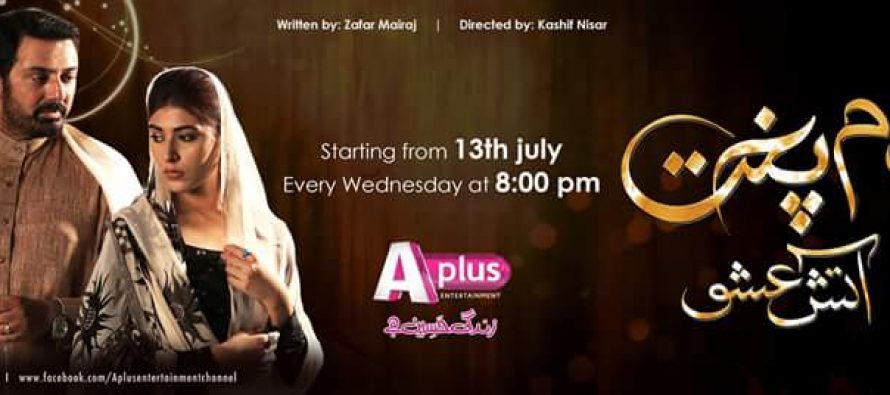 Noman Ejaz seems to have entered into some sort of an exclusive contract with A Plus. After the fiasco Bhai, he's now back in Dumpukht- Atish -e-Ishq. The title of the drama sounds like the name of a cooking show since dumpukht happens to be a cooking technique. The story begins with Kulsoom (Sonia Mishal) who belongs to a very conservative household comprising of her parents, younger brother, Chacha, Chachi and their daughter and Phupo's son. Kulsoom is prepping for her exams and a next-door-neighbour, Khala (Saba Faisal) is her tutor. Khala is a divorcee and her son Bilal left her at the tender age of 12 to live with his father. Kulsoom's family strongly believe in Peer Sahab (Noman Ejaz)- whether it is a business decision or a personal one, they consult Peer Sahab on all affairs. Kulsoom grew up in this environment and never questions their faith but Khala doesn't think on the same lines and shrugs off the suggestion of getting a taweez to ensure her son's safe return.
Without her knowledge, Kulsoom decides to secure a taweez from Peer Saheb's wife despite a fair warning that the boy will come for her not his mother. Billo (Bilal) returns home and finds himself drawn to Kulsoom and she too feels a fatal attraction…
A soothing soundtrack, new faces and a different backdrop yet the story remains that of a dusri shadi. Written by Zafar Miraj (the mastermind behind the catastrophic Ashk and Sangat) and directed by Kashif Nisar (Khuda Zameen Se Gaya Nahin Hai, Ullu Baraye Farokht Nahin, Dooriyan), the drama is produced by Moomal Entertainment. This team last worked together on Sangat which was a disaster of epic proportions. Kashif Nisar has directed some fine work but he's also directed some pretty disappointing dramas. Zafar Miraj has yet to come up with a script that gets noticed for being unique and interesting. Will Dumpukht be his chance at redemption?
The soundtrack is definitely on my playlist. What do you think?
Kanwal Murtaza
---