You know, ARY Digital shouldn't have changed their TV symbol thingy on Women's Day because the content they are bringing forward totally rejects the idea of 'women empowerment'- tonight's episode of Dusri Biwi showed how both the biwis are totally dependent on Hassan's 'faisla' (the word 'faisla was on a roll tonight) and Aashi, especially, doesn't seem to have the courage to take a decision for herself. However, I would like to say that for the first time ever, I lovedd the way Farhi said it to Hassan's face, 'Mein aap say koi rishta NAHE rakhna chahti.' But what I didn't like was how she took this decision solely because, 'Mein Hassan ko khush dekhna chahti hoon. Meri wajah say unki puri family bohat disturbed hai'. I would have praised her a lot more if she had made this decision not to show how much of a qurbaani ka bakra she is but to actually free herself from the hold of a guy who isn't worth her time and care.
The pet phrase of all the lead characters in this episode was, 'tumhara kia faisla hai/yeh mera aakhri faisla hai'. If you haven't seen this episode and want to know what's happening, here's what you should know: Aashi is double-facepalming & CRYING, Hassan is sleepy+confused, Saman is lattu over her aunty and unborn bhai (being nauseously irritating is her forte after all), Bhai is senti, Bajjo is over-concerned, Farah is doing what she's best at- hysterically CRYING & frowning and repeat (the frown is a MUST) and Farah's dad is doing what he has always been good at- threatening! Don't believe me? Have a look!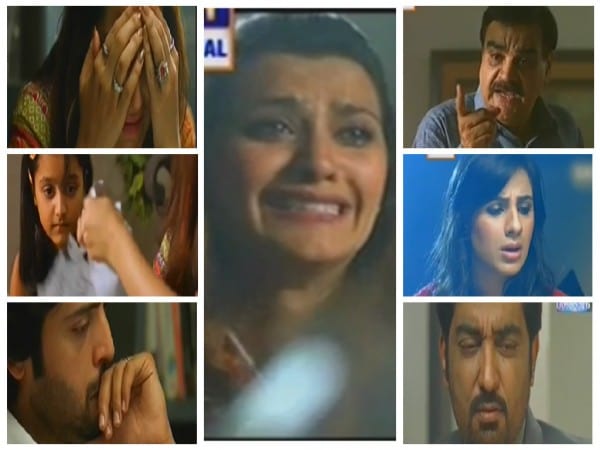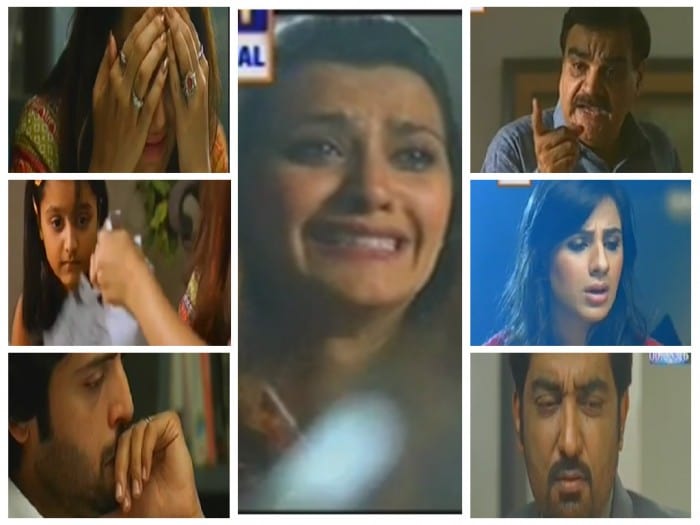 Aashi is solely relying on Hassan's 'faisla' and I felt that she was actually begging for Hassan's support, especially when she kept on saying,  'Mujhay aur Saman ko tumhari zaroorat hai!'
'Tum Saman say ulti seedhi baatain mat kia karo, Hassan'- finally Aashi sensed that the case of her already airhead daughter is getting out of hand because of Hassan's lame promises (believe me, 'ulti seedhi baatain' is an understatement!) and she finally pointed out the obvious (which has ALWAYS been a tough job for her confined mind)! You know, someone should hand over a book on child psychology to the writer because NO child in the world calls his/her mother, 'gandi Mama' because of a stupid aunty who didn't stay for more than a week & an imaginary 'BHAI' who hasn't even made an appearance!
Even though it seems that Farhi has made up her mind for once, her father's reaction suggests that Farhi won't be able to act according to her decision. Farhi's parents were aware of Hassan's marriage right from the beginning so they should have been foresighted enough to realize that their daughter will never be able to have her happy ending this way. Agar Hassan aur Farah nut-jobs hogye thay, tou at least the 'mature' duo should have refused to Hassan's proposal but no no, I still remember how Farah's mother said, 'Hassan bhalay shadi shuda hai, ek bachi ka baap hai magar Aamir say laakh darjay acha hai!'
What are your thoughts on today's episode? Share your views, please!
Maryam Mehdi