This episode of Farwa Ki ABC was more serious than comic and honestly speaking while I have really been enjoying the comedy in this play I always thought that this play could do with some serious element. Silk really is one of a kind name which made it easier for Sir Mustansar to recognize Safia's sister. The viewers got to find out the real reason for Surraya leaving Sir Mustansar. Safia's husband abandoned her soon after they got married and now Surraya and Silk are barely coping with Silk running the household with her income which made me wonder why Surraya could not find a job as well. I must say that I was expecting Surraya to be just as decent as Sir Mustansar but looks like he is the only one in this play with such sophistication. I must say that Adnan Jaffar has impressed me yet again with his brilliant acting. I am really looking forward to seeing more of him. It is good to know that there are some actors who are constantly experimenting with different kinds of roles and nailing them too. The actress playing Silk has mostly been seen in dead serious roles but she is doing really well in this character as well. I must give the casting director credit for picking up an excellent cast.
Sir Mustansar's idea to groom Gogi came as a complete surprise. Will Gogi want someone better than Farwa when he is a more groomed person? Is that the reason why Sir Mustansar wants him to learn how to talk and act like a gentleman? I am waiting to find out! Until now nothing in this drama has been shown without a reason and I am pretty sure that there is a good reason for this too. Sir Mustansar's visit to Farwa's house was somewhat confusing, on the one hand he defended his wife and on the other hand he gave her parents a clear hint of what she was planning to do. I have always been very disappointed with Farwa's parents and this episode wasn't any different.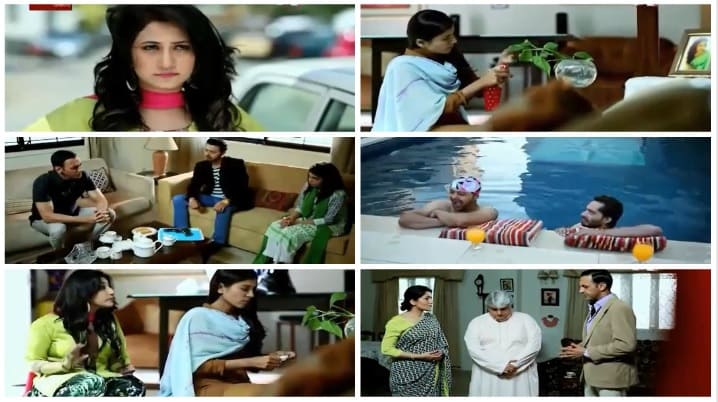 I am glad that Asma is out of the picture at the moment and some new and interesting characters have been added to the play. The most funny scene in tonight's episode had to be the one in which Sir Mustansar was telling Farwa his sad love story and she couldn't be less bothered! Sonia Hussain has been flawless as Farwa. It was refreshing to hear some nice things about Sir Mustansar from Gogi and the reference he made to the Indian film was height of wishful thinking!
Overall, this was another interesting episode of Farwa Ki ABC which definitely made me wonder what was going to happen next. I am still wondering though after all these episodes why this drama was titled Farwa Ki ABC but I am quite sure that we will find out why at some point.
Did you watch tonight's episode of Farwa Ki ABC? Do share your thoughts about it.
Fatima Awan