Gogi might not be a gentleman but he is a very interesting man who you can't help but like because he knows exactly where he stands in life. He knows he is rich but he also knows that he does not have class. He has no shame in admitting his weaknesses but unfortunately like any other person like him he is not very willing to do anything about it. Farwa's growing concern for her husband did make me wonder if she had a soft spot for him all of a sudden or it could be because she wants him to continue helping him therefore she does not want to do anything to displease him.
Most people probably did not even notice this but I was really touched by the way Sir Mustansar treated Tanvir. The respect he gave him and the love Tanvir has for Farwa's parents is something we all wish to see in helpers and people who appoint them! Gogi's dialogues and Ahmed Hassan's acting was the highlight of this episode. This man always manages to make me laugh!
Farwa has taken a backseat at the moment and Sir Mustansar is the one running the show for now. I am looking forward to finding out what is it that he is trying to do. The reference to TV dramas and the way they show sisters going after the same man was funny! Every time I watch this play I wish that there was someone else playing the role of Gogi's friend. Their jokes fall flat and there is hardly any chemistry between the two actors mainly because of the weak acting of the actor playing the friend's role. It came as a surprise that Sir Mustansar chose someone like Silky to groom Gogi because I never thought she was groomed herself. There is obviously a bigger plan here and it remains to be seen what turn the relationship between the two takes. It was very nice to hear a song from one of the very popular Pakistani films in the background when Gogi meets Silky for the first time instead of one of those Sheila ki jawani songs.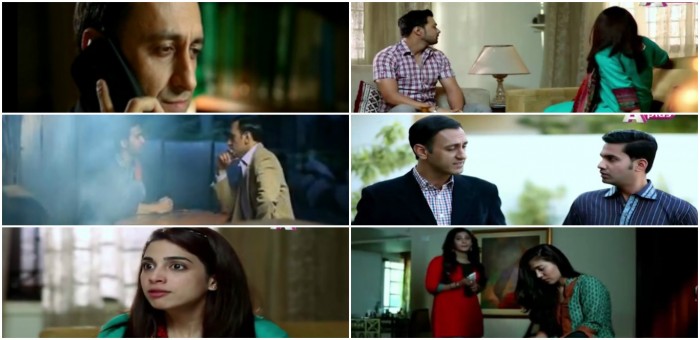 Sir Mustansar thought of an excellent way to make sure that Farwa will mend fences with her parents. Something tells me that he will be able to achieve everything else with this plan except for getting the two love birds married. I must say that Surraya's insecurities and negative attitude was a major put off at least for me. I was hoping that her character would be far more appealing and more like all the other female characters in this play.
I must say that this episode belonged to Gogi right from the get-go. The preview of the next episode went to show that things between Farwa and Gogi will drastically change because of Silky. It was disappointing to see Gogi falling for this girl but definitely something one would expect from someone like him who sees nothing more than a "pupoo bachi" in his teacher! I missed watching Farwa's parents in tonight's episode but overall it was an entertaining installment which made me look forward to more.
Do share your thoughts about this latest installment.
Fatima Awan