It is time for our careless and immature Farwa to think about slightly more important things in life. Until now Farwa was convinced that finding a man to get married to was the solution to all her problems. Farwa's teacher's advise did not have any effect on her until she had that conversation later on with Junaid. Could she really get married to just anyone at all? Was getting married to someone who had done well for himself in life was the only important thing? The fact that her future husband did not like classic dance did more to change Farwa's mind than anything else. Farwa never thought for a second that being compatible with your life partner if nothing else was important too. How could she spend the rest of her life with someone who did not like classical dance!!! Although Farwa has a lot of growing up to do before she finally realizes what her teacher meant when he told her that she should stand on her own feet instead of relying on others but at least for now there seems to be some other thought weighing on Farwa's mind than getting married to just anyone at all.
I liked Farwa's reaction when she saw her teacher. She might not be mature but she is respectful towards people who deserve to be respected. She did not tell her teacher off the way she told Changez off because despite of her dislike for the subject she does not think that she has the right to be rude to her teacher. She was of course not very nice with him when he was teaching her but that was for entirely different reasons.
I must say that I am truly impressed by Yasir Mazhar's versatility in particular. The last time I saw him was in drama serial Mausam and the character he is playing in this play is poles apart from the character he played in Mausam but he has managed to nail it nevertheless. Yasir Mazhar changes his outlook along with his tone and body language to suit the needs of the character which he is playing which goes to show that he puts his best into all his projects. The chemistry between Yasir Mazhar and Sonia Hussain was far better than the one between her and Ahmed Hassan. I found it easier to relate to the instant connection Junaid had with Farwa because he is under the wrong impression and besides that his likeness for Asma also plays a major role here. This whole relationship has been founded on a big lie and if Farwa ever found out in the future that Junaid's first preference was Asma and he only married her because he thought she was just as intelligent as her cousin she wouldn't think twice before getting out of this relationship.
Farwa has absolutely no likeness for intelligent people because they bore her and she has no idea how to make conversation with such people. Sonia Hussain is making it very easy for me to connect to all the aspects of Farwa's personality and I can't help but like Farwa even with all her flaws. The scene in which Junaid gives her all that "useful" information about ostriches was brilliantly done. I could totally relate to Farwa's lack of interest and the way she had no clue how to respond. Junaid's mother said that she knew her son was interested in Asma and that she was not interested in him at all but I remember when she went to Farwa's house she actually wanted to ask for Asma's hand in marriage. Why would she do that if she knew that she was the one who had broken her son's heart and she was not the least bit interested in getting married to him?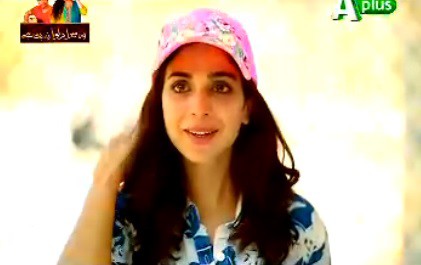 I found the obsession with the cook a bit annoying and the song sequences seemed out of place as well other than that this was an interesting episode with Farwa and Junaid standing out in the crowd. The preview of the next episode suggested that for some reason this engagement will be called off and Farwa asks her teacher to marry her – which I hope was a joke!! I am really hoping that Farwa's character will start changing from the next episode although I am enjoying watching Farwa on screen the way she is even now but some character development will make things even more interesting. I absolutely love the picture quality and colors of this play, full marks to whoever is responsible for that.
How many of you watched this latest installment? Do share your thoughts about it.
Fatima Awan