I just came back from watching 'Karachi se Lahore' and I must say I'm pleasantly surprised by it. I was expecting a cheap comedy like wrong number but it is much better then Wrong number. Here is what I think about it.
(Warning may contain spoilers)
Karachi se Lahore is the story of Zaheem played by Shehzad sheikh who is neighbors to Maryam (Aisha Omar) who is the daughter of Tiwana Sahib (Jawed sheikh). He doesn't have the best of relations with his neighbors and is facing problems with his Girlfriend Aashi played by Ishita Syed. His Girlfriend leaves for Lahore to attend a family wedding and calls from their to tell him that she is getting married. to her cousin. Shahzad leaves for Lahore with his two friends Moti ( Yasir Husain) and Sam ( Ahmed ali) via Tiwana sahib's jeep as Karachi airport is closed because of a strike By Civil aviation authority to stop this wedding. Maryam and her brother Zezu also accompany them. The first part of the movie was absolutely hilarious. The audience loved at the absolutely witty jokes especially those by the stuttering Moti. The most hilarious of them was about an aged woman Sam was leering at . 'Aisi auraten ajkal dramon main ati hai jahan unhen apne teesre shohar ke teesre betay se mohabat hojati hai.' LOL.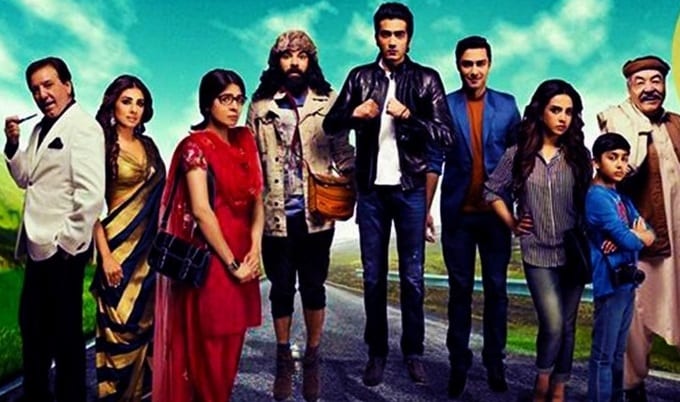 The second part of the movie was a drag and a waste. There was a completely unnecessary subplot involving some pathans with the head honcho played by Rashid naaz. The whole plot was racist and filled with some really cheap scenarios. There were also two really forced dance numbers one of which depicted the previously nek parveen Ayesha Omar dancing in revealing clothes!!! Also there was an incident at a motel which subconsciously supported or at least made light of Honor killing.
There were several cameos in the movie the best of which was Rubya Chaudry as a 'lonely' possibly psychotic girl at a 'happening party'. Those of you who have seen Usman Khalid butt's hilarious parody of Humsafar will recognize and enjoy Rubya's cameo. The real brilliance of the movie lies in the performance of Yasir Husain as Moti. I loved him and his quirks. Ahmed ali as the pseudo-smooth Sam was acceptable as best. The product placement occurs too frequently and is literally in your face and people were pointing towards it in the cinema hall. To quote NFP the movie 'was an hour long cornetto commercial'. Overall the movie is good although I wish they hadn't ruined it in the second half. If you are looking for a good road trip movie, then I recommend Karachi se Lahore. I rate this movie 2.5 out of 5 stars.
P.S: Can anyone please inform me that in which cinemas of Karachi the movie Manto will be playing?
Talha Rizvi