Independence Day (14th August) is approaching and any prolonged holidays/weekend normally proves a lucrative opportunity for the cinema industry to attract audience towards the cinema halls. Such prolonged holidays in our countries are the Eid Holidays, Independence Day (14 August) and Quaid Day (Christmas 25th December).
This year four films are releasing on the 14th of August, providing enough choice to cine-goers to pick and choose the one they like. So here is the list of films to be screened on upcoming 14th August.
Bollywood films – Brothers
On any occasion, any event and any race Bollywood films have always been a clear winner when it comes to film business and popularity in Pakistan. The major film of 14th August is the Bollywood film Brothers. Starring Akshay Kumar, Sidharth Malhotra and Jacqueline Fernandes, the film is about boxing. Apart from the boxing, the film also features the regular glamorous stuff of a regular Bollywood film like an  item number. Brothers is coming on 13th August, and is expected to release on maximum number of screens across the country as compared to the other films in the race.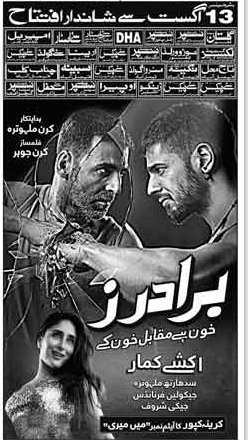 Urdu films
On Eidul Fitr (just a month ago), two Urdu films Wrong Number and Bin Roye were screened which received positive response from the audience and are still successfully running in cinema houses. This 14th August, three Urdu films are releasing a mark achieved after a gap of nearly 40 years. All the films are of different genre and subjects.
Shah (شاہ)
A biopic about the Hussain Shah, an Olympian boxer who won a bronze medal in boxing for Pakistan in the 1988 Seoul Olympics. Shah mainly covers the professional life of Hussain Shah, his initial struggles, the final achievement and after come of his achievement.
From a homeless child who slept on a footpath in Karachi to Olympic glory – Hussain Shah became the only Pakistani in history and the first South Asian to win a Bronze Medal in Olympics Boxing at the 1988 Seoul Olympic Games. Traditionally Hockey has been the main sports for Pakistan in the Olympics, however in 1988 Pakistani Hockey team presented below average performance and failed to qualify for the semi final securing fifth position overall. In 1988, Syed Hussain Shah emerged as a surprise winner when Hockey team failed to meet the expectations.
Shah is releasing on 13th August 2015.
Starring: Adnan Sarwar, Kiran Chaudhry, Sardar Baloch, Adeel Raees and Gulab Chandio.
Directed by: Adnan Sarwar
Wirtten by : Adnan Sarwar
Music by : Adnan Sarwar and Farhan Albert
Distributor: Geo Films
Moor (مور)
Moor means mother in the Pashto Language. Moor is about corruption which badly impacted the railway system in the Pashtun Belt of the Balochistan province. It is produced in Karachi, and shot in Karachi and Pashtun Areas of the Balochistan province like Muslim Baagh and Zhob.
A much anticipated film , it is the first film of Sonya Hussain. Strings composed the music of this film which has eight tracks in the voices of Meesha Shafi, Javed Bashir, Strings, Rahim Shah and others.
"MOOR" (Mother), follows the tragic story a family pulled apart through corruption and circumstances out of their control.It is based on decline of the railways system in Pakistan. Moor is Pushto word which means mother in Pashto Language.
The film is shot in Qila Abdullah district, Balochistan and is about the decline of Railway system due to corruption and its impact on the families living there. The area of Qilla Abdullah is home to Khojak tunnel, the longest rail tunnel in Pakistan. The 3.91 kilometer long Khojak tunnel was constructed by British in 1891. It is also known as Sheelabagh tunnel. The tunnel was built with the motive to provide railway access to the city of Qandhaar in Afghanistan.
It will be the second film directed by Jami, the first film O21 released last year received mixed response from critics and viewers.
Moor is releasing on the 14th August 2015
Genre: Family/Drama
Starring: Hameed Sheikh, Samiya Mumtaz, Shaz Khan, Abdul Qadir, Sonya Hussyn, Ayaz Samoo, Ali Sheikh, Shabbir Rana, Habib Panazayi, Azlan Shah
Directed By: Jami
Written By: Jami & Nazira Ali
Screenplay By: Jami
Produced By: Jami , Nadeem H. Mandviwalla
Distributor: ARY Films
Dekh Magar Pyaar Se (دیکھ مگر پیار سے)
Dekh Magar Pyaar Se (DMPS) is the second Urdu film of Humaima Malick after a gap of four years, where her first film Bol in 2011 was a super hit winning her many awards and appreciation. The film is produced in Karachi, and shot in Lahore and London (UK). It is directed by famous commercials director Asad Ul Haq and style icon Hassan Sheharyar Yasin has worked as creative and fashion design director as well. Sikandar Rizvi, who runs Xanders a famous restaurant in Karachi is appearing as hero in this film.
DPMS is releasing on 14th August 2015.
Starring: Humaima Malick, Sikander Rizvi, Irfan Khosat, Aqdas Waseem
Genre: Romance/Comedy
Music by: Soch Band
Background Score : Abbas Ali Khan
Directed by: Asad-ul-Haq
Produced by: Ali Murtaza and Asad-ul-Haq
Written by: Saba Imtiaz
ScreenPlay by: Ijlal Khan and Asad-ul-Haq
Cinematography Nic Knowland
Edited by: Yong At Vhq
Creative and Fashion Design Director: Hassan Shehryar Yasin
Styling by: Saima Rashid Bargfrede
Distributor: Geo Films
Rashid Nazir Ali