Now that was one well-directed and fast-paced episode! I thoroughly enjoyed watching the episode because for a change, it revolved around Paymaan and Imroze :)
Paymaan doesn't believe in herself and the way she dumped her sketches in the trash can, labeling them as 'Ek pagal larki ki ulti seedhi lakeerain' went to show her lack of self-confidence and how much she under-estimates her skills and capabilities. The scene in which Imroze scooped up the sketches from the trash can was actually pretty cute :)
Now listen to this: Imroze ko 'buss mohabbat hogayi' because just being with Paymaan makes him feel better! At least that's the way Imroze puts it! The question that arises is: WHY? There's always a reason why being with someone makes you feel happy, right? You meet people every day and you don't fall in love with them just like that. Considering what we have seen up till now, I feel the writer didn't work very hard when he was penning down Imroze's character. Not much about this guy makes any sense to me :P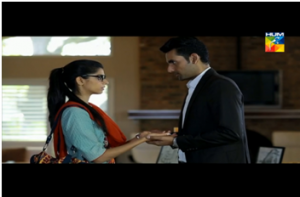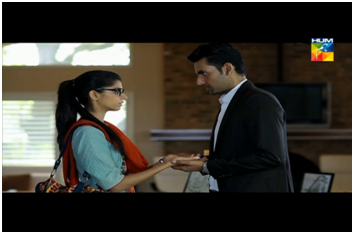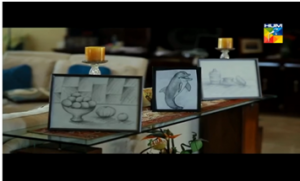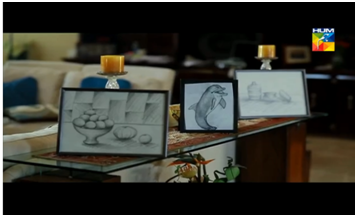 The 'unique' proposal scene was well-executed. But I found it slightly unnatural because for a girl who spent her entire life under the shadow of such a conservative and controlling mother, going to a complete stranger's house all alone and allowing him to hold your hands is a bit hard to digest. But other than that, it was brilliantly directed and it was a treat to see how 'thoughtfully' Imroze had arranged Paymaan's sketches. Paymaan was obviously taken aback when he proposed her, but 'thank you-mujhay itnay unique tareeqay say propose karnay kay liye' went to show that Imroze's sudden confession didn't come across as a negative surprise to her. Paymaan has developed feelings for Imroze and her feelings are justified and understandable because no one ever made her feel special the way Imroze did and she admitted it aloud too-'aap mujhay itna special feel karatay hain'. Paymaan too wants to start a new life with Imroze.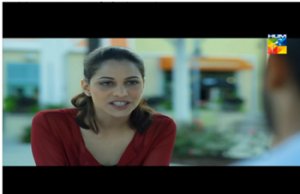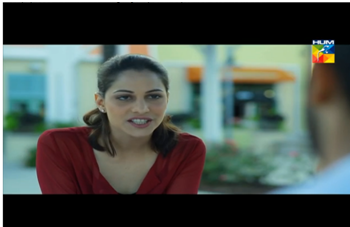 But then again, things don't always go as you planned. Shams and Sara are keen to see Paymaan and ROOMI as a couple. It's crystal clear that Roomi doesn't harbour any special feelings for Paymaan because when Sara asked him what he thinks of Paymaan, he did NOT give a green signal. Neither did he nor Paymaan give any wrong indication to Sara but God knows why she told Shams that Roomi and Paymaan are interested in each other and what's more-the duo are now planning their wedding?! Paymaan should have clarified the misunderstanding but like any mashriqi, seedhi sadi larki, she remained silent.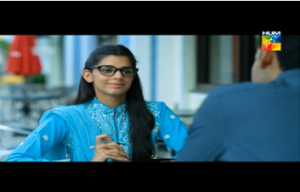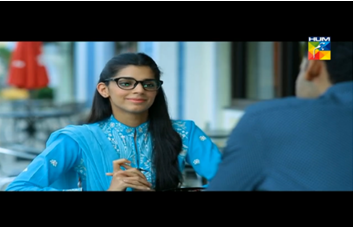 And yes, we got to see more of Tabassum-she wants the world to know (her children, in particular) that she is hatti katti and doesn't need anyone by her side. In fact, she is determined to prove that she is better off without them! Shams 'explained' his decision of taking Paymaan away by saying 'aap nay mujh say meri maa cheeni aur mei nay aap say aap ki beti-hasaab barabar.' I really want to see how they wrap up this track.
I let out a huge sigh of relief after seeing the next episode's preview-seems like Roomi will come to the rescue and clear up things. But Sara's role seems a bit fishy. What are her true intentions? Only time will tell ;)
Did you watch the episode? What do you think of it? Please share your thoughts.
P.S: As you folks must have figured out, I am covering up for Fatima. I hope you guys like the review, because Fatima herself is a flawless reviewer :)
Maryam Mehdi