I have to say that I expected better from Ghairat since the story seemed quite focused in the first 9 weeks or so. Unfortunately, Ghairat too is turning out to be one of those dramas in which scenes are stretched beyond limit and multiple tracks added in the story after 10 weeks, which may or may not bring something tangible with them. Kashif falling for Saba has to be the worst development in the story especially because of the way it has been covered. The actor playing Kashif"s role is wooden to say the least and the way his "attraction" towards Saba is covered gives the impression that he feels more lust than love for Saba!! If Kashif is the bad guy than everything that we are being shown would definitely make more sense. It is good to see Saba's friend being so concerned about her but there were times tonight when she gave the too good to be true vibes. There was a time when I had absolutely no trouble connecting to all the characters and happenings in this show since everything was quite logical but now most of the situations are repetitive more than anything else.
Iqra's husband is also completely out of the picture and Usman's mother's dialogues suggested that she was waiting for Allah to help her which means that we will see many more tragedies before something finally happens. Sometimes it feels like there isn't a world outside Usman's house. When Saba was in the house, there was a reason why her mother was helpless but now there is absolutely no reason why she can't run away to a shelter home. The whole situation has been blown out of proportion. Also, the fact that Saba was not shown thinking about Zohaib even once in this episode made it even more difficult to connect to these latest developments.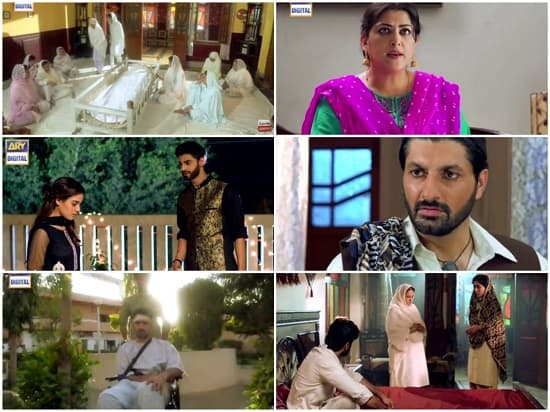 This episode showed that Asad was willing to do whatever it took to help Zohaib but his wife was not going to let him do so. I am waiting to find out what he wants to say to Usman and I definitely think that Zohaib's memory loss is yet another scenario created to drag the story. Zohaib's will to take Saba out of that situation was the best thing about this drama but for now his character has been relegated to the background in this particular aspect.
Saba was always shown as an intelligent girl who looked for solutions even in the worst of circumstances therefore I hope that her character will have more to offer in the future as well. She also has the perfect support in the shape of her friend's mother. These two episodes of Ghairat were too average and the kind of episodes which rely on rona dhona and majburis to gain the sympathies of the viewers. I definitely expected better from a drama which started off so well. For now Ghairat is just another one of those dramas which completely go off track. However, there is hope that it might get back on track therefore I will be tuning in next week to find out whether it does or not.
How many of you watched this latest episode? Feel free to share your thoughts about it.