After the big revelation of Moiz and Tooba's engagement, Adil's parents are scared that he'd hurt himself but he controls his emotions and puts on a brave face for his parents, especially his mum who is very worried. Geeti tries to talk to Adil but he doesn't take her calls. Adil has a long internal monologue with himself, trying to understand why Tooba doesn't love him.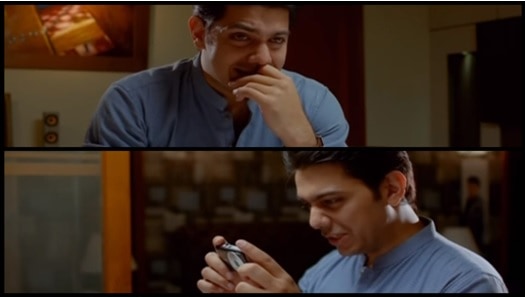 Adil's father has some wise words to make his wife realize that they really can't help their son until he heals from within. 'Mohabbat ka zakhm bohut gehra hota hai, kisi ke humdardi se nahi bharta/ Aur mehboob ki mohabbat mein rota hua dil sirf apne apko behelne se behelta hai, kisi ke behelne se nahi behelta'-this is absolutely true, for any kind of grief.
Adil shows a strong face to his mother and says he knows that 'life goes on' and says he'll marry someone who loves him whole heartedly. He says he doesn't need a 'one sided love' and tells his mother he'll go for an arranged marriage which makes her happy.
He acts normal and goes to Tooba's house to help out with the wedding preparations as usual. But since Aamna Phuppo doesn't like taking Adil along to their shopping trips, Adil finds that everyone had gone without him. He then offers to take Geeti home. Geeti readily agrees and her happiness knows no bounds.
One scene that struck me as kind of strange was how Adil, for a split second, tells Geeti to 'fall in love' with him and then immediately snaps out of the moment and says things like how love is never real and that everyone will eventually betray.
Adil follows the wedding troupe around different shops at the mall and even to the food court! He buys things for Tooba as if he were marrying her. This led to the second most creepy scene in this episode-Adil looking through the jewellery, 'jora', sandals that he bought for Tooba and dancing around with the bridal dress in front of the mirror and also trying out her favorite perfume. All these scenes just go on to further establish his possessive, obsessive and psychotic nature.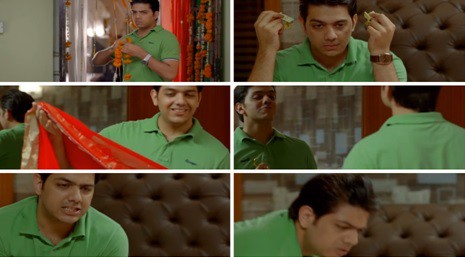 One thing that struck me as odd was how Tooba and her family were always the last to know about Moiz and his mother's plans. Aamna decides for Moiz and Tooba's 'nikaah' on Fayez and Maira's walima. She says that way Tooba's visa proceedings will begin quickly and when they come again they'll take her back with them. Obaid agrees to everything his sister says and his wife has no choice but to agree and look annoyed. I found the way Amna says 'Haye mera bhai' every time Obaid gives in to his Apa quite funny. Phuppo's character is one that at times acts as a comic relief and at times instigates other characters, like how she clearly expressed her dislike in Tooba and Adil's friendship and told Khadija to put a stop to it.
Tooba's mother doesn't think it looks good that her daughters will have their 'ruksati' from their house and then come back there. So, they decide to ask Aamna and her sons to stay over at Waqar's house till the wedding. Obaid doesn't really like the idea but tells his wife to be polite to his sister. But luckily, Apa understands the situation and agrees. Salma and Adil are surprised to hear about Tooba's 'nikaah' being held so soon but they hide it well enough. We also get to notice Fayez's change in attitude from his first interaction with Adil and he comes across as more polite and friendly.
I liked how the characters' dialogues often speaks our mind like Tooba's younger sister Tania asking why their Phuppo didn't tell them earlier about Moiz and Tooba's 'nikaah' and do all the shopping at once with Fayez and Maira.
Even though I felt the scene changes in some cases were a bit abrupt and had too many scenes showing the shopping trips, this episode further went on to establish the characters and their personalities really well. In my opinion, all the actors are playing their roles perfectly and I really hope the senior actors are given ample scope to showcase their talent and experience. I also felt that this episode centered too much on Adil and his eccentricities. Let's see how he copes up in the next episodes.
Have you watched the episode? Please share your thoughts.
Mahjabeen