Makeup is an essential part of an actor's job. A camera requires the person in front of it to look a certain way, that is why makeup becomes a necessity for an actor to prevent the camera from picking up unwanted details & enhancing skin conditions, which in reality look absolutely normal but get accentuated on TV screens. This is the reason why the actors, who may or may not be in favor of wearing a lot of makeup are required to wear some amount of it to at least have the coverage on face so that they don't look too washed out or tired on screen.
Makeup also plays a crucial part in making or breaking a character, when an actor wears the right kind of makeup, it helps in conveying the scenario that a character is faced within the drama. Similarly, when an actor relies a bit too much on the makeup, it takes away the quotient of realness from the character & makes them look unnecessarily glamorous, which might not be requirement of the character. There are a lot of actors who do believe in wearing least amount of makeup to stay true to their characters & give them the realistic feel. However, there are also a lot such actors who do not shy away from wearing layers & layers of makeup. For such actors, looking good on-screen is the most important thing & that is why they do not really prioritize the feel & the look that actually goes with their characters.
Pakistani drama industry is filled with amazing & talented makeup artists, who work constantly behind the scenes to help the actors achieve the look they want to sport in their project. This is the reason why all the actors look so good on-screen, irrespective of the look that actually is needed for their characters. However, even though all the actors mentioned below have had perfectly done makeup in their dramas, they have always looked unrealistically glamorous considering the kind of characters they have played. This list is dedicated to those beautiful actresses who played the role of victims in their dramas but still succeeded in looking gorgeous & too made up.
Sohai Ali Abro (Surkh Chandni)
Surkh Chandni was probably one such drama that actually covered the journey of an acid attack victim in a very convincing manner. They started off by showing how Aida (Sohai Ali Abro) hit the rock bottom but with constant support, she not only ended up being a survivor but also turned this aspect of her life into her strength. Everything that was shown in Surkh Chandni was convincing & done right, except Sohai Ali Abro's makeup & glamour. She looked too glam despite the fact that she was playing the role of an acid attack victim. Yes, one half of Aida's face was covered with scarring (which also kept on fluctuating), however, the other half of her face had a thick, visible layer of perfectly matte foundation. Her eyebrows were on-fleek. Perfectly kohl'ed eyes. Eyeshadow was natural but done really well & not to forget the long-lasting liquid lipsticks that she wore, which completed her full face of makeup.
Sohai Ali Abro is one of those actresses who loves to wear makeup & looks absolutely glamorous in her dramas. However, it seems she was ready to play the role of Aida but not really keen on giving up on her habit of wearing a lot of makeup. Although she kept her makeup natural looking & did not resort to a lot of colors on her face, but the way her makeup was done seemed too perfect for someone who was an acid attack victim. In Surkh Chandni, a lot of real acid attack survivors were shown, so I guess Sohai Ali Abro had an example in front of her that none of the survivors looked the way Aida did. Yes, it was a drama & Sohai Ali Abro was just 'playing' this character & even though she acted brilliantly, the least she could have done is was give up on 2 – 3 layers, in order to make her character & her condition as an acid attack victim look a bit realistic.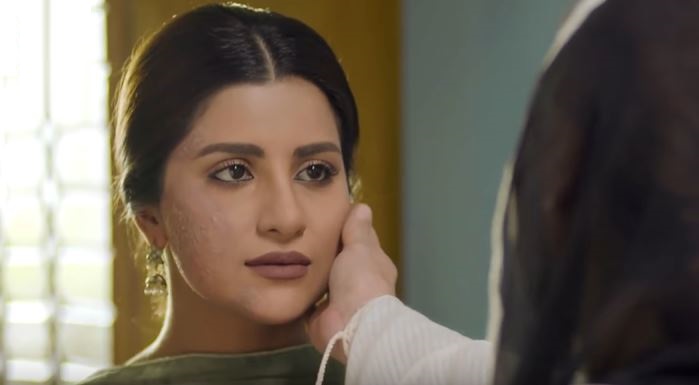 Ramsha Khan (Kaisa Hai Naseeban)
Ramsha Khan is also one of those actresses who loves wearing tons of makeup. In the beginning of her career, Ramsha did have a hard time finding the right makeup artist because her makeup was always off & poorly done. As the time passed, Ramsha did learn what looked good on her but still, she didn't really realize that a character like Mariam can not look real with the amount of makeup that she wore in Kaisa Hai Naseeban. Mariam was a typical bechari that is often shown in our dramas, with non-supportive husband, zalim saas, typical nand & Mariam being the girl who is made to run the house by working outside as well as has to do the household chores day & night. Even after all of the hard-work, Ramsha Khan succeeded in looking perfectly made up with rosy cheeks, false eyelashes, under eye highlighting, glossy pink pout & perfectly shaped eyebrows. Yes, she looked fine in the initial stages of the drama when she was at her father's home & was then a newly wed but later when her world turned upside down, the thing that remained consistently perfect was her makeup. I really hope she lets everyone know which brand of lash glue she used, because her false eyelashes stayed intact even during the hospital scenes.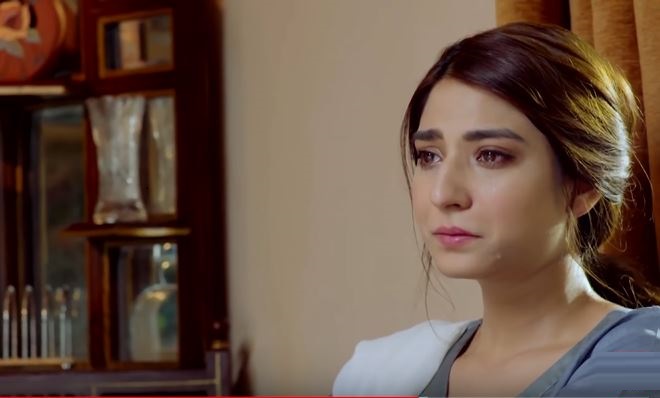 Minal Khan (Hassad)
Minal Khan is also one of those actresses who find it really hard to put their makeup brushes away. Minal Khan has the kind of face & features that can look absolutely perfect on-screen in minimal makeup but she does not believe in keeping it simple. The thing with Minal is that she does not only focus on her face makeup, she makes sure that her hair look shiny & the curls remain perfectly intact even if the world of her character is crumbling down. Minal Khan played the role of Naintara in Hassad & I guess she took the name of the character a bit too literally & seriously. She made sure to look like nainon ka tara by remaining all dolled up throughout the drama. In Hassad, Naintara loses her husband & her in-laws backwardly tell her to wear all-white outfits. Even in those scenes, I couldn't help but notice how perfectly done her hair were & how she wore capris with so much of confidence amongst the family which was so bird-brained. Minal Khan tends to rely on makeup may be to add age to her characters since she plays such mature roles but it still looks unrealistic when her foundation is dewy, face is perfectly bronzed & highlighted, eye makeup is perfectly blended & hairdos are valima-appropriate – even in those scenes when she is mourning the loss of her on-screen spouse.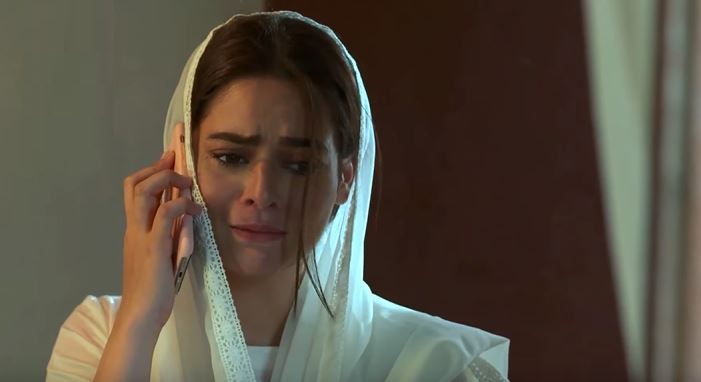 Alizeh Shah (Jo Tu Chahay)
Alizeh Shah is the new eye-candy of Pakistani drama industry. She is getting to be a part of one big project after another because she is extremely beautiful. Her makeup artist knows the art of makeup but this is where the problem begins. Alizeh Shah is usually made to play the roles of a teenager but her hair & makeup make her look too glam to give a damn. Alizeh Shah has dyed her hair which already add a bit of glam to her overall look & then paired with the amount of makeup that she does, it just makes her look unrealistically beautiful to be playing such roles which are faced with challenges in life.
In Jo Tu Chahay, Mashal (Alizeh Shah) is living with her simple, pious, God-fearing Dadi Ma, she is a teenager orphan who is not loved by anyone around her, she does not have much money & her male cousins are protective & keep an eye on her, so not sure how can she afford such amount of makeup because the final result shows that the makeup used on her face is not your cheap drugstore makeup, it definitely must be branded! Considering the fact that Mashal has no exposure & she is just a college-going girl who comes back to her simple si Dadi ma, her on-fleek makeup makes it look like she is obsessed with Nida Yasir's morning show Good Morning Pakistan & she keenly follows the episodes dedicated to makeup which are conducted by makeup artists like Wajid Khan or Kashee. Alizeh Shah's makeup actually is perfect but this is what the issue is – she doesn't need so much of makeup as it makes it hard to feel for her & find her realistic. In Jo Tu Chahay, she has not worn eyeliner once but the rest of the face is so over-done that it doesn't really matter. Her foundation is perfect, her face is heavily bronzed & hair are always straightened & just perfect. She really should share her beauty secrets with school/college-going girls out there because I am pretty sure, the one & the only thing thing those hard-working girls sport proudly at this age, is the sun-tan!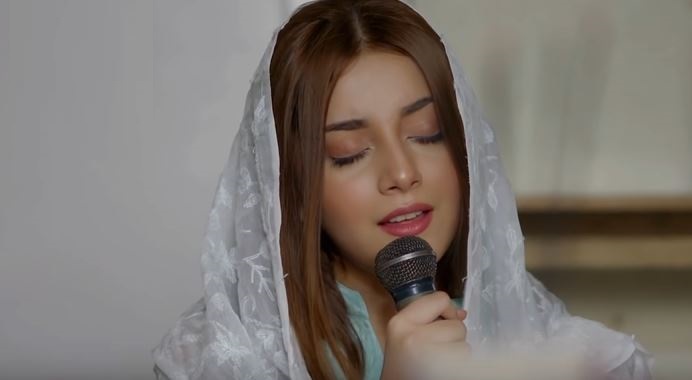 Ayeza Khan (Koi Chand Rakh)
In Koi Chand Rakh, Ayeza Khan took the title of the drama seriously & decided to play the role of 'Chaand' because she went for foundation probably 5 shades lighter than her skin-tone. She also played the role of 'Chaandni' because she decided to douse her face with shimmery highlighters. Ayeza Khan played the role of Dr. Rabail & in the very first introductory scene, where Dr. Rabail was shown to be on a long-duty, she looked like she had just finished walking the ramp for a fashion show & came backstage. Her hair was perfectly straightened, complexion was rosy, cheeks perfectly blushed, entire face highlighted, lips a perfect shade of pink & eye makeup done with expensive makeup brushes. The rest of Dr. Rabail's journey was nothing short of a nightmare with her (makeup loving) husband cheating on her & everyone turning against her but again, her makeup remained perfect & the highlighter didn't lose its intensity. Ayeza Khan is also one of those actresses who can do with the least amount of makeup & still look good on screen but she chooses not to walk that path!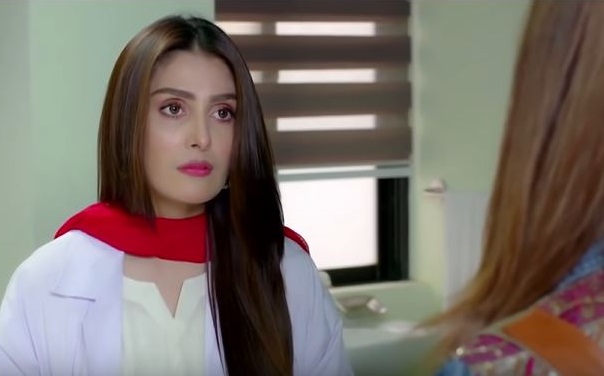 So, these were the actresses who recently played the characters of victims in their dramas yet succeeded in looking absolutely gorgeous. Their makeup was done well but it just didn't go well with their situations in the drama. Who else do you think wears a lot of makeup while playing the role of an ultimate victim in our dramas? Please feel free to add more names to the list.
Zahra Mirza.