Actor, model, director , producer and now a political activist too – Hamza Ali Abbasi has a lot of things on his plate at the moment. Hamza Ali Abbasi's mother is a part of the People's Party Of Pakistan but her son chose to side with PTI because he thinks that Imran Khan is not like other politicians. He said in his speech at the PTI dharna in Islamabad that he was only becoming a part of Pakistan Tehreek Insaf because he felt like they stood for Justice.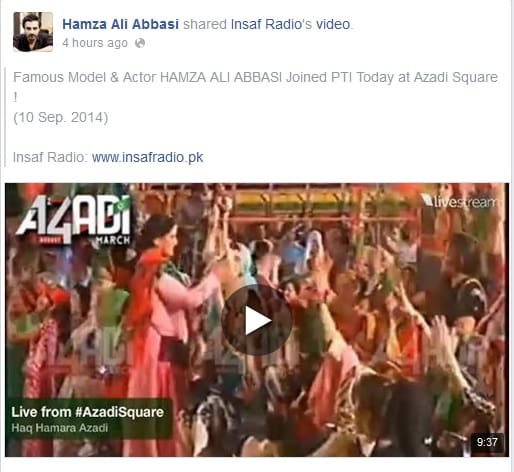 In his speech after joining the party he said that his mother will not be happy with his decision but he wants to do something that will make Pakistanis proud of him. He urged other people to support Imran Khan too because he thinks that Imran Khan will keep his promises. He also said that if we fail now there will be no hope for Pakistan.
The leaders of the party gave Hamza Ali Abbasi a warm welcome.