Last episode ended with Shagufta's death and this one began with mourning that death. This episode had some devastating scenes that are bound to make you cry. It also included some confrontations that were long due and some unexpected yet pleasant character developments that were much needed. With each episode the drama keeps getting better and has started to form a connection with the audience at a more profound and deeper level. It has become easier to recognize with the characters now may be because of the tragic death of this motherly presence that Shagufta was, for this feeling of loss and pain resonates with everyone on this planet.
In the beginning of the episode both Momina and Abeer are shell shocked because of their mother's death and have lost all sense of reality and have zero regard for consequences. This loss was the final nail in the coffin and has paved way for the expression of anger that was brewing inside both of them ever since the beginning against their father and Amtul. They accuse their father of killing their mother only because he wanted to have a son and Abrar acknowledges that he had become indifferent to everything around him and blames himself for his wife's death, to the point that he is afraid to go home and face his own daughters.
The baby is still at the hospital because he was premature and is naturally too weak. Both Momina and Abeer are constantly reminded by everyone that this baby is now their responsibility. Now that their mother is dead they have to play his mother's role to which all they say is that they will never own this baby. They are both hurting and hate everyone at this point. Their father, this baby, Amtul they hold everyone responsible for this death while Momina even holds her own self and her love for Arham responsible for it.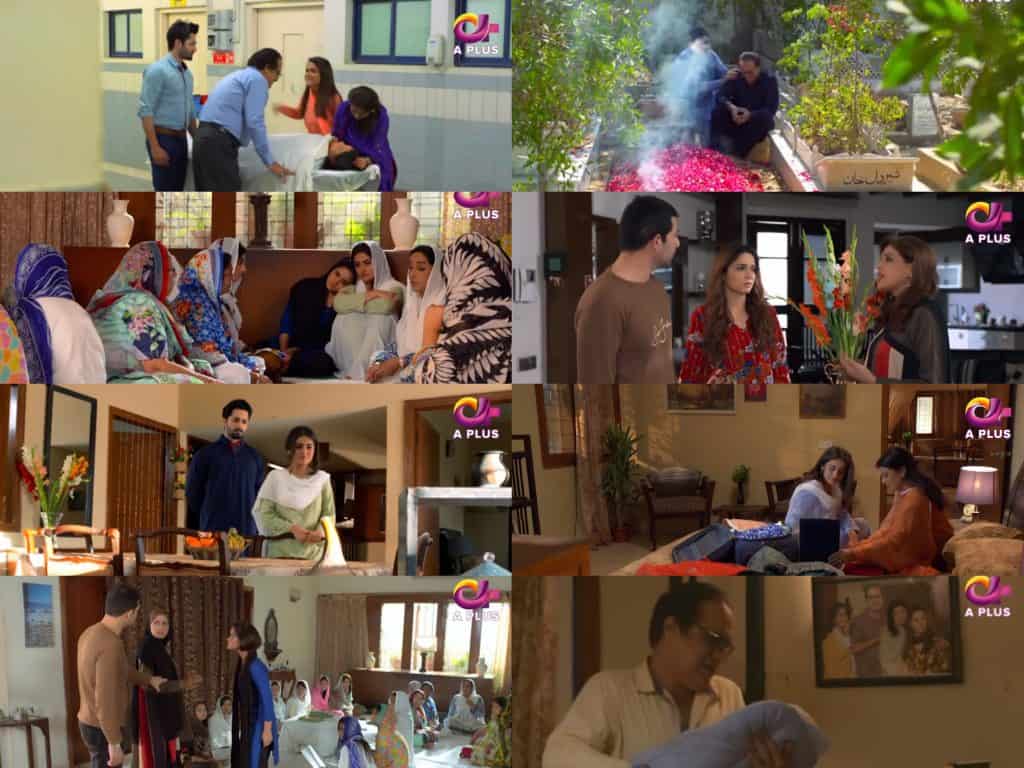 After confronting Abrar it is time for further confrontations that include Amtul and Arham. Instead of being a fair person Arham sides with his mother when Momina accuses her of being equally responsible for her mother's death which is disappointing for everyone who was rooting for Arham's character so far. He has been a level headed person till now, didn't support his mother just because she was his mother but for some reason he decides to do that now when clearly his mother is wrong. Momina is most vulnerable at this point instead of supporting her in any possible way he has started to act like a mama's boy which is beyond me. This will definitely put a dent in their relationship.
Talking of amazing character developments Zawar was the real MVP of this episode. He not only calls out his wife Areej on having conservative and toxic mind set but also accuses Amtul of raising her daughter with a lack of basic human decency. He forces Amtul to put everything aside and go condole Abrar's family. When they reach there obviously they are not welcomed by anyone which disappoints Zawar to some extent, I believe, tho he doesn't say so. This also shows that Areej and Zawar tho got married by choice but they have no real connection and do not understand each other much.
By the end of the episode Abrar brings the baby home who hasn't been named yet and both his daughters remind him how unwanted this baby's presence is. When Abrar is unable to put the baby to sleep at night Abeer says one of the most powerful dialogues of this show "Inhe bhi to pata chale baap ban'na kitna asaan hai aur maa ban'na kitna mushkil." The episode ends with Abrar reminiscing Shagufta and how different everything would have been if she were alive.
In the prologue we can see Shagufta's old friend suggesting that Abrar should get married for his son needs a mother which rattles Momina. While Arham reminds his mother that his relationship with Momina is strong enough to withstand the test of time and fate. But really is it?
Do share your opinion of this episode and what you think will happen next. On a scale of A to D this episode was definitely an A minus for me.