Ohkay so, this episode of Hum Kahan Ke Sachay Thay further elaborated Aswad's mental condition & the extent of guilt that he was feeling. All this while, at times it did look like Aswad himself was a victim of circumstances & was feeling guilty because he kind of held himself responsible for all that has happened but the twist at the end of this episode was enough of proof that Aswad is a plain vile person who is not ready to face the brunt of this trauma alone!
Aswad's Guilt
In this episode, I liked how Saleha wanted to see Mehreen move on. She never once held Mehreen back in a hope that Aswad might change her mind. Although they haven't shown it but maybe this is also Saleha's way of making amends because she has seen how Mashal couldn't deal with the rejection & also how much her son is suffering too. Saleha was adamant to get Aswad married to Mehreen but after all that has happened, it is good that she is not bent on repeating the same mistake. This change has definitely come with a hefty price but better late than never. It is nice to see Saleha being respectful of her son's decision & although she facilitates him, but what I really like about her character is how she is still a very independent person who does what she wants to. Aswad wanted Saleha to move to 'Amreeka' with him but she clearly refused as she is very much settled here.
Mehreen has definitely had her inhibitions & because she is someone who has kept all her vulnerabilities to herself, she kind of feels exposed in front of Saffan. All this while, it was pretty obvious that Mehreen's heart & also her mind was not into this marriage but she was doing her best to move on because she knows how painful her presence is to Aswad & how it is also creating problems for Saleha. Even Saffan could notice that Mehreen was mentally absent & to some extent emotionally unavailable but still, he chose to be accepting about it because he understands what she has been through. It is truly refreshing to see a character like Saffan in general but also when he's seen against Aswad, Saffan is a clear winner!
As much as I like seeing Aswad in this state, I am still not a fan of the fact that he absolutely has nothing more to him. Before the death, Mashal was clouding his judgment & now it's the police officer who decided to fill in. I am not sure why was the police officer shown having a soft corner for Mehreen when he himself is very much like Aswad who sees Mehreen as the culprit. I must say the director has done a commendable job in still not giving away the details related to Mashal's death. The scene of Shabo's flashback of the night still had me thinking maybe these expressions of Mehreen are Shabo's interpretation & maybe when they will reveal what actually has happened, Mehreen's expressions would be completely different. This was just what I am imagining, let's see what happens when we'll get to that part.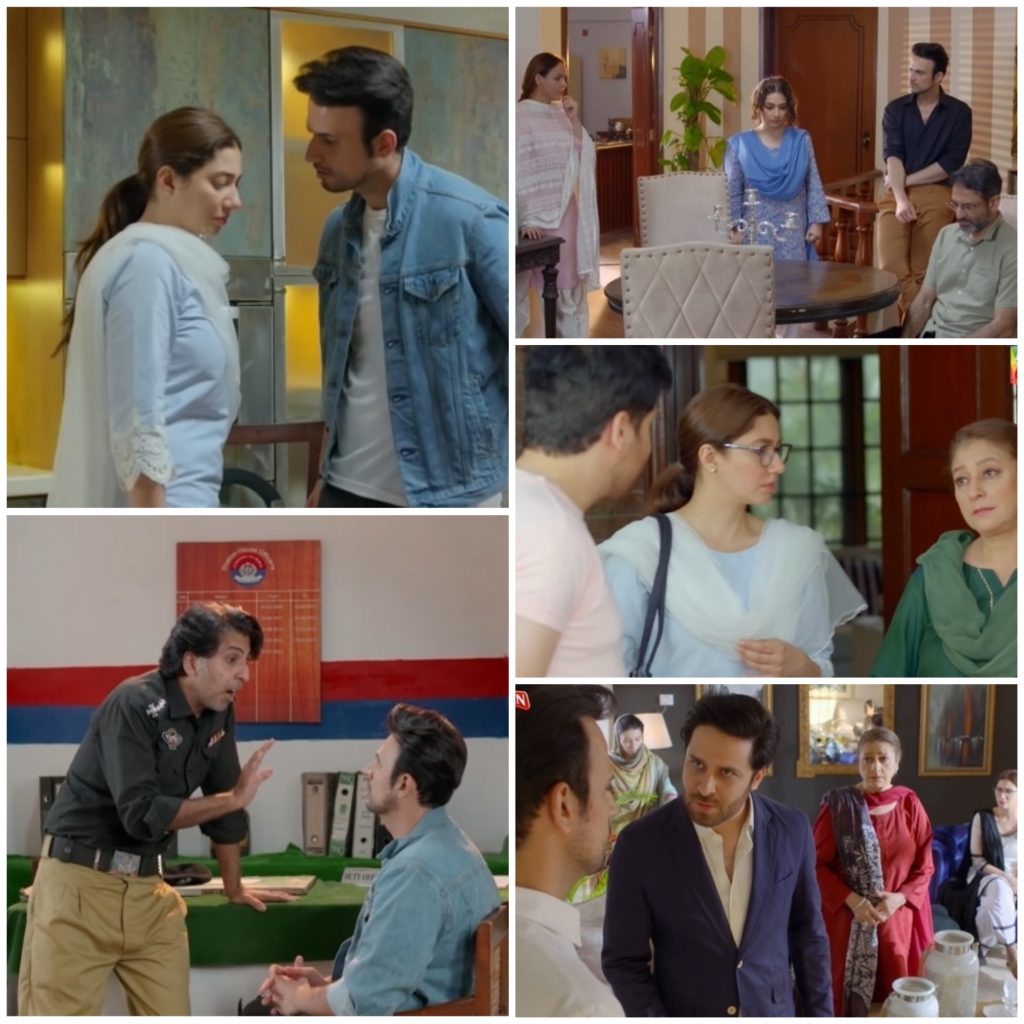 The scene of Aswad coercing Mehreen to kind of confess was definitely not needed, although it was performed well by both Mahira Khan & Usman Mukhtar. Aswad is doing exactly what he did with Mashal, he blamed her for falling in love with him. Similarly, he is now forcing Mehreen to bear the brunt of his guilt. Aswad knows exactly if he had been firm on his decision of marrying Mashal, this wouldn't have happened but because he is failing to hold himself responsible completely, he now wants Mehreen to lift the weight off of his shoulders.
This episode definitely ended on an interesting note. It was quite unpredictable but goes to show how vile Aswad has become that he would do anything to deprive Mehreen of her peace of mind, only because he has now decided to do something about all the lies that have been fed to her. It is unfortunate that he now has an opportunity to unlearn everything about Mehreen & see her from a different perspective but he is so blinded by the lies unfortunately that he is choosing to punish Mehreen in this sick manner. I must say, although both Mehreen & Aswad are victims of their circumstances (Aswad less) but the way they both are twisted makes this entire equation quite interesting. Mehreen was never ready to get married to Saffan the moment Aswad stepped in, she has always used him as an escape to her realities. Now because she feels he deserves better & probably because she feels exposed in front of him, she is ready to let go of him yet again.
Convincing Performances
This episode of Hum Kahan Ke Sachay Thay was quite interesting. I am however looking forward to the next episode, hoping to see a story moving to the next phase. I am not sure if it's just me but all the flashbacks of Mashal are very saddening to see. Kind of makes me feel for her quite a lot. Mahira Khan has performed beautifully throughout & her performance keeps on getting better. I really like Saffan's character, it is like a break in the middle of this chaos but sadly, his character will exit the story soon. Haroon Shahid has done justice to such a nice character. Usman Mukhtar has played Aswad's role convincingly too. A flashback where he gifted Mashal a cup & smiled at her suggested how emotionally involved he was with her but seeing how easily he broke her heart once again highlights how cold-hearted he actually is. Let's see what's in store for us. Please share your thoughts about this episode of Hum Kahan Ke Sachay Thay.
Keep Supporting,
Cheers,
Zahra Mirza.