Ohkay so, after weeks I can say that this was one intense & very interesting episode of Hum Kahan Ke Sachay Thay. I will definitely commend the editor for coming up with such a misleading (in a good way) promo last week because it actually had us all guessing that Mehreen might do something irreversible, however as the episode progressed, it came as a pleasant surprise. I thoroughly enjoyed this episode of Hum Kahan Ke Sachay Thay & must commend the director Farooq Rind for taking the story forward in such a manner that it gives us a lot to contemplate about it!
The Breakdown & The Confession
Mehreen was about to cave in, she was finally succumbing to the hallucinations & thought this was the only way out but finally, she got the push she needed to at least do something for herself & that was to not give up. Throughout the drama, they have shown how much Mehreen misses her father & how much she yearns for the love that he used to shower at her, but somehow in this particular moment, they actually put a stamp on how important he is to her. He is not just a memory to Mehreen, he is someone she still looks up to in dismay & despair. It was like Mehreen has always relied on him to guide her through the most difficult situations in her life. Although one can believe that all of this is in Mehreen's head but if it stops her from doing something so grave, then I am glad her father is still a part of her life & has worked as her strength. Part of it also could be that because she saw how even after his passing away, her father's name was never cleared, therefore she didn't actually feel this wasn't the right thing to do as it would further prove the point in everyone's mind that Mehreen actually was guilty. This was her breaking point but I am glad she is going to move forward & step up. I really wish after this particular moment in her life, she bounces back & becomes the Mehreen who believed in fighting for herself & is not just dependent on Aswad emotionally.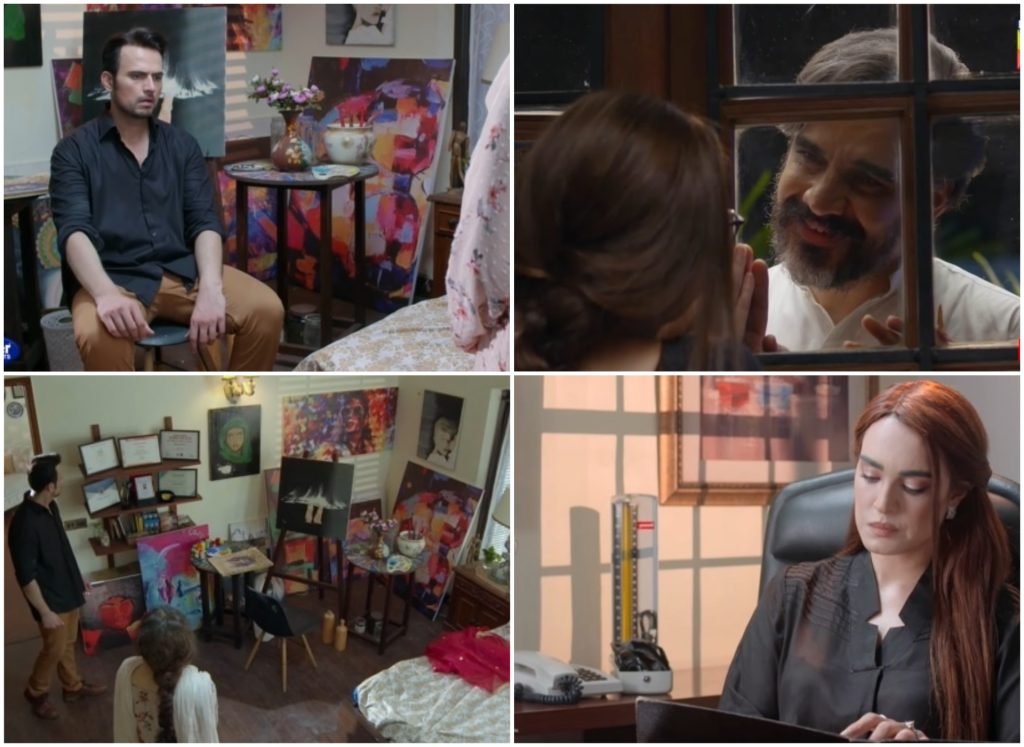 As much as I feel the entire conversation that the psychiatrist had with Aswad was pulled out from basic research done on Wikipedia, the only dialogue that I found absolutely convincing was her telling Aswad that he too needed a treatment. I kind of giggled when she asked Aswad about the family history of mental disorders & issues because if he would've spoken the truth, the answer would be the entire family isn't normal. Anyhow, it was nice that there was a conversation that happened about Mehreen's mental health & emotional stability. The way it made Aswad awkward was quite satisfying to see. This is probably the first time someone made Aswad face what he had been escaping all this while. He had to answer, he had to revisit the past & he had to think about all the things he had been doing to Mehreen – the kind of abuse he had been subjecting her to!
The highlight of this episode was Shabo's conversation with Aswad. It wasn't just that Aswad opened Mehreen's room, it was like he opened a pandora box & was now solving one puzzle after another. The moment he realized that his past has been nothing but a lie was again the most important moment of this episode. He found out about the artist in Mehreen, the way she was always a topper, a genius who achieved nothing but success in everything that she did. I am glad none of what Mashal had told Aswad was not forgotten by him because it didn't take him a second to revisit it all & realize that Mashal was lying to him throughout. The timing was perfect too because he had just witnessed Mehreen's nervous breakdown, therefore it made it a lot easier for him to understand what was she going through.
As much as I enjoyed this episode, I was left debating whether it was a mistake on the director's part that there was so much focus on the cup that Mashal used; such as Aswad gifting it to her, Aswad showing the same white mug to Mehreen reminding her of how she poisoned the tea in the same mug & then the policeman also talking about the same white mug & saying that Mashal drank from it. However, in the scene where Mehreen prepares the tea, she takes two black mugs to the room. I am not sure when & how did it switch or was this done deliberately. I also do not understand why the tea was made twice; once when Mehreen had refused to eat dinner & the second time when they both made a truce & wanted to have tea together. In the first scene when Mashal tells Shabo to make tea, she points towards the black cup, clearly showing she prefers the white cup but while Mehreen is making the tea, she puts it in two black cups. I guess it will eventually bring us to that particular confession of Shabo where she speaks about committing sin. She must've poured the 'takat ki dawai wala powder' into Mashal's cup, because like she said she knew it was Mashal who took those medicines, not Mehreen. If Mashal had tea after Shabo prepared it, I don't think it's normally possible to be left with so much time to have a conversation with Mehreen, make a truce with her & then wait for the tea. Although they didn't deliberately show what happened after Shabo & Mehreen left the kitchen, maybe they walked on Mashal in that condition but then if we go back to that moment when Mehreen wakes up with the knock of police on her door, she actually seems clueless & has no idea what happened to Mashal during the night. Let's see.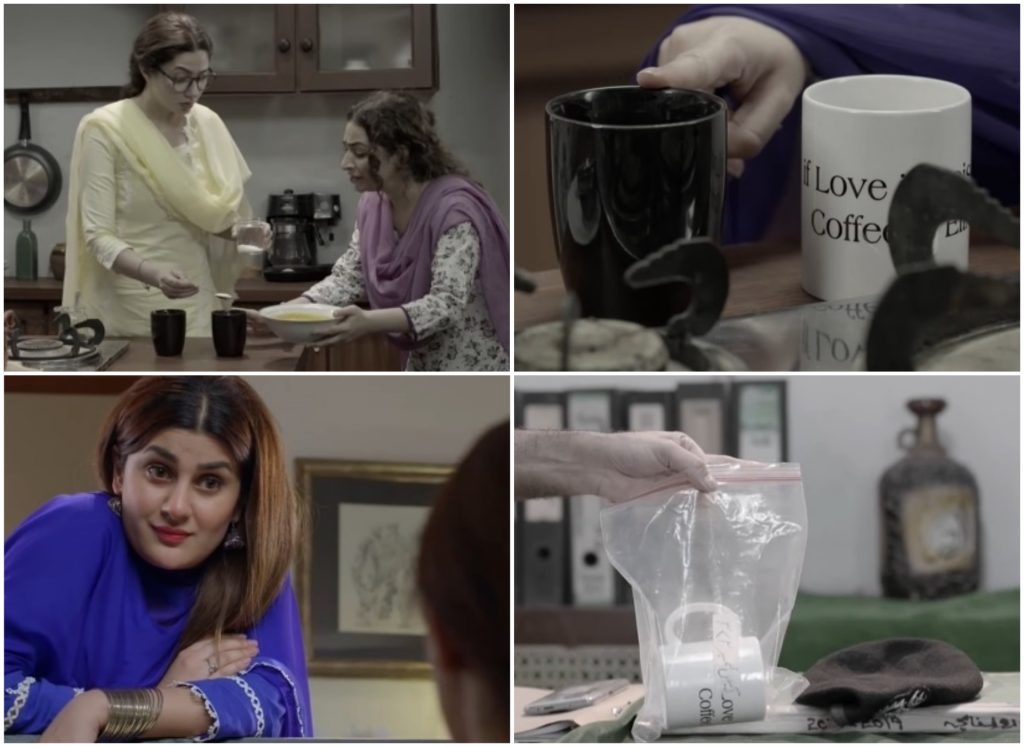 A Very Convincing Episode
This episode of Hum Kahan Ke Sachay Thay was definitely quite interesting & after weeks, I found it convincing enough to keep me engaged till it ended. Mahira Khan's acting throughout the episode, especially during the breakdown was superb. Usman Mukhtar's portrayal of guilt & later disbelief was spot on too. As much as I am glad that Aswad had a reality check, as much as I am glad that he found out about Mashal's lies, I am not thrilled that he will now become Mehreen's savior & they both will have a happy ending. Mehreen is weak & vulnerable but I wish they show her being capable enough to walk past this mess & not rely on Aswad purely because he now will have an epiphany & miraculously believe in Mehreen henceforth. He is way too twisted for that. Props to the director for taking the story forward in such an interesting manner where it has once again left us wondering what happened but because the truth has started to unfold, it makes me look forward to the next episode as well. Please share your thoughts about this episode of Hum Kahan Ke Sachay Thay.
Keep Supporting,
Cheers,
Zahra Mirza.