Ohkay so, this episode of Hum Kahan Ke Sachay Thay further elaborated how problematic the situation was for everyone involved, with one side trying to find a solution & the other side creating more issues. There were some of the scenarios that barely made sense & were included only to explain the dynamics further which could've been easily avoided. I will however say that the preview of the next episode has definitely made me look forward to it quite eagerly because in this episode I did feel things were getting a tad bit monotonous but it seems that is going to change soon.
Aswad's Betrayal
I really do not like Aswad's character. It is mind-boggling that despite seeing what he is putting everyone through he fails to take any responsibility. He doesn't want to own up to what he has done & how all these years, he led Mashal into believing that he really wanted to marry her. The only thing Aswad seems to be sorted about is his feelings for Saleha & how he can never go against her wish – he has a lot more clarity as far as his mother is concerned but when it comes to other equations, he is quite weak & problematic. It was a few episodes back when Aswad once told Saleha about Mashal & when she said she'd be happy to see him with Mehreen, he didn't say anything to convince her. The way his mother was being treated & how Mashal's family reacted was only because Aswad chose not to give Saleha any clarity about what it was between him & Mashal.
Aswad was seen repeating the same thing over & over again that he never led Mashal into believing that he was going to marry her, which makes him look like nothing but a coward. Another aspect that highlights this personality trait is how he is always loud & stern with Mehreen but when it comes to Mashal, he is seen stuttering. It is because he himself knows that he is guilty in front of Mashal but with Mehreen, he doesn't mind showing her an attitude. The moment when Mashal came to confront him, Aswad not making an eye-contact & trying to look away further established the fact that he is well aware of what he has done, but he once again failed to take responsibility for it. Instead, he continued to guilt-trip Mashal that she was the one who mistook their friendship as something else. Aswad is being rude to Mehreen because he is also holding her responsible for this fiasco only because she accepted this proposal. It is funny that a mature man like Aswad is behaving like such a spoiled brat who can do nothing wrong & wants others to clean up the mess he has made.
Although Mashal is no saint, if we keep everything aside, in this entire situation she & her family were not wrong. Aswad gave Mashal enough reasons to believe that he was going to come, propose to her & get married to her, therefore her reaction was totally justified. It was sad seeing how helpless Mashal felt because the guy she had such high hopes for ended up betraying her trust & not only that, he was acting as if he was never involved emotionally. It was unfair that at this stage of her emotional & mental involvement, Aswad wanted her to see this relationship differently. Mashal was definitely wronged by Aswad & I can't even begin to imagine how ugly things will get when his guilt will start creeping in!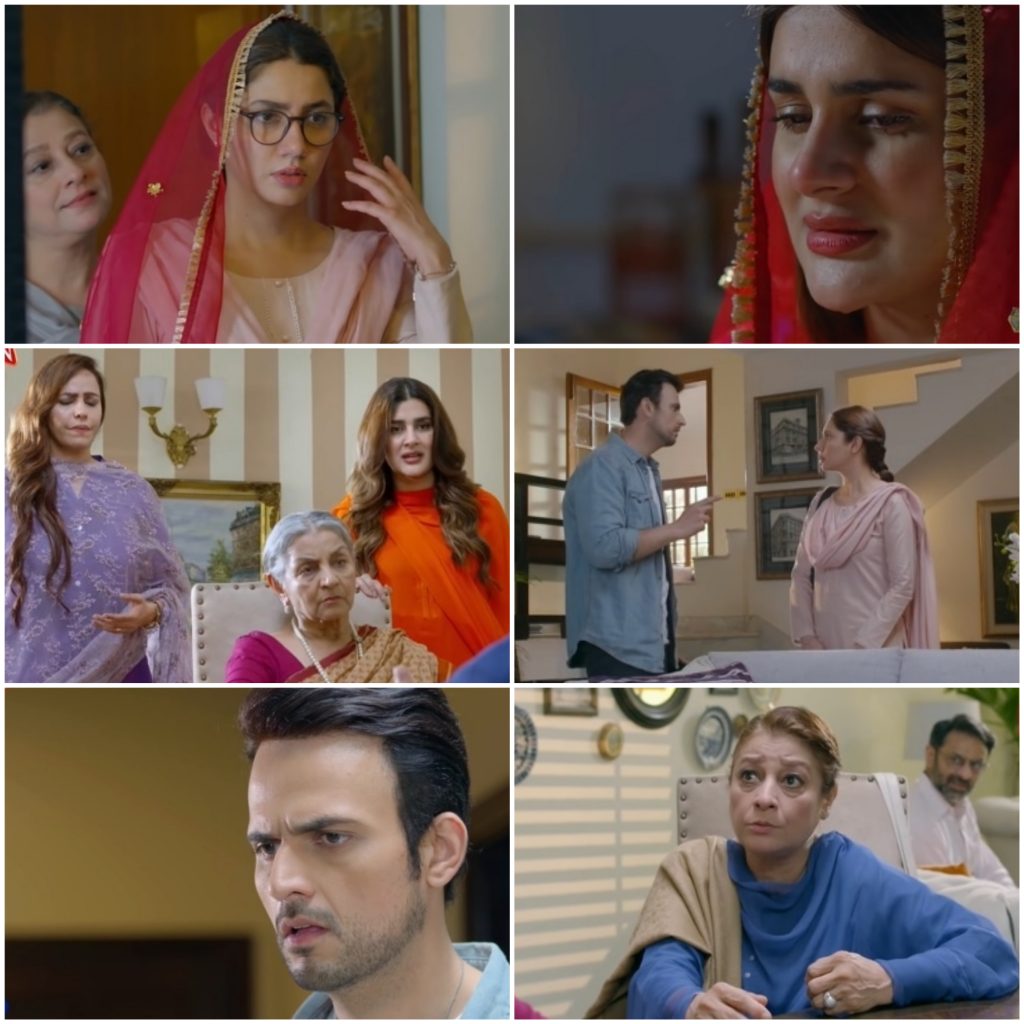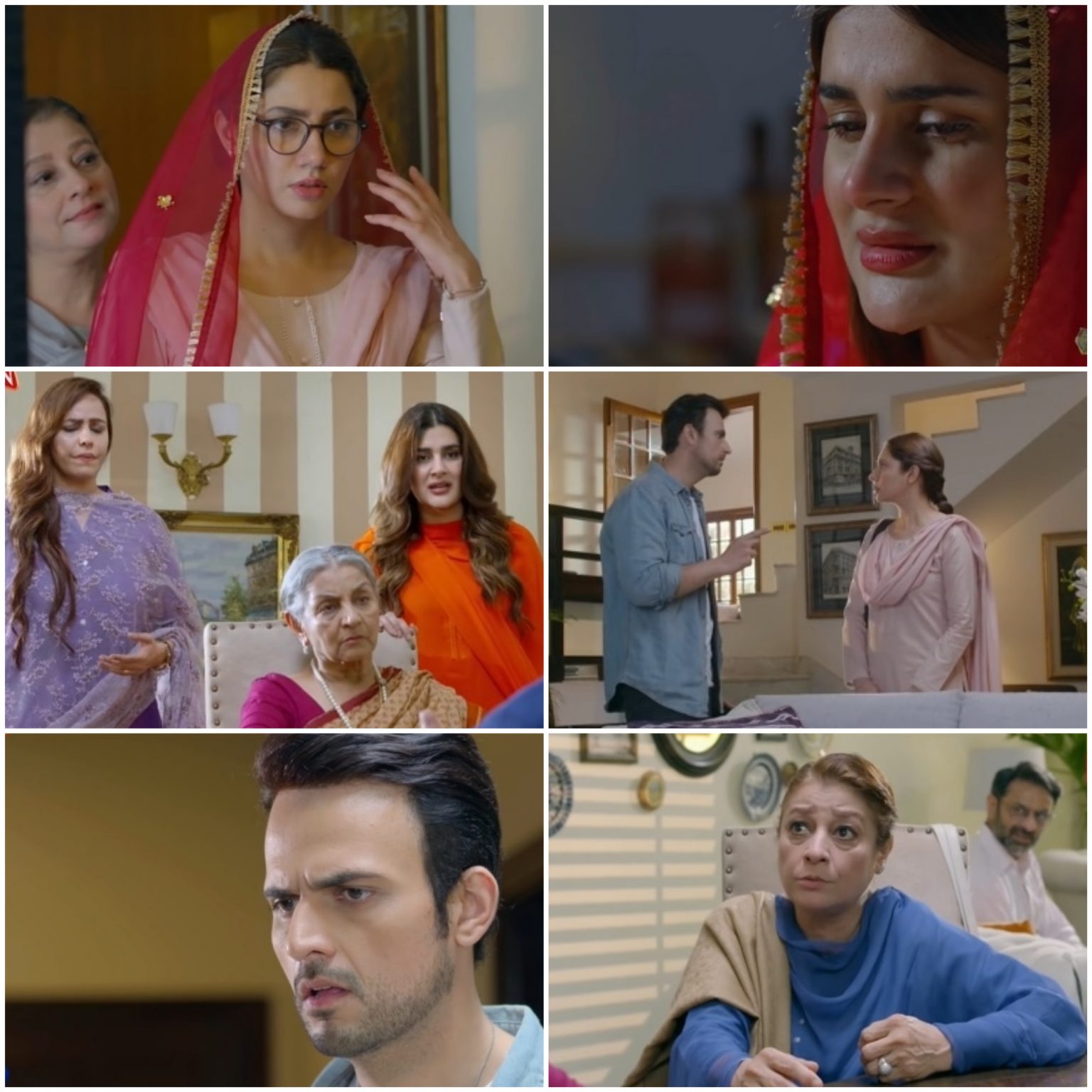 Saleha has definitely been the most reasonable character in this entire narrative but in this episode, the way she continued to advocate that Aswad was only friends with Mashal was so wrong. It was like she was blatantly denying & refused to even think that there could be a possibility of such sort, that too when Aswad has spoken to her on these lines once before. Saleha on her own doesn't want Aswad to get married to Mashal, that's fine, but she shouldn't have been so staunch about the idea that Aswad never made promises to her. It was like she was turning a blind eye to the fact that her son could also make mistakes & be wrong ever in his life. The way she covered up for him, although she herself has been kept in the dark makes it look like she is letting Aswad know that no matter what he does, she will always stand by him.
Saleha clearly knows what Mehreen goes through in Nani's home. She also suggested that both Aswad & Mehreen should get married without the knowledge of the rest of the family members, therefore for her to send 'shadi ki shopping' with Mehreen absolutely made no sense. It was like she was alerting everyone herself that the wedding preps are in full swing & the date could be decided any day. Mehreen also knows quite well how Mashal likes to destroy her things, therefore she shouldn't have brought her bridal stuff to this house. Yes, if she was trying to show it off to Mashal then that's another story but what Mashal did was quite expected therefore it shouldn't come as a surprise to Mehreen later.
The conversation between Mehreen & Mashal was probably one of the most interesting ones so far. Mehreen let Mashal know how she rolls & how she always wants what belongs to Mehreen. It was also as if she openly rubbed it to her face that this time around, she won't be able to snatch Aswad away from her. The way Mehreen intimidated her, in the end, was also very interesting & both Mahira & Kubra Khan were outstanding. Mehreen did feel like backing out & she also knew about all the things her relatives will say after her & Aswad's Nikkah but at this point, she has definitely made up her mind. Aswad's poor behavior is also not concerning Mehreen at this stage because right now, she is just focused on the escape she is going to get after she'll sign the Nikkah papers.
Convincing Performances
This episode was definitely interesting but I will say that things have started to seem a little monotonous, therefore I am glad with what I saw in the precap. Although Mashal was quite disturbed I don't think she'll do something irreversible. As far as I think, she'll hurt herself only to frame Mehreen, but let's see. It also can't be ruled out what Mehreen might do because she too has such tendencies where she can hurt Mashal – she first hurt her emotionally so maybe she'll do it physically too, who knows. In this episode, Usman Mukhtar's acting was quite convincing especially when he was trying to avoid the eye-contact with Mashal. Aswad definitely is a weak character & Usman Mukhtar has portrayed that convincingly. Mahira Khan was brilliant too but in this episode, Kubra Khan stood out the most. She showed all the shades of Mashal's character beautifully. All her emotions with so much clarity that despite knowing how negative she has been, you still feel for her, for what she is going through. I also like how they show some flashbacks from their childhood which actually explain the events that shaped up their personalities, be it Mashal or Mehreen. Definitely looking forward to the next episode. Please share your thoughts about this episode of Hum Kahan Ke Sachay Thay.
Keep Supporting,
Cheers,
Zahra Mirza.