This was another phenomenal episode of Inkaar which covered the legal proceedings as well as the struggles of different characters in an impactful manner. The performances and the execution continue to be impressive. This show is also well-paced since every episode has substantial developments to its credit. The writer has done complete justice to all the tracks by highlighting the strengths and weaknesses of different characters in such a way that it is extremely easy to connect to their struggles. This episode also depicted a real picture of the bitter realities of the society we live in. Hajra's strength, her resilience and the relationship she has with her father was yet again the highlight of this episode. The writer has realistically shown that choosing the path Hajra and her father have chosen is extremely difficult.
Latest Developments
Without wasting any time, the writer covered the direction this legal case was going to take by showing different hearings. Tonight's episode opened with Rehan changing his statement and that's when his lawyer decided that making up a story to prove that Hajra wasn't as 'innocent' as she was trying to prove because this would strengthen their case. The idea perhaps was that proving Hajra wrong would help them prove that she was a liar who couldn't be trusted. Hajra's lawyer's confidence and the mention of the CCTV footage suggested that his approach was going to be more professional than that of Rehan's lawyer.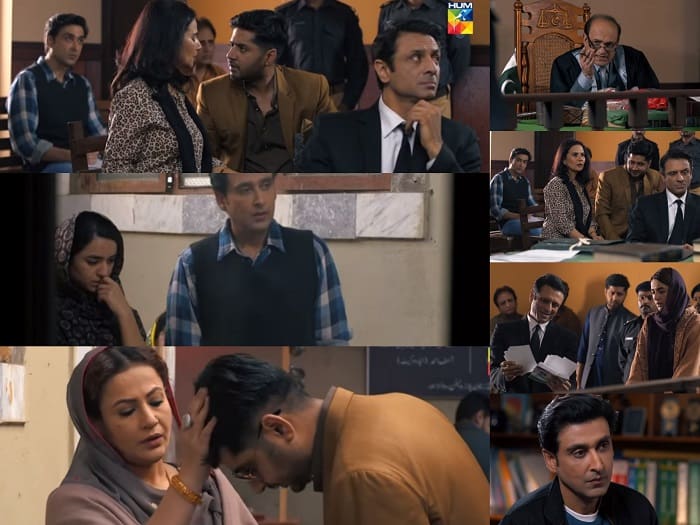 Rehan's mother actually went to meet Hajra and it seems like she also thinks that she can perhaps persuade Hajra to 'forgive' her son. Although Rehan's mother is not the kind of person who would approve of whatever her son did but the fact that she is doing exactly what he wants shows that she probably blames Rehan's father and stepmother more than Rehan for whatever happened. Rehan's frame of mind was also shown extremely convincingly. He is a psychopath who only knows what he wants – other than that he doesn't care about anything else. His sole motivation right now is that if he gets away, he can marry Hajra! This basically goes to show that he does not understand the gravity of the situation and wants what he likes at all costs.
Shayan on the other hand is silently doing whatever Hajra wants him to do. He is the perfect example of a man who not only respects the woman he loves but would also do anything for her – even if that means staying away from her. Hajra's attempts to keep everyone she loves and cares about away from the hearing which would cover details she didn't want these people to hear, was one of the most emotional parts of this episode. I couldn't help but think about the initial episodes in which Hajra was shown as a withdrawn person solely because of the fact that she allowed herself to be fooled in such a manner. She loves her father more than anyone else therefore she was also disappointed in herself for letting her father down. Now watching her face all those questions and worry about what was going through her father's head made me feel for both of them.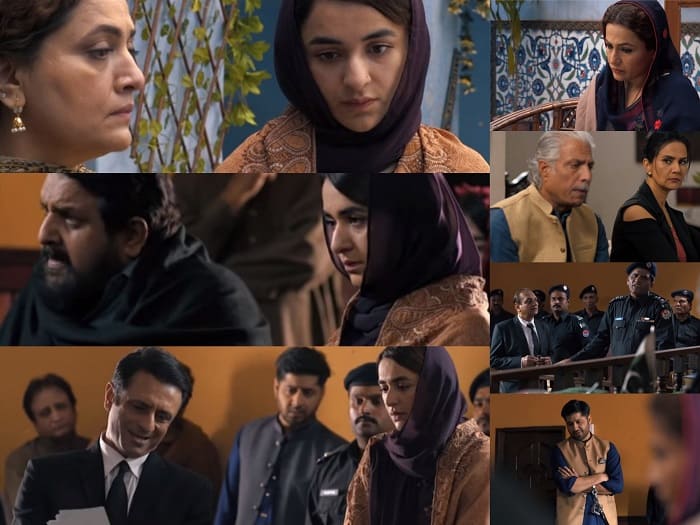 Final Remarks
The best part of this episode was watching Hajra smiling when her lawyer pointed out things which would go in her favor, she also took a few decisions which showed that she wants to be in control now and watching her determination in the next episode's preview was an absolute delight. Yumna Zaidi's brilliant performance makes her scenes even more powerful. Imran Ashraf owns his role completely. Sami Khan and Shayan's character is extremely likable. Rehan Sheikh once again outshines in one of the best roles he has played. I absolutely love the grace he adds to this character. This fight is going to get more intense, this episode proved that the writer is going to stay focused and will not be wasting any time beating around the bush therefore really looking forward to the upcoming episodes.
Do share your thoughts about tonight's episode of Inkaar.