Tonight's episode of Inkaar had few of the most important developments to its credit. Shayan's character is turning out to be an interesting one since he has different shades to his personality. Yumna Zaidi and Sami Khan look good together and their relationship tonight was covered in a sweet manner. Rehan Chaudhry is annoying and he clearly has a problem accepting other people's likes and dislikes. With this episode the story moved forward a little and the viewers found out more about the characters.
Hajra Is In Love
In the previous few episodes the viewers were shown how and why Hajra gradually started trusting Shayan. In this episode for the first time Hajra declared her love for Shayan and she clearly trusts Shayan more now. In the previous episode Hajra was confused but tonight the way she told Rehan off and later on allowed Shayan to hold her hand basically proved that she trusted this man completely now. The scenes at the university were few of my favorites because Hajra and Shayan's conversations in particular were very well written. These scenes also showed that Rehan was not going to leave Hajra and Shayan alone. He is making it impossible for Hajra to take admission again.
I absolutely loved the scene in which Hajra blamed herself for trusting Rehan but Shayan assured her by telling her that it was his fault and not hers. Hajra's fears and her faith in Shayan was also translated beautifully on screen in these scenes. Coming back to the university was never easy for Hajra and it would have been impossible for her to continue fighting her case if Shayan was not on her side. There are however times when you can't help but wonder if Shayan has a life other than being by Hajra's side all the time. It would have been nice if he had some other interests, hobbies or perhaps a job.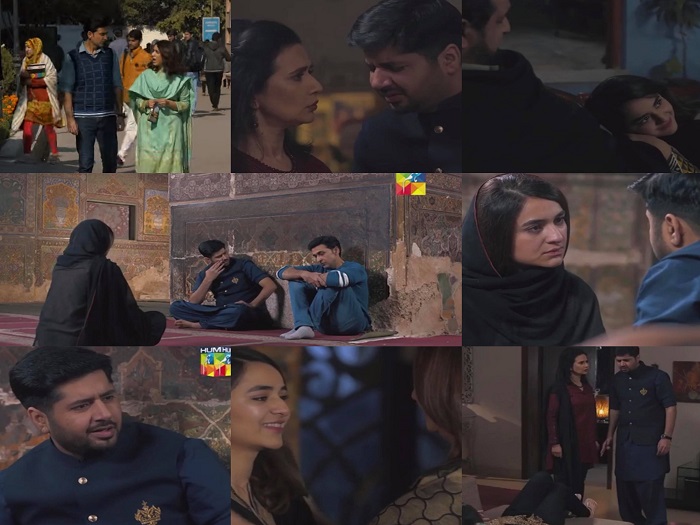 Shayan's Character
The fact that Shayan is not your regular seedha sadha lrka definitely makes his character more appealing. Right from the beginning, through different scenes the writer conveyed the message that Shayan was completely capable of taking a stand for himself and for Hajra. It all started with him beating the man who said something to Hajra but refusing to hit her brother while he beat him up. Tonight too he was shown being aggressive repeatedly but he was a completely different person around Hajra. So far all his fights have been for Hajra but this aspect of his personality can perhaps swing in a different direction in the upcoming episodes. Shayan also does not confront Rehan the way he would confront anyone else. This basically shows that even after everything that happened, Shayan still holds himself back because Rehan was once his friend.
Rehan's Character
So far, Rehan's character is all back. He is seriously twisted, he has absolutely no respect for women and he is constantly shown harassing someone or the other. Tonight, even when he was interacting with Shayan's mother he was quite intimidating. Rehan clearly thinks that he deserves respect but does not believe in respecting anyone at all. He is used to buying people whether it's a servant or a headmaster and he does not value relationships at all.
Overall Impression
Sami Khan and Yumna Zaidi's on-screen chemistry makes their scenes an absolute treat to watch. Imran Ashraf makes you hate his character which basically means that he is doing a great job. Still waiting to see how far Rehan will go to stop this marriage from taking place. Shayan too has proved that he can do anything for Hajra therefore it remains to be seen how far this fight will go. I especially like how Hajra's relationship with her mother has grown in all these weeks. Her mother's dialogue about khushi bantana was one of my favorites. There were quite a few meaningful conversations in this episode which were interesting.
Do share your thoughts about this episode of Inkaar.
Overall Rating : 3.5 stars