Maya Ali is famous artist, she started acting career from drama Aik nayee cinderella before that she was working as VJ on different news channels. Here is a brief interview of Maya Ali from Sunday Magazine of Urdu Daily Nawaiwaqt done by Ambreen Fatima, while styling is done by Khawar Riaz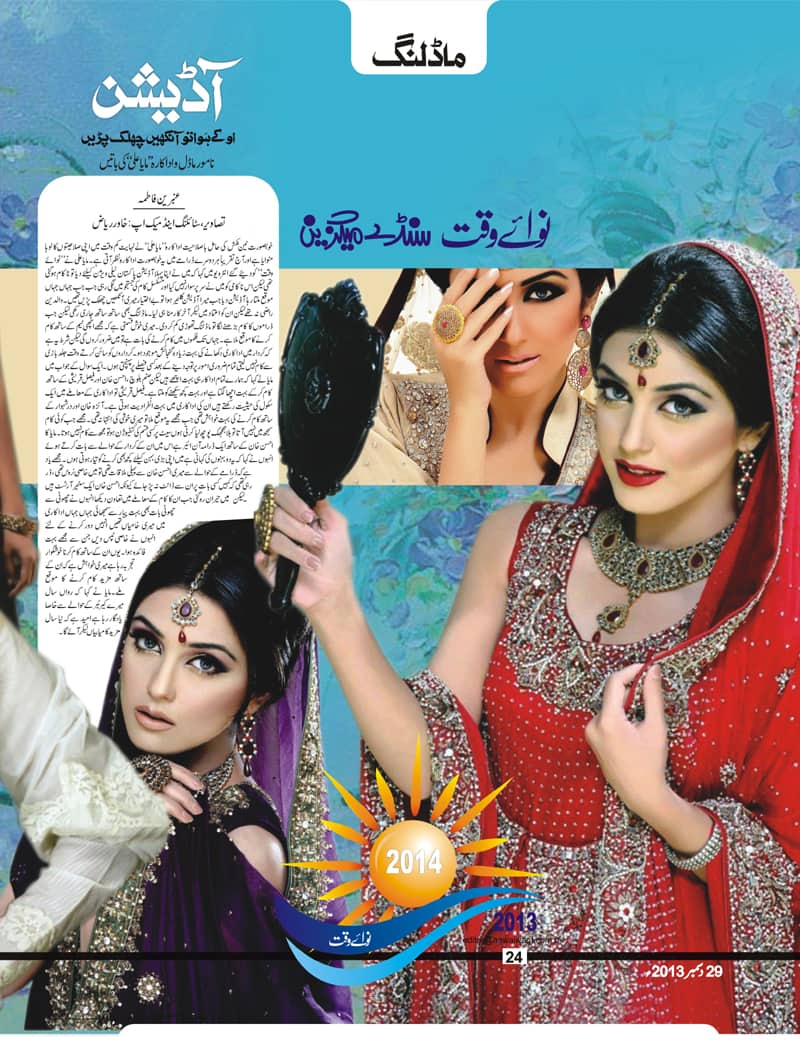 Interview content in roman urdu
Interview content in roman urdu
Khoobsorat nain naqsh ki haamil basalayehat adakaara maya ali nay nihayat kam waqt mein apni salayehaton ka loha manwaya hai aur aaj taqreeban har doosray dramay mein yeh khoobsorat adakara nazar aati hai.
Maya ali nay nawai waqt ko diye gaye interview mein kaha kay mein nay apna pehla audition Pakistan television kay liye diya to nakaam ho gayee leikin is nakaami ko mein nay ser per sawaar nahin kiya aur musalsal kaam ki justuju mein lagi rahi jab jab jahan jahan moqa mila audition diya jab mera audition clear huwa to bay ikhtiyaar meri aankhain chhalak pareen then. Waledain raazi naa thay liekin unko aitmaat mein lekar aakhir kaar mana hi liya. Modeling bhi saath saath jaari rakhi lekin jab dramon mein kaam kbarhnay laga to modeling thori kam kar di.
Meri khosh qismati hai kay mujhey achi team kaay saath kaam karnay kaa moqa mila hai. Jahan tak filmon mein kaam karnay ki baat hai to mein zaroor karon gee lekin shirt yeh hai kay kirdaar mein adakaari dikhhnay ki bohat zyada gunjayesh mojood ho. Kirdaar ko sign kartay waqt jaldbaazi say kaam nahin leti.
Tamam zaroori amoor per tawajah denay kay baad kissi faislay per phanchti hoon aik sawal kaay jawab nay kahan kay hamaray tamam adakaa hi bohat acchay hain lekin sanam balcoh, ahsan khan aur faysal qureshi kaay sath kaam kary kay bohat accha lagta hai aur bohat kucch seekhnay ko milta hai. Faisal qureshi to adakaari kaay muamlay mein school ki haisiyat rakhhtay hain, unki adakaari mein bohat infradiyat hoti hai.
Aaiza khan aur durre shehwaar kaay saath kaam karnay ki bohat khawahish thi jab mujhey yeh moqa mila to meri khushi ki inteha naa thi. Mujehy jab koi kaam samajh nahin aata to bila jhijhak pooch liya karti hoon set per kissi kisam ki confusion ho to mujh say kaam nahin hota . maya kaa ahsan khan kaay saath aik drama on air hai uss main unkaay kirdaar kay hawalay say baat kartay huway unhoon nay kahan kay yeh do behnon ki kahani hai aur mein apni bari behan kayliye kucch bhi karnay ko tayar hoti hooon.
Mujhey yaad hay kay dramay kay hawalay say meri ahsan khan say pehli mulaqaat thi to mein khaasi nervous thi . dar rahi thhi kay kahin kissi baat per unn say daant na par jaye kyonkay ahsan khan aik senior artist hai.
Lekin mein hayraan reh gayee jab unkaa kaam kay muamlay mein taawun dekhha unhon nay chhoti say chhoti baat bhi pyar say samjhai jahan jahan adakaari mein meri khamiyan then unhain door karnay kay liye unhon nay khaasi tips deen jin say mujhey bohat fayeda huwa. Yoon unkay saath kaam karna khushgawar tajaruba raha meri khawahish hai unkay saath mazeed kaam karnay ka moqa milay. Maya nay kahan kay rawaan saal meray career kay hawalay say khaasa yaadgar raha . umeed hay kay naya saal mazeed kamiyaabian lekar aaye gaa.
Rashid Nazir Ali