Intezaar – Episode 18 – Tu Ki Jaanay….Yes, Seriously I Don't!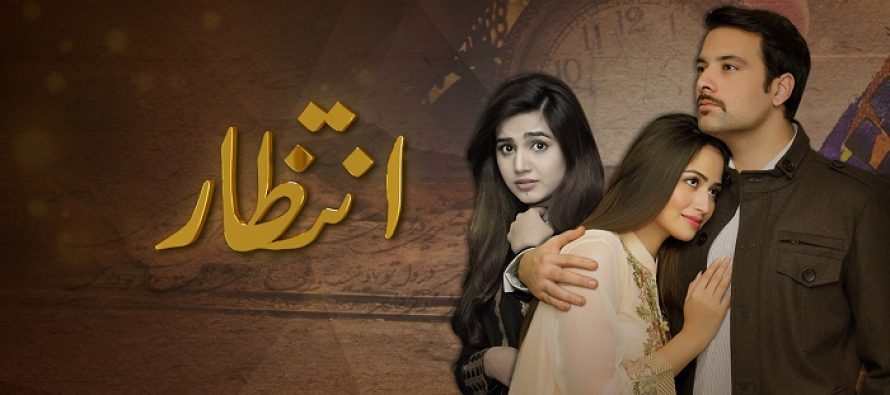 Yaaar – no, no, no, no – this play of events although slightly predictable from last week's episode, did not work for me. I was finding it a bit difficult relating to all the characters and now it seems to be a hopeless task! Saba – mentally unstable, suffering from childhood trauma I see, but what is with these random lapses in her mental understanding of the world? Yes, she has moments when she has no control over her emotions and actions and her past comes to haunt her but she did not seem to lack a basic understanding of life. Then why this constant wonder of what marriage is, and how she can not simply 'donate' her husband. If she is meant to be portraying the image of a girl who is simple, then she falls flat because she seems to carry herself well most of the time and can converse with family members and take care of Sameer then this totally going off the track randomly makes no sense to me.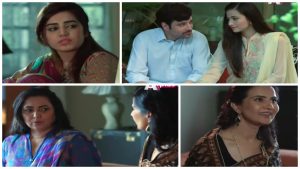 Maami makes an appearance in this episode as she pays a visit to see how her daughter is faring. Her horror and shock and then her conversation later with Shariq's mother gives us an insight into how she is viewing the situation and from her point of view it does look quite awful. Shariq, according to Maami, married Saba so that he may appear noble in front of everyone and brought her to his home only to have her drugged and cast aside while he lives a happily married life with Zoya. The sleep injection – did Saba really have one or did Phuppo make that up? But then – Maami was the one who cajoled, emotionally pressurized and then literally jumped the nikkah on Shariq. Then again – Shariq's mother refused to listen to Shariq's objections and demanded he agree to marrying Saba. So really, nobody makes any sense to me. Shariq's mother suddenly feels this strong urge to see her son happy and lets him marry Zoya – why could she not have felt that urge before she forced him to marry Saba? And where does she get off justifying his marriage to Maami? Where does Shariq get off being so righteous? Why oh why did they have to listen to that wretched psychiatrist and not get a second opinion? And if they listened to her, then why not have her explain a bit what she meant by marriage curing Saba for surely a nikkah nama and a roof to live under while she plays with her husband's other wife's kid was not in the prescription? For that is really ALL the connection Shariq has with Saba.
Which then brings me to Saba. Her jealousy is too intense too soon. Seconds ago she is thrilled to have 'donated' her husband and now her mother's speech brings back memories of older speeches given by Maami and the scene where Saba tries on Zoya's clothes and lipstick was nothing less than psychotic. So a character that is introduced as someone suffering from the trauma of childhood abuse is then thrown into a marriage which starts with being confined in a room with the one man she trusted besides her father and then being slapped by him. Then she is meant to feel emotions such as possessiveness and jealousy and learn the art of pleasing her husband – I mean, writing it all down is giving me an anxiety attack what in the world were the writer, the director, the cast thinking?! Even if all that was meant to be how this story flows, I still find it hard to relate to how Saba has done this complete shift in emotions and is now insanely jealous of Zoya.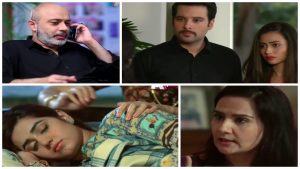 Oh but nahin, let's not forget Zoya. Yeh sub meri wajah se ho raha hai – no shit! Excuse my language but really? Err, yes – Saba's mother is angry because umm, you married her daughter's husband. Seems pretty obvious to me! Never has a female lead seemed as bland and unlikable as Zoya has been. If there is one character in this play that has minded his own business, not given anyone any trouble even though he has been blamed to be difficult – is Sameer. Drama kahan se kahan chala gaya, he has remained consistently quiet in that blanket, not needing anything, not demanding anything.
At one point during this episode I almost contemplated to stop reviewing this play and given that it appears very few of us are even watching it and those that are do it in a state of stupor/disbelief/ bewilderment – kindly share your thoughts and let me know if you do need me to continue these reviews or I may be relieved :)
Kunwal Javid
---