Tonight's episode of Ishq-e-Laa had its emotional moments even though just like the previous episode the performances, the execution, and some of the details could have been more convincing. Azaan Sami Khan failed to add intensity to the scenes covering his imaginary meetings with Shanaya but these scenes were definitely well written and definitely unexpected as well. Even though Shanaya has died, the writer, for now, has kept her in the picture through such scenes. It was therefore interesting how the aftermath of Shanaya's murder was covered especially with respect to Azlan. On the other side, Sultan's family was also shown suffering while the person responsible for ruining everyone's life lived comfortably with absolutely no remorse. The only aspect of the script which I felt was not up to the mark was how, yet again, Azka's family's reaction to Shanaya's murder was covered. The entire approach was once again more practical than emotional. Azka did not even hold herself accountable for giving Shanaya the information which ultimately led to her murder.
Also, the fact that the women Shanaya was helping out were oblivious of the fact that she had been murdered was not easy to connect to. This episode covered the aftermath of tragic losses by both the families, Azlan's father's guilt, and much more. This episode could easily have been dedicated to showing the family's reactions to Shanaya's loss but thankfully that was not the case! The director and the writer deserve credit for taking the story forward and not 'cashing in' on Shanaya's murder.
Shanaya and Azlan
This latest episode showed Azlan waking up imagining that Shanaya was by his side and throughout this episode, he kept on looking forward to meeting her. Azlan and Shanaya's background as well as their present relationship made his reaction relatable. Shanaya was the one person in his life who had always been there with him in some form or the other – first a friend and then a life partner. When initially he was not sure whether he wanted to get married to Shanaya or not, he proposed to her only because he couldn't imagine his life without her. The writer took her time setting the perfect foundation for this particular track and especially the aftermath of this tragedy.
The viewers also found out today that there was actually a bigger reason why Shanaya took Azlan with her to show him how she spent her days. Even though he had been in complete denial when he went to meet the woman Shanaya was helping out he told her that she had been murdered and provided her with the help she needed. This basically went to show that Shanaya will perhaps be able to change Azlan more after her death than she did when she was alive!
Tonight's episode also covered Azlan's father's guilt and resulting attempts to get his hands on the murderers. Apparently, everyone knows who got Shanaya killed but no one has the guts to take action against the perpetrators. It remains to be seen how far Azlan's father will go to avenge Shanaya's murder. It was really odd when Azlan's mother casually asked her husband why he wasn't eating and if everything was okay when they were at the breakfast table! This particular scene was short but it made absolutely no sense!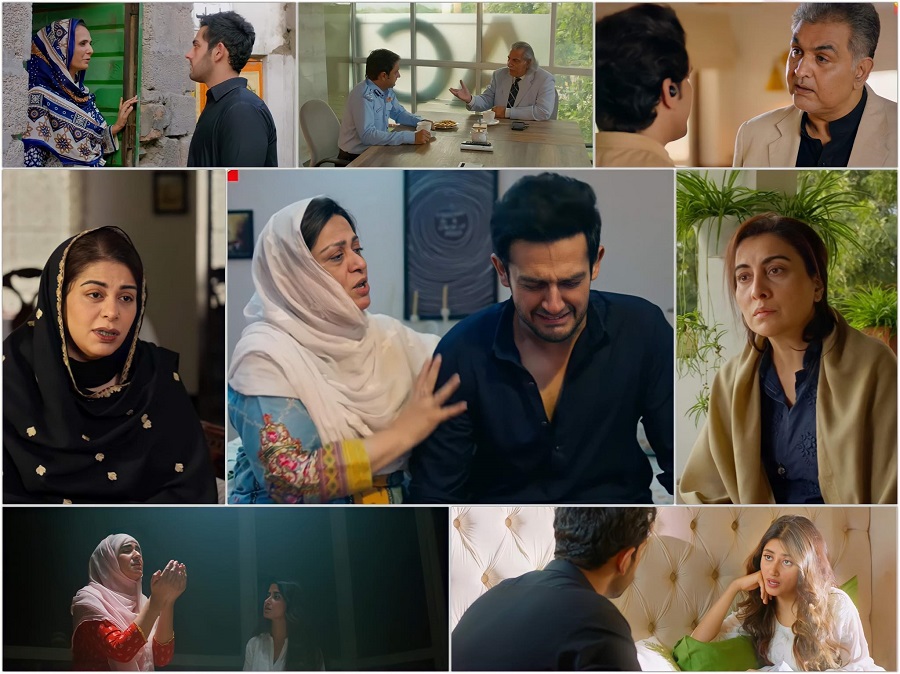 Azka's Track
Sultan's family's struggles were covered extensively in this episode. They struggled to keep the child they had saved, sane and safe. By the end of this episode, the financial troubles took over everything else. The way Azlan treated Kanwal when she came to see his mother in order to extend her condolences went to show that right now he did not have a soft spot for this family and he was not thinking about how he had treated Azka in the past. I have always felt that Azka and Azlan's confrontations are a thing of the past. I am wondering if he will ever hold himself accountable for what he did back then and honestly speaking I feel that he should not since Shanaya more than made up for it! Also, this family does come across as thankless at times! There should have been more scenes showing how Shanaya's death had impacted them since she had always worked for them so selflessly. Even though Azka had met Shanaya only once, such a young and tragic death would leave a person shaken yet the way she thought about Shanaya was completely void of emotions. The only good part of this track was Azka saying a prayer for Shanaya even though this was a dream sequence, I did however feel that Yumna Zaidi's performance was not up to the mark in this particular scene.
Final Remarks
The story took an interesting emotional turn with this episode. Some of the recent developments were completely unexpected such as Azlan's imaginary meetings with his wife and his present state of mind. I am definitely curious to find out what direction the story will go from here. The preview of the next episode also piqued my curiosity. The drama has a mystery/thriller feel to it as well. Out of all the performances tonight, I liked Laila Wasti's short but powerful performance the most. Her performance went to show that a good actor can make his or her presence felt in the shortest span of time! How much more impactful could Azlan's scenes have been if Azaan Sami Khan also performed just as exceptional as well. Uzma Hassan's make-up in the scene at Azlan's house was one of the many unrealistic make-up looks sported by different actors in this episode. While Azlan's imaginary meetings with Shanaya made sense, showing such a scene with Azka was a bit far-fetched even as a dream sequence!
Did you watch this latest episode of Ishq-e-Laa? Do share your thoughts about it.