Written by Mohsin Ali, directed by Badar Mehmood and produced by Big Bang Entertainment, Ishq Parast is a play you should tune into if you're sick of watching plays revolving around dusri shadi, saas bahu rivalry and gender discrimination. After Muhabbat Ab Nahe Hogi, I was looking forward to seeing more of Armeena Rana Khan because I remember how she had managed to own quite a challenging character. Two episodes down and Ishq Parast has kept me hooked! Even though our farigh Amir (Ahmed Ali) from Dusri Biwi is back in action with flaring nostrils, I must say his character in this play makes a whole lot more sense :).
Hamza (Ahmed Ali) is an immature and short-tempered guy who comes from a broken family. His world shattered after his parents' divorce- both his mother & father turned over a fresh leaf with their 'new' spouses but Hamza, on the other hand, was torn between the two people he loved the most. He moved out and he now lives on his own.  Since he witnessed his parents' marriage crumbling while he was very young and couldn't get the right time and attention from either of his parents, he adapted a pessimistic perception of relationships in general but there's just one person who means the world to him- Dua!
Hamza is truly, MADLY, deeply in love with his class mate, Dua (Armeena Rana Khan). Dua is your usual pretty, loving and caring young lady who wants her impulsive lover to take control of his life. Hamza believes in living for today while Dua is foresighted enough to realize that for the sake of a stable future, Hamza needs to have a more responsible attitude towards his life. Hamza is extremely possessive about Dua because his relationship with her has been the only 'solid' relationship he has ever had and he's too afraid to let it slip through his fingers. This guy has some serious anger management issues but what I am liking about this play is the fact that there's a solid background and reason as to why the characters are behaving the way they are. Jin jin rishton par mera haq tha sab cheenay gaye mujh se!  I had no trouble at all in relating to Hamza's short temper, frustration and impulsiveness. I think I mentioned somewhere in Dusri Biwi's review that every time I see Ahmed Ali onscreen, I hear 'Chahay mujhay koi junglee kahayyyy' in the background. If there's an award for 'Junooni of the Year', he most certainly deserves it!
Hey, did Hamza mention exactly 'how' does he manage on his own considering his job-nahe-karni-attitude?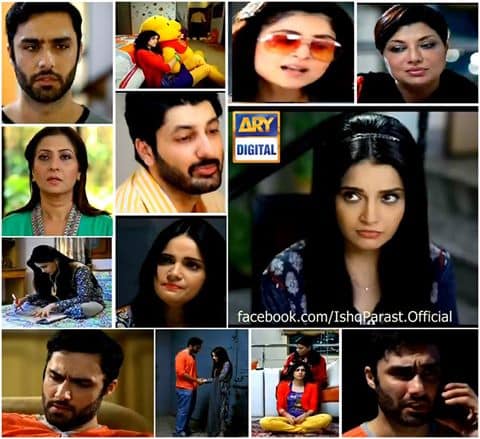 The other side of the story deals with Zohaib (Syed Jibran) and Arsala (Arij Fatyma). Zohaib and Arsala are a rare pair of siblings and they love each other to bits. They lost their parents when Arsala was only six and since then, Zohaib has been her protector, confidant & best friend. Arsala has always been the apple of his eye and she is portrayed as an outspoken and daredevil teenager with a happy-go-lucky attitude towards life. I am finding it a little too hard to like Arsala because she is spoiled rotten and I think she gets plain rude without even realizing it- at least that's what I can gather. I may be wrong but Arij Fatyma's dialogue delivery sounds a bit artificial, like, she is trying too hard or something.
There are a few developments I found a bit OTT. I mean, the part till Zohaib developing a liking for Dua the moment he sets his eyes on her in the mall was alright but Arsala's lame & desperate attempts to get her brother married are a little too far-fetched to digest. I mean, I was amazed how casually Arsala could get all the 'important' info about Dua's best friend, Rida and I guess any sane person would've (and should've) given a shut-up call to a chirpy girl acting so over-frank+over-smart. By the way, doesn't Arsala go to university, I mean, all I've seen her doing is shopping, bhai ko tang karring and repeat!
Hamza finally gets a decent job offer only to find that his employers want him to work in Islamabad which is something he can't think of because he can't afford to live miles away from Dua. Dua's dialogues when she tried to explain the gravity of the situation to Hamza were really nice, "Main samajhti thi meri muhabbat nay tumhe mazboot bana dia hai magar nahe, meri muhabbat nay tou tumhe kamzor kardia hai". I guess Hamza's decision to leave for Islamabad will lead to many changes in Dua's life so I am really looking forward to it.
You know, Waseem Abbass and his naak-par-ghussa-rehna walay roles are ticking me off big time!! I wanted to cover my ears to escape from the torture of his repetitive taunts and after Main Bushra, I don't think I can take his temper any longer!! Khair, Dua's father, Saif Mushtaq "PASHA" (Waseem Abbass) is a strict father whose taunts can drive any sane person nuts! How does his wife (Saba Faisal) tolerate him? Aap kay sabr ko salaam!
Armeena Rana Khan looks pretty as a doll.<3 Her wardrobe has always been very impressive and those headbands look adorable on her! Arij Fatyma looks stunning too and I wish Ishq Parast's makeup artists could teach a thing or two about 'keeping things natural' to Aik Pal's makeup team too!
What are your thoughts on Ishq Parast? Share your views, people!
Maryam Mehdi