Ohkay so, when I asked my awesome readers to suggest me a good drama to review, I got a lot of recommendations for Khuda Dekh Raha Hai & surprisingly, I found it pretty interesting. Writing of Shahzad Javed & Atifa Mohammad, Production of Sadia Jabbar & Direction of Sabiha Sumar; Khuda Dekh Raha Hai airs on Aplus & it deals with a very different subject. For now, you really can't figure out what message are they trying to convey but after watching the first two episodes, I have a feeling that they'll definitely live up to our expectations because till now they've very intelligently dealt with such a complex subject that often rules people's lives.
The story is about Khalida (Bushra Ansari) & her family that consists of her husband Akhtar (Qazi Wajid), son Moeez (Asad Siddique) & her daughter Zoya (Sajjal Ali). Khalida runs an Istakhara Centre where she thinks she is helping people by listening to their sufferings & advising them about how they should deal with such issues. Khalida is very passionate about what she does because according to her, she is conducting a good cause by helping people & she believes she shows them the right path through her Istakhara according to the hints she gets from The Creator. The setup of her family is completely different to how it should be, given how religious Khalida supposedly is. Akhtar doesn't support what his wife does because according to him, she is just running a business & is earning through people's problems. Moeez is an obedient son who looks after his father's business but at the same time, he's stubborn enough to get what he wants. Zoya is also obedient & does what her mother tells her to but she's a lot more logical & is more like a voice of reason in that house which is ruled by an orthodox & staunch Khalida.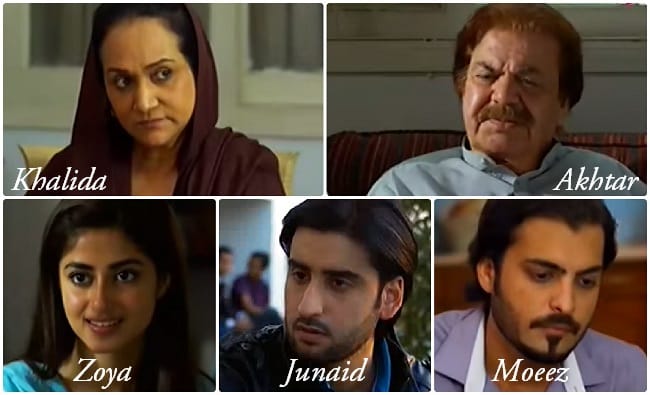 I found it pretty interesting that where Khalida has engrossed herself into other's problems & gives a considerable amount of time to her welfare activity, she is oblivious to what her kids are up to. Both Moeez & Zoya are two decent people but they've found a way to break the rules Khalida has set for them. Moeez happens to be in a relationship with a very liberal & independent girl Sanam (Sana Askari) who doesn't believe in compromising when it comes to what she wants. She has Moeez wrapped around her finger because she knows that he loves her & would do anything for her. Zoya is also involved with her batch-mate Junaid (Agha Ali) who happens to be a musician. Zoya is still a bit more considerate to her mother's wishes in comparison to Moeez because he has made it very clear that no matter what happens, he will only get married to Sanam but Zoya on the other hand keeps on telling Junaid that her mother will never approve of their marriage until he stops being a musician.

I think they gave a very realistic picture to a personality of such a woman who has made a name in her circle because of her religious inclination. There are people who depend on her verdict more than they would depend on their own instincts. Khalida is more like a decision maker in the lives of those people who follow her & believe her verdict without a doubt. The way Khalida painted her activity actually made me believe that she was doing it all without expecting anything in return but the decisions she made deciding the fate of two of her followers actually showed another side of the picture. It's still a mystery as to why Khalida does it but going by what was shown, it's hard to believe that she could be responsible for ruining so many lives just by exploiting those who put their faith in her. She's more like those typical peer fakirs who believe to have some super-powers but are misapprehended that they can shape up people's lives because what she orders others to do & what happens under her own roof right under her nose are two different stories. Khalida's character is very complex because there are a lot of shades that she embodies. She is religious but on the other hand she doesn't treat her husband with the respect he is entitled to. She thinks carrying on with a wazeefa is more important than to tend to someone who might be suffering with serious health issues.
I liked Zoya's character a lot because she questioned her mother & tried to mend her perspective rightfully. She seems rational & logical because she just doesn't believe in following her mother blindly. Yes, Zoya is conscious of her mother's likes & dislikes & gives her that much respect that she is entitled to but on the other hand she lets her feelings get the best of her & she often deceives her mother because she knows that no matter how hard she will try, she won't get an approval of her mother for the things she likes & enjoys. I don't say that I liked Moeez's character but I found him interesting in a way too, in fact I like how both these siblings are different yet similar to each other. Zoya at least tries to make Junaid understand what her mother expects & what her family background's like but Moeez conveniently resorts to hiding the truth from both; Sanam & Khalida. As much as he might say that he supports her mother, but when it comes to Sanam, he makes it very clear that even though Khalida might not like Sanam for a lot of things, he will stick to his decision of marrying her because she makes him happy. As much as I want to believe that Sanam is as sincere to Moeez as he is to her, I feel she isn't because she doesn't love him unconditionally as she has decided to get married to him after giving consideration to a lot of other things that she might be able to benefit from, through Moeez.
So, my verdict about Khuda Dekh Raha Hai would be; so far so good & I just so hope that it stays that way. The drama has had a good start & I am glad that even though the cast might not be a biggie, the story seems to be different & the characters are nicely etched out too. I found the chemistry between all the characters really good & they all seemed very comfortable with each other which actually gave a good feel to the drama. The acting has been good & so has been the direction; however I do feel that the production value could've been better but never mind, as far as we're going to get a good drama & a good story, rest of the things don't really matter. Share your say about first 2 episodes of Khuda Dekh Raha Hai & yes, I thank all those readers who suggested this drama to me. :)
Keep Supporting,
Cheers,
Zahra Mirza.