Tired of watching female characters crying their eyes out? Want to see a man crying to his heart's content? Well then, Ishq Parast's episode 22 is just for you! I actually feel sorry for Jibran – he's shedding real tears for a play that doesn't even make sense!
This episode was carelessly written and clumsily handled because by the end of last week's episode, Khaala had overheard the conversation between Hamza and Dua but this episode didn't show how Khaala reacted to the revelation that her ideal damaad was actually her bahu's ex! We didn't actually get to see Khaala telling Zohaib that she knows about Hamza but all of a sudden, they showed Zohaib breaking down in front of Khaala, implying that he was aware of the fact that Khaala knows about Hamza. I mean, it's actually very confusing! The director/writer wastes sooo many scenes for the sake of showing a bunch of pointless flashbacks but chooses to skip the conversations that should be shown!
There were a couple of comical scenes in this episode and I have to thank the team for at least making us laugh this week. What actually had me in bits was the way Khaala flipped out when she saw Zohaib on the treadmill! It's been ages since Zohaib's accident and I guess every sane person can see that this once perfect family witnessed and experienced things far worse than Zohaib's accident but this lady, all of a sudden, grew over concerned about Zohaib's little foot, which let me remind you, is perfectly fine by now! Earth to Khaala!
Another scene (that was supposed to be grave and intense) was soo hilariously done that I couldn't help taking a screenshot! I guess it's the background music and Ahmed Ali's expressions that made it so funny so the screenshot won't to justice to this comical scene but here you go!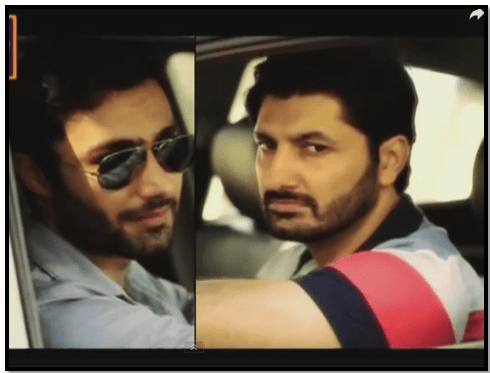 Zohaib says that he just wants to see Arsala happy, and if living under the delusion that Hamza loves her is what makes her happy, so be it! I expected a better approach from Zohaib because he can't possibly be thinking that Hamza would continue to put on this show for the rest of his life and Arsala will never have the faintest idea about the fact her husband is her bhabi's ex and has zilch feelings for her! However, the last part of the episode showed that Zohaib wants Hamza to divorce Arsala so I guess that after thinking things through, Zohaib did come to realize that even though the fact that Hamza doesn't love her will leave Arsala shattered and inconsolable, she deserves to know the truth about the person she has so much faith in. Zohaib does realize that he made a mistake by letting Arsala go with Hamza and that's exactly why he requested Khaala to move to Arsala's place. Speaking of Khaala, I have gotta admit that we can't underestimate the woman's hearing because last week she overheard Hamza and Dua's conversation from the terrace and this week she overheard Hamza's taunts from her room which was at a considerable distance from where Hamza was standing but oh well, jahan itna hazm karliya hai, we'll deal with this too!
Now that they've barely enough to eat and Hamza is pushing her to seek financial help from Zohaib, Arsala is gradually becoming aware of the fact that Hamza wasn't such an angel after all! Hamza has started to show his ugly side and Arsala is clearly finding it hard to believe that while she is totally uncomfortable with the idea of asking her brother for money, Hamza doesn't care an ounce about his honour and respect! I have to say that I really really feel for Arsala and I totally mean it! She was this vivacious, ever-smiling girl who didn't have a care in the world, but look at her now, fretting about ghar ka kharcha, giving away her jewellery and eating leftovers! If there's anyone who's actually suffering, it's Arsala because the person for whom she's going through this couldn't care less about her!
Saza sirf mujhay kyun milrahi hai? And who's saying this, you may ask? Dua! Earth to Dua! Do we really have to explain this to you, darling? I mean, this qismat ka rona is coming from someone who put everything on stake and totally ruined her perfect family by keeping quiet about her deranged ex! I didn't feel much for Dua because she got herself into this, she got Zohaib into this and worst of all, she got Arsala into this! Aur saza tou humain bhi milrahi hai, if that makes you feel better, Dua!
Right when they realized they have got nothing to show, they decided to resort to… flashbacks! Chalo, I'll be kind here, I can understand why Zohaib and Arsala were recalling the good old days but the scene where Hamza gets those flashbacks seriously came out of nowhere – it didn't even fit!
Am I the only one who finds it distractingly weird how Arij Fatyma's hair colour keeps switching from natural to golden brown? How many of you are watching the show? Voice your views!
Maryam Mehdi