This was an average episode of Ishq Tamasha. It mostly focused on the aftermath of kidnapping scene. So, Mirha has taken the meaning of isse apna ghar hi samjho literally. She is nicely settled in Mehrab's home like she somehow owns it. Her clothing has changed ad she no longer makes braids. Her kidnapping has definitely refined her sense of fashion. Mehrab, on the other hand, is still stuck. He is buying clothes for Mirha and is not trying one bit to help her get back because why not? They have all the time in the world.
Rushna is a complete brat. Though what Mirha did to her should have happened when her chachi accused her of getting gifts but better late than never. She loves Mirha but she loves herself more. Instead of making plans to tell the truth and get Mirha back, she is trying to get Arham and his family arrested. She is a person who did not tell what happened to her mother but she went all the way to make Arham's life hell, a guy whose family is far more powerful than hers.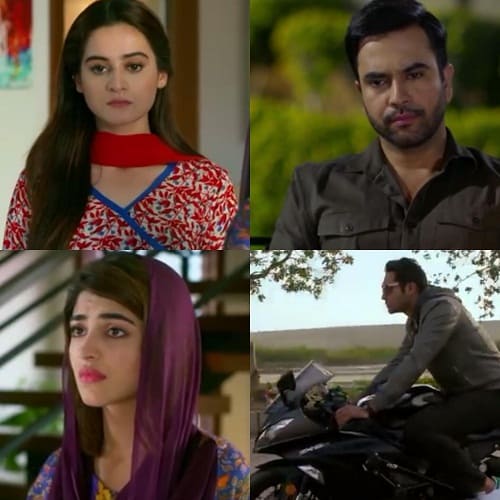 Bratty Rushna's Arham is also bratty. I have first time seen that riding a heavy bike represents nakaam ashiqui. His whole demeanour regarding Rushna is extremely childish. She is like a toy which he has to buy or he will throw a tantrum and start riding a crore rupee bike because that is how grown up brats throw tantrums. I am happy Mehrab slapped him because at that point I wanted to do it too. Why our dramas keep showing main uss ke beghair jee nahin sakta again and again. That concept is not just humanly applicable.
The writer has somehow forgotten that a girl has been kidnapped from her home. She is leading a heart and mighty life while kidnapper has a business to run so no time for solving the situation.
Did you guys watch the episode? Share your thoughts!