This episode of Ishq Tamasha was very slow and the story moved with smooth pace. The focus was more on the relationship between Mehrab and Arham. Mehrab loves Arham to an unnatural extent. He has always done everything in his power to get Arham what he wants. He even got caught up in this whole scenario because of him. All these things combined have made Arham a stubborn human. He cares just for himself and his desires and has no regard for his brother's love. Their phupo is a mysterious character up till now. It is not clear whether she is good or evil. But she cares for the brothers and Arham has no respect for her either. His obsession with Rushna has reached an unhealthy level where he does not care about his family or his self-respect.
One thing I am liking in Ishq Tamasha is the chachi's attitude. It is very relatable and true. One of her daughters called a stranger for Rishta and she did not question her. The other is romantically interested in her cousin at such a young age and she does not care to check on her. But the same woman threw out a young girl out of her house at night. Reason; she was not her own daughter. This hypocrisy is very common in our society. If we are doing something, it is right but we will crush any other even if there is a doubt that he or she is doing it.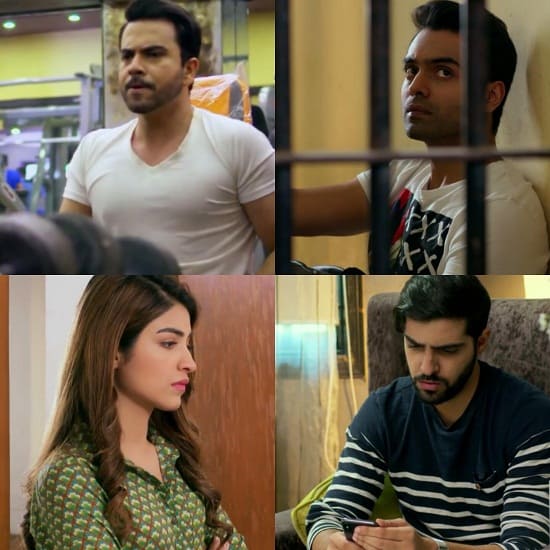 Mehrab is badly stuck, all thanks to his brother. Arham is making him do things he would never even think of doing and is still unhappy. From some stranger girl's home to jail, Arham has made Mehrab wander around the whole city. The activities these brothers use for taking out frustration look really funny though. One goes out to do some teenage one-wheeling stuff and one starts gyming. At least Arham's stupid activities are making Mehrab concentrate on his health.
Wahaj now knows about the situation and will be home in the next episode. He seems like a person who will not trust Mirha. And Rushna will finally know that she has fallen for the future Jeth jee in place of the future husband. Let's see how things work out!