The title explains my thoughts about this episode. It was disgusting in a way that I cannot just explain it in words. So, basically, Rushna is the second lead, right? With every havoc she has created with Mirha's life up till now, today's episode made her plain despicable. She accepted gifts from Arham, lead him on though she knew that a boy who is sending her such expensive stuff by only seeing her once is definitely a stalker type. She called him to come with his proposal. Then, after all this chaos, when she knows who Arham is and she KNOWS Arham's brother hates her. When she knows his brother kidnapped Mirha. When she knows Arham is practically killing himself to get her, she asks him Ke Tum Isse Mere Liye Mana Lo? How can the writer come up with this? I like grey characters. Heroines and heroes who are not always good but asking someone who wants to marry you and you used to have late night chats with Ke Mujhe Apne Bhai Ke Saath Set Kara Do? Really? This was one bad idea!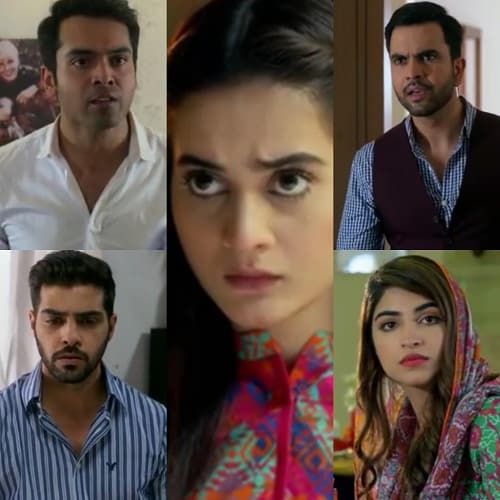 Yes, I am one of those people who hate heroines crying out blood from their eyes for dumb and douchey heroes and I think someone from team Ishq Tamasha heard these thoughts. But wait for a second! They did hear the thoughts but came up with a solution which has the same amount of pain. This time it is not the heroine, it is the hero who was born without self-respect. Rushna disrespected him and his family. She practically kicked his feelings. Arham knows Rushna is the one who could have cleared Mirha's position but she saved herself and ruined Mirha's life by not telling the truth. And now! She asked him to convince his brother to MARRY her! A brother Arham knows never met Rushna and still hates her. But since he is the hero version of our regular heroines, he will blame everyone except the one who deserves the blame.
Wahaj is back and he is definitely his mother's son. He simply classified Mirha to be a characterless girl who ran off and betrayed him. No one in Wahaj's family including him likes to solve stuff. They make assumptions and go on with them. But it was good to see someone giving a hard time to chachi jaan.
Mirha is going to convince Mehrab to take Arham's proposal again in the next episode and from the look of things Rushna will think Mehrab has come with his own proposal since no one listens clearly in this drama!
I would love to read your thoughts on Rushna and Arham. Add in the comments section!