This episode has started Mehrab's revenge spree against Rushna and one more thing it has established is YES! RUSHNA IS SUPER EVIL. Rushna got to know about Arham's death in the very start and has no reaction to it. She was still indulged in her chocolate covered dreams. Mehrab has also become a constant confusion now. Not letting Rushna's mother bring breakfast is his idea of taking revenge for his brother' death? He didn't even confide in his Phupho who has also suffered an immense loss. Her decision to leave Mehrab was the sanest scene in the whole episode.
Mirha bechari kya kare? Thanda paani pi maray! Yes, Mirha's situation just reminded me of this nursery rhyme. She just started dreaming about her saviour (kidnapper) Mehrab and all her dreams were shattered in a second. Mehrab's scheme of sending her back is also non-sensical. Pressurizing your wife to send Mirha back is not going to get Mirha her reputation. And Mirha was s settled in Mehrab's house. Parr ye bhi Rushna le gayi!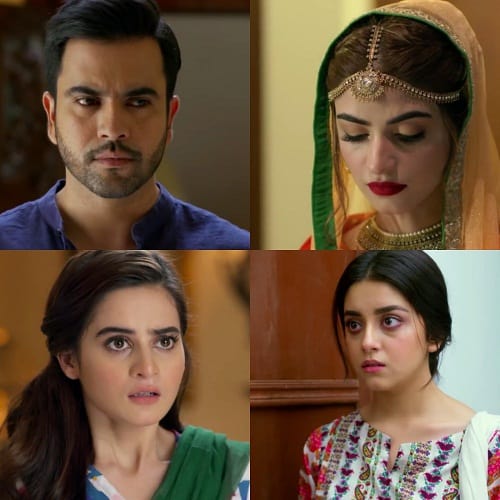 Rushna is a mature girl who knows how to scheme, trap boys and insult anyone. So, she must behave like that too. Her whole behaviour after reaching Mehrab's house was like that of a child. She had no interest left in Mehrab who was her dream prince. All she wanted was to redecorate and wander around the house. Most annoyingly, she did not even ask Mehrab that why his family does not know about their marriage? And why there are no preparations for a Walima. Rushna is still not miserable. She is still scheming and being a jerk. Hopefully, in the next few episodes, we could see her regretting her attitude.
The whole Palwasha episode is super-weird. The girl is a very good actress indeed but she is too young to get scoldings for Gajras and have affairs with her cousin who is too grown up for her I must add. Aqeela really needs to take a hold of her daughters. They are literally messing up the balance everywhere. And it is high time that Wahaj starts taking practical decisions instead of lounging around and throwing unnecessary sarcasm!