This drama started like a high-speed roller coaster and deteriorated at the speed of the lightning. In just three episodes, the makers have forgotten what they were trying to go for. It started as a love triangle where two brothers fell for a single girl. Then we saw the scenario of adoption come into play. The adopted boy sacrificed his love for the sake of his mother's satisfaction.
Dania is the worst I would say. First, you went blaming only Zaryab for the whole ordeal. She didn't even try to take matters into her own hand. Then she is seen blaming Armaan. Armaan at least stuck with what he was going for. He divorced the girl and doesn't want anything to do with her. But now the bechari Dania wants to keep living with a man who has divorced her. What kind of culture or mentality is being promoted here? Even if they wanted to show Dania as a bechari, they could have shown her ordeals after the divorce. But she is living with her ex-husband, making parathas for him. Like WHAT EVEN???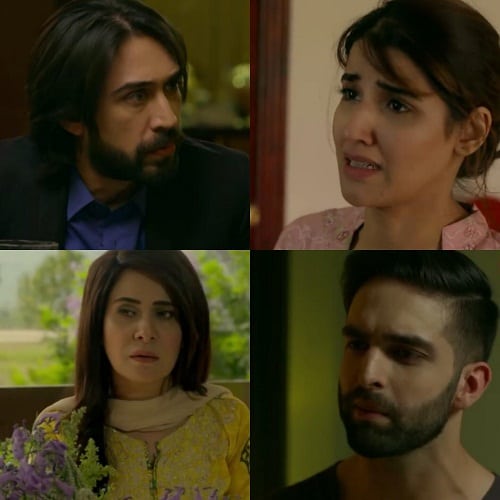 Zaryab and Armaan's encounters are too childish to bear too. When you have already openly said woh tumhari biwi hai, then at least complete the conversation. And Armaan, a guy who divorced a girl in a second and has no regards for the society is waiting to talk openly about it with his brother. Why is he not cleaning up the mess? He didn't ask Dania when he was divorcing her. So, why is he waiting for her approval to announce it?
The mother's character is also so poorly etched out. She is trying to make Dania behave as Armaan's mother or nanny rather than a life partner. At the same time, she is concerned about Zaryab's marriage. If you loved Armaan so much and you knew he is such a sensitive soul, why you married him off to his brother's girlfriend in the first place?
Moreover, the performances are so bad throughout this episode. Alamdaar needs serious work on his dialogue delivery as well as his expressions. Even Hareem seemed lost in all her scenes. The lack of depth has literally destroyed this drama in only the third episode.
Yes, many would say I have come harsher on it but they are showing a girl who wants to live with her ex-husband which is ridiculous!